Google
12 Ways To Use Google Search In School, By Degree Of Difficulty. Sunday, May 6, 2012 8:15 am, Posted by | Updates Topics: , , , , , , I've been completely obsessed with Google's new mini-site devoted to finding better ways to incorporate proper web searches into the classroom.
Dubbed ' Search Education ,'Google's new site has an array of lesson plans, videos (check a sample out below), concept maps, and other tools designed to help any educator properly integrate Google. This is just the logical next step for the search (and basically everything else) behemoth as Google pushes its way into the classroom. Templates for Student Projects - uTeach With Technology. To see and use these templates, you must have a Google doc account and be logged on.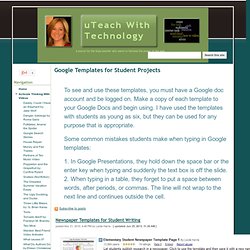 Make a copy of each template to your Google Docs and begin using. I have used the templates with students as young as six, but they can be used for any purpose that is appropriate. Some common mistakes students make when typing in Google templates: Introducing the Knowledge Graph. Google Docs Introduces New Sidebar Research Tool. Google has quietly released a new research tool which sits on the sidebar in Google Docs.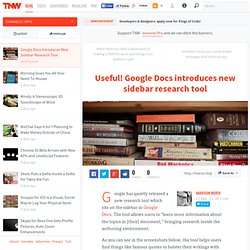 The tool allows users to "learn more information about the topics in [their] document," bringing research inside the authoring environment. As you can see in the screenshots below, the tool helps users find things like famous quotes to bolster their writings with new content. The different types of results include: "web results, images, quotations, maps, reviews, and more." You can find out more about all the additions in Google's help doc. Search Education – Google. With Its New Google+ iPhone App, Google Finally Gets It Right. Some people just love Google+ and others just hate the company's efforts to create a social network and a social layer across all of its services.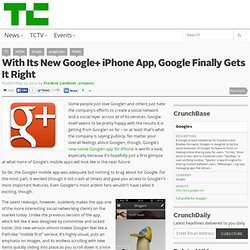 Google itself seems to be pretty happy with the results it is getting from Google+ so far – or at least that's what the company is saying publicly. No matter your overall feelings about Google+, though, Google's new native Google+ app for iPhone is worth a look, especially because it's hopefully just a first glimpse at what more of Google's mobile apps will look like in the near future. So far, the Google+ mobile app was adequate but nothing to brag about for Google.
For the most part, it worked (though it did crash at times) and gave you access to Google+'s most important features. Even Google+'s most ardent fans wouldn't have called it exciting, though. How Google Drive just ate SkyDrive's lunch. Today's debut of Google Drive is case-in-point why you never show your hand first.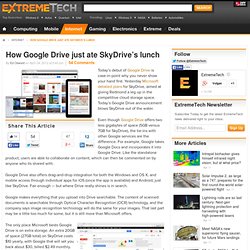 Yesterday Microsoft detailed plans for SkyDrive, aimed at giving Redmond a leg up in the competitive cloud storage space. Today's Google Drive announcement blows SkyDrive out of the water. Even though Google Drive offers two less gigabytes of space (5GB versus 7GB for SkyDrive), the tie-ins with other Google services are the difference. For example, Google takes Google Docs and incorporates it into Google Drive. Like the standalone product, users are able to collaborate on content, which can then be commented on by anyone who its shared with. A Must-Have Guide To Google Drive. We're chomping at the bit to get our grimy little hands on the new Google Drive.
We wrote about it in our March issue of the Edudemic Magazine , featured it a couple weeks ago , and now want to start figuring out how the basically-real tool will help teachers around the planet. After all, that's what Edudemic is all about! We throw caution to the wind and just start trying to figure out fun and useful ways to use technology in the classroom. Who cares if that technology isn't available yet ? 8 New Google+ Changes and How They Impact Your Business. Have you heard about all of the recent changes on Google+?
Google+ is always evolving and recently made some big changes to help create a simpler, more beautiful Google+ . And these changes can have an impact on how you use Google+ for business . So here's everything you need to know . #1: Header Image and Profile Photo Changes. Google Drive Will Offer Users 5GB Of Free Cloud Storage, Launching Next Week. Advertisements As of late, cloud storage services have been gaining significantly in popularity.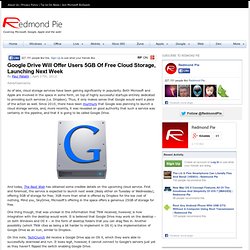 Both Microsoft and Apple are involved in the space in some form, on top of highly successful startups entirely dedicated to providing such services (i.e. Google In the Classroom - Download Free Content from Michigan's MI Learning. _Google EDU_Report_FULL.pdf. Top 50 Google+ Circles for Social Media Savvy Educators. Google+ may still be finding its own footing among the Twitter's and Facebook's of cyberspace, but nevertheless hosts a large amount of networking opportunities across several subjects.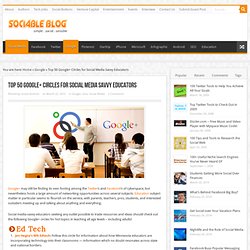 Education subject matter in particular seems to flourish on the service, with parents, teachers, pros, students, and interested outsiders meeting up and talking about anything and everything. Social media-savvy educators seeking any outlet possible to trade resources and ideas should check out the following Google+ circles for hot topics in teaching all age levels – including adults! Ed Tech. Google+ Rolls Out New Look. Google announced on Wednesday that it is rolling out a significant redesign for its social networking platform Google+, which will allow users to create a more customized experience on the site.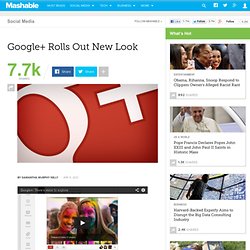 The company said it will introduce a variety of new features to the site in the next few days, from customizing apps and the navigation bar to more flexibility with profile pages and pictures. In addition, the update introduces a new Explore page that posts what's interesting and trending across the site. Google also noted that the social network now boasts more than 170 million users since it's 2011 launch.
Chrome extension to Share on Google plus pages. Download 'Share on Google Plus Page' Chrome extension For Google+ page owners, sharing web content on their Google plus pages will become simpler. For sharing web pages as one of your Google+ pages, there was no simple way to do directly. You need to copy the URL, switch to your own Google+ Profile, then to the desired page and then share from there. Apps for the iPad. For Teachers – Google in Education.
Google Sites - Free websites and wikis. Google Everything. Google. The Ultimate Guide To Google+ For Educators. If you're looking for the best way to incorporate Google+ into your classroom or simply deciding if the new service is for you, you're in luck. The godfather of educational technology, Steven W. Anderson (follow him at @web20classroom ) is assembling a LiveBinder that has dozens of terrific resources on Google+ usage in education. The LiveBinder is embedded below and currently has about 30 terrific resources on all things Google+. From how to use the service in the classroom to using Google+ in general, this binder will hopefully help any teacher (or student) looking to use Google+ in an educational way. Do you have resources you'd like to add? Google SketchUp Math and 21st Century Critical Thinking.
This is simply a copy of my Blog entry inSwords Edgucation and Tech. Each time I reach geometry standards in the math curriculum, I find myself trying to make geometry problems more meaningful and interesting. With Google Sketch-up, meaningful instruction has a new solution, providing relevance and more intrigue to geometry standards across the K-12 learning standards. Google SketchUp is a 3-D editing tool that can be used to design… basically anything you can see the real world and beyond. David Beckham is going to Hangout on Google+
13 January '12, 10:57pm Follow David Beckham is joining the ranks of celebrities who are taking to YouTube to connect with their fans. Must Have Google Chrome Extensions | TechHormone.com. It's been some time since Google Chrome was first launched in 2008 and since has never looked back. It has become popular incredibly fast and now has 20% of overall Internet users. Some of the reasons for the success of Google Chrome are fast browsing and launch speeds, faster development and ability to provide extensions. Although its speed is the real reason why people switch to Google Chrome, there are quite a huge number of extensions that changes the way you browse the web. So here are some of the extensions you must have installed. Updated: 05 September 2011.
---