Plugins
jQuery Quicksand plugin. Quicksand Reorder and filter items with a nice shuffling animation.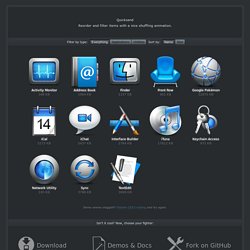 Activity Monitor 348 KB Address Book1904 KB Finder 1337 KB Front Row 401 KB Google Pokémon 12875 KB iCal 5273 KB iChat 5437 KB Interface Builder 2764 KB iTuna 17612 KB Keychain Access 972 KB Network Utility 245 KB Sync 3788 KB TextEdit 1669 KB Demo seems sluggish? A jQuery Flickr Feed Plugin. View the Demo | Download the Zip We often work with clients that maintain accounts with Twitter, Flickr, Youtube and other services in addition to their website.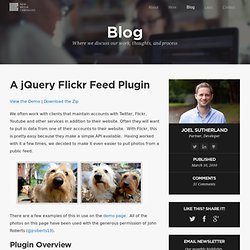 Often they will want to pull in data from one of their accounts to their website. Sunday Morning : jQuery + Google Translation. SimpleSli.de: A Super-Simple jQuery Slideshow Plugin.
---