Plugins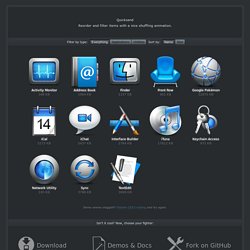 Quicksand Reorder and filter items with a nice shuffling animation. Activity Monitor 348 KB Address Book1904 KB Finder 1337 KB Front Row 401 KB Google Pokémon 12875 KB iCal 5273 KB iChat 5437 KB Interface Builder 2764 KB iTuna 17612 KB Keychain Access 972 KB Network Utility 245 KB Sync 3788 KB TextEdit 1669 KB Demo seems sluggish?
A jQuery Flickr Feed Plugin
View the Demo | Download the Zip We often work with clients that maintain accounts with Twitter, Flickr, Youtube and other services in addition to their website. Often they will want to pull in data from one of their accounts to their website.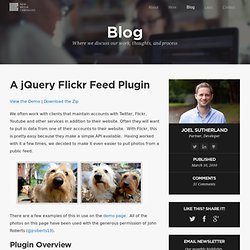 This function allows you to get a word translated when double-clicked. The double-clicked word in a heading titles and p tags will be translated and displayed in a bubble. Optionaly, you can specify your Google API key to use for requests. If you have one, set it here. The source language code.
Sunday Morning : jQuery + Google Translation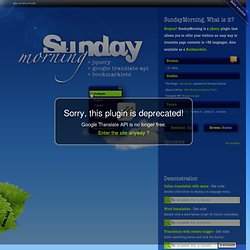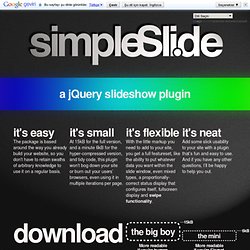 we're rootin' for ya Save these two files into a folder called 'js' in your website's root directory (the one that your homepage or index.html/php/asp file is situated in). It's not really required that you put them into a directory called 'js', but it's pretty standard practice. just follow the script On the website pages you would like this particular feature to appear, make sure you add the lines <script src="/js/jquery.js" type="text/javascript"></script> and <script src="/js/simpleSlide.js" type="text/javascript"></script>