Chemistry
Wired Science . Video: Dr. Schrempp's Chem Lab. Retired Site The Wired Science site has been retired from pbs.org and is no longer available.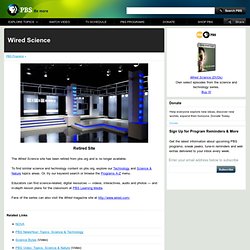 To find similar science and technology content on pbs.org, explore our Technology and Science & Nature topics areas. Or, try our keyword search or browse the Programs A-Z menu. Educators can find science-related, digital resources — videos, interactives, audio and photos — and in-depth lesson plans for the classroom at PBS Learning Media.
How To Build A Fireball You Can Hold Video. Amazing Trick. Potassium Chlorate and Gummy Bear.
---