Clayok
Clay
Photographer / Adobe Instructor
Success
Welcome | Digital Photography Best Practices and Workflow | dpBestflow. WhiBal - LensAlign. We designed and manufacture the WhiBal White Balance Reference Card to be the best digital Gray Card available anywhere.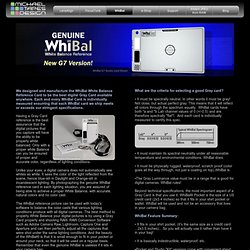 Each and every WhiBal Card is individually measured ensurring that each WhiBal card we ship meets or exceeds our stringent specifications. Having a Gray Card reference is the best assurance that the digital pictures that you capture will have the ability to be properly white balanced. Only with a proper white Balance can you be ensured of proper and accurate color, regardless of lighting conditions. Unlike your eyes, a digital camera does not automatically see whites as white. Muench Workshops - Landscape Photography Workshops - Learn Photography : Workshops. Video. Help.
Photography
---
clayok Oct 29 2011

You add your sites that you think link to what may add to our peartrees. You can add a Firefox add-on that allows you to just check or click to add sites to your peartree.

kwiehoff Oct 29 2011

Hi. I'm trying to figure this pearl thing out.
---