Video/Photo
Five-Minute Film Festival: Best Kickoff Videos. Sometimes you just need a short, powerful video to start a meeting, an event, or a presentation -- something that really makes everyone sit up straight and start listening.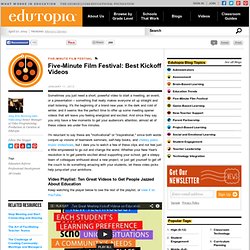 It's the beginning of a brand new year, in the dark and cold of winter, and it seems like the perfect time to offer up some meeting opener videos that will leave you feeling energized and excited. And since they say you only have a few moments to get your audience's attention, almost all of these videos are under five minutes. I'm reluctant to say these are "motivational" or "inspirational," since both words conjure up visions of teamwork seminars, self-help books, and cheesy piano music slideshows, but I dare you to watch a few of these clips and not feel just a little empowered to go out and change the world.
Can TED Talks Really Work in a Classroom? Teaching Strategies TED-Ed By Katrina Schwartz.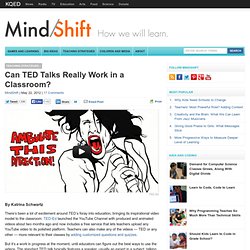 Pearltrees videos
Teacher Appreciation - Tip #5: Watch this Five-Minute Film Festival. Get tips and ideas every day in May for Teacher Appreciation Month on how you can thank your favorite teachers -- and support them throughout the year!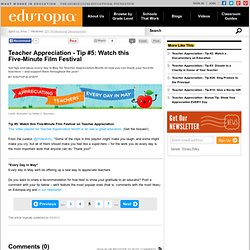 Credit: Illustration by Walter C. Baumann. Stupeflix Studio - Video creation made easy. Learning to Change-Changing to Learn. Strategies for integrating video into your lessons. How to Create Great Screencasts. At least a few times each week, I'm emailed about how I create the video tutorials that show up on the site each week.
I think many of you are under the impression that it's much more difficult than it really is. If I can do it, anyone can. I'll show you the exact setup I use. Step 1: Use Good Software. About Air Video. Shukla Bose: Teaching one child at a time. Videos to help you rethink education, learning, & school. Having children causes one to (re)think seriously about education and the role of school.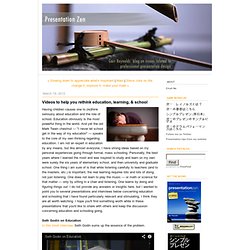 Education obviously is the most powerful thing in the world. And yet the old Mark Twain chestnut — "I never let school get in the way of my education" — speaks to the core of my own thinking regarding education. MorgueFile free photos for creatives by creatives. Creative Commons. Many Flickr users have chosen to offer their work under a Creative Commons license, and you can browse or search through content under each type of license.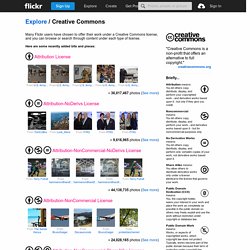 Here are some recently added bits and pieces: Attribution License. Chuck lawson. Welcome to Flickr! TeacherTube - Teach the World | Teacher Videos | Lesson Plan Videos | Student Video Lessons | Online Teacher Made Videos | TeacherTube.com. 25 TED Talks Perfect For Classrooms. Vimeo, Video Sharing For You. SchoolTube - Video Sharing For Students & Teachers. TechSmith | Screencast.com, online video sharing, Home. YouTube.
---