Twitter
Building a professional learning network on Twitter. January 12, 2013 by tomwhitby For those who do not know, here are two basic Twitter principles: 1.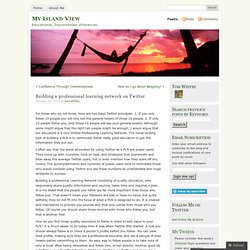 If you only follow 10 people you will only see the general tweets of those 10 people. 2. If only 10 people follow you, only those 10 people will see your general tweets. Although some might argue that the right ten people might be enough, I would argue that ten educators is a very limited Professional Learning Network. 24 Twitter Shortcuts That Will Save You Time. Our Guide to Twitter's Language. The beauty and challenge of Twitter is stuffing your most sophisticated thoughts and feelings into a measly 140 characters (or less).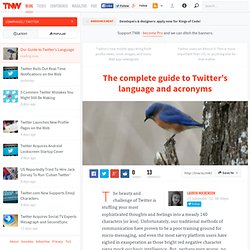 Unfortunately, our traditional methods of communication have proven to be a poor training ground for micro-messaging, and even the most savvy platform users have sighed in exasperation as those bright red negative character signs mock our basic intelligence. But, perhaps even worse, no good tweet is ever going to be 140 characters because it's impossible to share, respond or reference a tweet that's already at it's max. If you want to make a big statement with a small message, you have to trim the fat. Thankfully, a special subset of finite abbreviations and techniques have cropped up to help optimize your own Twitter lingo. These handy snippets of language — some no more than a single symbol — have been instrumental in fostering more sophisticated sharing and discourse simply because they are small.
The 50 Best Education Twitter Hashtags--With Meeting Times! 50 Important Education Twitter Hashtags–With Meeting Times!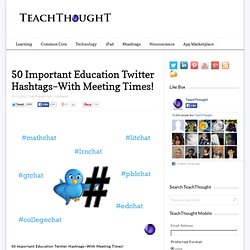 Note: We are updating this list that is now going on two years old. Please suggest any revisions, additions, etc., in the comments below and we'll make the changes. Twitter chats are a great resource for learning and networking, allowing academics from all over the world to come together on a regular basis to talk about what's important in education. They're also ideal for gaining authority and visibility in your field. Twitter resources.
Quick Guide: How to Speak 'Twitter' Okay, let's start at the very beginning for those shrewd late adopters who don't use certain technology until it's absolutely ridiculous not to.
With twitter, we may have reached that point–that critical mass where you should at least get on board to fully understand what it is you're rejecting. Twitter is a social media platform that allows you to connect with others. It has formal academic potential that we explored recently that make it a difficult tool to ignore for any progressive-minded educator. Like text messaging, you are limited to 140 characters in your messages. 100 Ways To Use Twitter In Education, By Degree Of Difficulty. Twitter may have started off as a fun social media site for keeping up with friends and sharing updates about daily life, but it's become much more than that for many users over the past few years as the site has evolved and grown.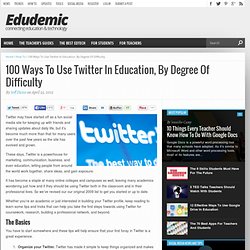 These days, Twitter is a powerhouse for marketing, communication, business, and even education, letting people from around the world work together, share ideas, and gain exposure. It has become a staple at many online colleges and campuses as well, leaving many academics wondering just how and if they should be using Twitter both in the classroom and in their professional lives. So we've revised our our original 2009 list to get you started or up to date. 12 Reasons to Get Your School District Tweeting This Summer. Everyone is on Twitter these days, so why not your school district?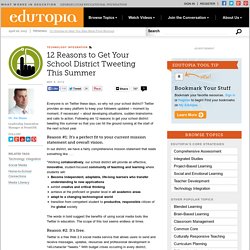 Twitter provides an easy platform to keep your followers updated -- moment by moment, if necessary! -- about developing situations, sudden brainstorms and calls to action. Following are 12 reasons to get your school district tweeting this summer so that you can hit the ground running at the start of the next school year. Educational Hash Tags. #fb4ed#FCE#FETC #FF#fft#filmclass#finnedchat#flatclass #flatclassroom#FLE#flipchat #flipclass#flteach #followalibrarian #followfriday#fooded#foodtechteachers #formativeassessment#forteachers #frimm#FYCchat #gaed#gafe#gamedeved#gamemooc#gamify#gamification#gapbis#gbl#GCSE#GCT#geniushour#geniustime#geochat#GeoEdChat#geographyteacher@geomchat #gifted #GlassEdExplorers#GlassExplorers#globalchem#globalclassroom#globaled#google #googlect#googleglass#G+eduhangout#googlesearch#GplusEd#grammar #grandparentlessons #graphic_organizers#gr8teacher#great-teaching #grtechedu #gt #gtaa #gtadmin #gtchat#gted#gtie #GTvoice#guidechat #health #healthed#highered #highschool #highscope #hiphoped#histedchat#history#historyteacher#historyteaching#homeschool#homeschoolers#homeschooling #hs #hsc#hsmath.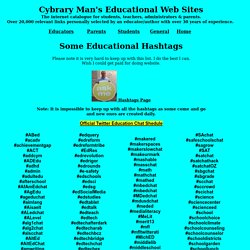 It's All About The Hashtag. If you remember, in my 3 part series on Twitter, I wrote about how I completely changed the way I do professional development on Twitter.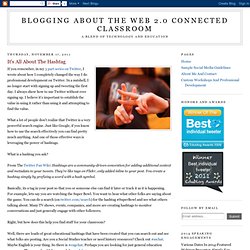 In a nutshell, I no longer start with signing up and tweeting the first day. I always show how to use Twitter without ever signing up. I believe it's important to establish the value in using it rather than using it and attempting to find the value. What a lot of people don't realize that Twitter is a very powerful search engine. Why Twitter Is a Teacher's Best Tool - Education. Teachers are increasingly bringing the real-time communication power of Twitter into the classroom to help students learn.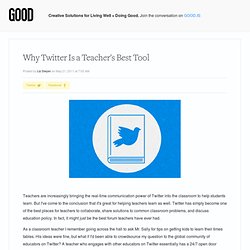 But I've come to the conclusion that it's great for helping teachers learn as well. Twitter has simply become one of the best places for teachers to collaborate, share solutions to common classroom problems, and discuss education policy. In fact, it might just be the best forum teachers have ever had. As a classroom teacher I remember going across the hall to ask Mr. Sally for tips on getting kids to learn their times tables. Top 10 in 10: Influential Tweets 7/10. 10 Interesting/Influential Tweets I've Read on Twitter Your messages on Twitter must be 140 characters or less.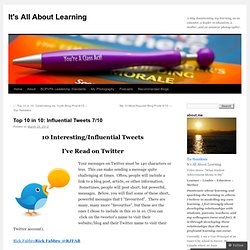 This can make sending a message quite challenging at times. What's a Twitter Chat? A number of my blog posts are reflections of twitter chats, such as #lrnchat and #realwplearn chat. As vibrant a community these chats represent, I sometimes forget that the participants in these chats represent a very small percentage of the overall community of Learning and Development Professionals. At a recent ASTD Chapter meeting, I was reminded of this fact during a conversation I had with a group of peers. I was asked where I learned about something and I casually replied "We discussed it during a recent #lrnchat". I received silence and a few puzzled looks in response. How To Build A Great Twitter Reputation And Get More Followers And Retweets.
514 Flares Filament.io Made with Flare More Info'> 514 Flares × If you can answer "yes" to any of these questions, then this article is for you. Want more followers and retweets? New to Twitter and want to make it useful for you? Twitter isn't working as well as you'd like it to? The three steps to a great Twitter reputation are content, style and connections. Internet Catalogue. 5 Tricks for Twitter Power Users. If you love Twitter—and you also have a life—you probably use Buffer to schedule your tweets: To make announcements at a specific time, to send time-sensitive tweets like for limited-time offers, to communicate when your followers are most likely to notice, and to avoid membership in the tweet-a-minute club.
If that's you then you'll want to check out a few ways to make Buffer even more useful. Who better to provide tips than Leo Widrich, the co-founder of Buffer. Here are five tricks he recommends: 35 ways to use Twiducate for deeper learning. Reasons to be cheerful…….Twiducate! Here are 35 ways to use Twiducate to deepen learning. I have split the tips up into four sections; using the main "Post to Class" section, using the "Important Dates" section, using the "Class Bookmarks" and using the "Chat" option. Twitter finds a place in the classroom. Twitter has place in classroom A Los Angeles teacher has found Twitter to be an important teaching tool Students can chime in with questions and answers using the Web service Twitter is integrated into 2% of college lectures, says one study Los Angeles (CNN) -- Students tap away at their cell phones, laptops and iPads during Enrique Legaspi's high-tech history lesson.
Twitter and Canadian Educators. Some BC Edu-Tweeters To Get You Started « 5 Tools To Find Out the Best Time to Tweet. Twitter Hashtags In The Classroom. The Ultimate Twitteraholic's Guide to tweets, hashtags, and all things Twitter. Twitter resources. Twitter. On Twitter: To Follow or Not to Follow.
---