STEM
Want to Get Kids Excited About STEM? Let Them Build Robots | Education on GOOD. Getting more students to pursue studies—and careers—in science, technology, engineering, and math is important for the economic success of our country and of the world.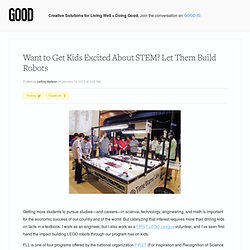 But catalyzing that interest requires more than drilling kids on facts in a textbook. I work as an engineer, but I also work as a FIRST LEGO League volunteer, and I've seen first hand the impact building LEGO robots through our program has on kids. FLL is one of four programs offered by the national organization FIRST (For Inspiration and Recognition of Science and Technology)—which was created by famous inventor Dean Kamen to inspire more talented American students to pursue careers in science and technology. 20 Ways Teachers Are Using Legos in the Classroom. 5 Ways To Be A Better Public Speaker 6.71K Views 0 Likes If you've been asked to speak at a conference or host a seminar, you may be shaking in your boots.
Not only is the thought of speaking in public nerve-wracking, but being in charge of a seminar that no one wants to at... The 90-Second History Of Education 9.95K Views 0 Likes. How Do You Spark a Love of Math in Kids? Teaching Strategies What is it about middle school and mathematics?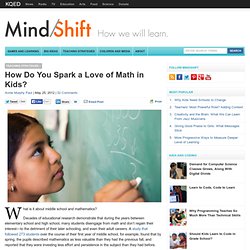 Decades of educational research demonstrate that during the years between elementary school and high school, many students disengage from math and don't regain their interest—to the detriment of their later schooling, and even their adult careers. A study that followed 273 students over the course of their first year of middle school, for example, found that by spring, the pupils described mathematics as less valuable than they had the previous fall, and reported that they were investing less effort and persistence in the subject than they had before. Andrew Martin, a researcher from the University of Sydney in Australia, set out to investigate what made middle-school students switch on — or switch off — to math.
Math Web Apps. At the Oklahoma Digital Learning Summit last week, an Oklahoma STEM specialist asked me what math products I liked and I mentioned the following: Elementary Math i-Ready.com from Curriculum Associates, is a great K-8 adaptive assessment with engaging content.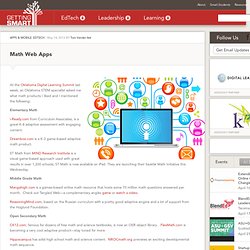 Dreambox.com is a K-3 game-based adaptive math product. ST Math from MIND Research Institute is a visual game-based approach used with great results in over 1,200 schools; ST Math is now available on iPad. Web 2.0 tools for STEM education. 50 Best Sources of Free STEM Education Online. Colleges, online universities, and other educational forums in your community can be excellent places to learn more about a variety of STEM topics, but there is also a wealth of educational material available on the web for those who prefer to learn at their own pace or take a more individual approach.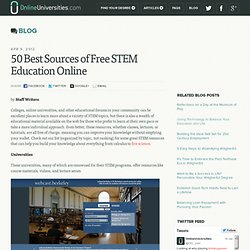 Even better, these resources, whether classes, lectures, or tutorials, are all free of charge, meaning you can improve your knowledge without emptying your wallet. Check out our list (organized by topic, not ranking) for some great STEM resources that can help you build your knowledge about everything from calculus to fire science. Universities These universities, many of which are renowned for their STEM programs, offer resources like course materials, videos, and lecture series. Common Core Map. STEM (Science, Tech, Engineering, Math) Resources. Creative Commons License EXCEPT WHERE OTHERWISE NOTED, CONTENT ON THIS SITE ISLICENSED UNDER A CREATIVE COMMONS ATTRIBUTION-NON Commercial 3.0 LICENSEYOU MAY RE-USE THIS WITHOUT NEEDING TO ASK PERMISSION, AS LONG AS YOU CREDIT THE SOURCE IN WRITING AS EDUcationaltechnologyguy AND ON THE WEB BY ADDING A LINK BACK TO OUR WEB SITE, PLEASE DO NOT COPY ENTIRE ARTICLES.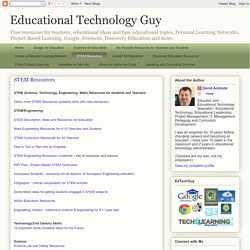 YOU MAY ONLY USE THE TITLE, SUMMARY AND THEN LINK BACK. cOPYING ENTIRE ARTICLES IS PLAGIARISM.
---