Google
Findery - Share A Story on Google Maps. Findery is a community site on which anyone can share a short story about any location on the globe.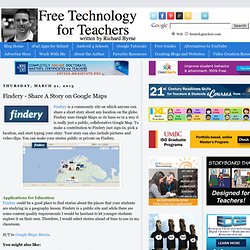 Findery uses Google Maps as its base so in a way it is really just a public, collaborative Google Map. To make a contribution to Findery just sign-in, pick a location, and start typing your story. Your story can also include pictures and video clips. You can make your stories public or private on Findery. Moderator Help Center. 50 Google Docs Tips Every Teacher should Know about. 37inShare Google Docs ( Drive ) is an important component of your digital toolbox as a teacher and educator.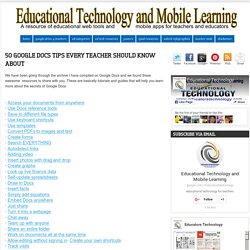 I have been posting a lot on the importance of this service in education and Google Docs section here in Educational Technology and Mobile Learning has some great resources to help you start leveraging the potential of Docs in your teaching. I have been going through the archive I have compiled on Google Docs and I found these awesome resources to share with you. Google Docs for Administrators – 5 Ideas to Get Started. As another school year begins to come to a close, I have recently had some of our administrators (mostly elementary) contact me with ideas for making administrative tasks more paperless and create a more efficient workflow not only for themselves but for their teachers.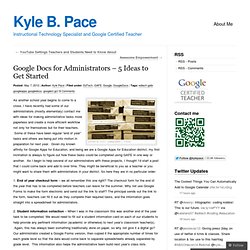 Some of these have been regular "end of year" tasks and others are being put into motion in preparation for next year. Given my known affinity for Google Apps for Education, and being we are a Google Apps for Education district, my first inclination is always to figure out how these tasks could be completed using GAFE in one way or another. How to Use Google Drive on the iPad. There's no Google Drive iPad app available from Google, and the mobile version of the Google Drive service fails to load on the iPad more often than not.
There are a number of ways to use Google Drive on the iPad while we wait for an official Google Drive iPad app. GoodReader for iPad is a $5 app that connects to web storage services on the iPad, including Google Drive. The app doesn't offer a Google Drive option in setup, but it does connect to Google Docs, which is now Google Drive. GoodReader allows users to download and use a wide array of file types from music and movies to photos, documents and spreadsheets. GoodReader can even unzip zipped files on the iPad. 50 Little-Known Ways Google Docs Can Help In Education. 5 Ways To Be A Better Public Speaker 7.16K Views 0 Likes If you've been asked to speak at a conference or host a seminar, you may be shaking in your boots.
Not only is the thought of speaking in public nerve-wracking, but being in charge of a seminar that no one wants to at... Google docs. Google. 10 Google Products You (Probably) Never Knew Existed. I don't know about you, but it feels like Google launches a new product every time I turn my laptop on.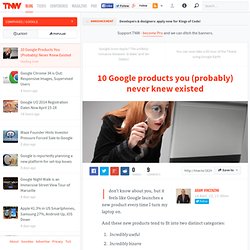 And these new products tend to fit into two distinct categories: Incredibly usefulIncredibly bizarre Fortunately, most of these products are free so we're really not in a position to complain! After some lengthy research, I was surprised by how many tools Google has either developed or acquired over the years. Google Docs for Teachers - A Free eBook. Google for Educators Resources. Google for Education Resources Why and How to Use Google in Education: Free (or really cheap for Apps for Education compared to Microsoft) and less IT support needed.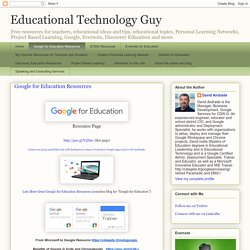 Also runs better on older computers. CalenGoo ‹ Just Another Geek Site. August 22, 2010 Everyone knows how much I depend on my calendar, and that it was one of the big disappointments moving to the iPhone.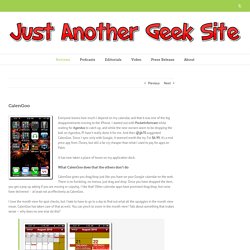 I started out with PocketInformant while waiting for Agendus to catch up, and while the new owners seem to be dropping the ball on Agendus, PI hasn't really done it for me. And then @jjb70 suggested CalenGoo. Since I sync only with Google, it seemed worth the try. For $6.99 , it's a mid price app from iTunes, but still a far cry cheaper than what I used to pay for apps on Palm. Google Search Tips You Must Know. This is a post that is complimentary to Google Search tips part one which i have covered here some time ago now it is time that i provide you with a detailed post about most if not all the search tips you need to master Google search techniques.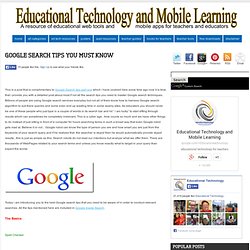 Billions of people are using Google search services everyday but not all of them know how to harness Google search algorithm to suit there queries and some even end up wasting time in some seamy sites. As educators you should never be one of these people who just type in a couple of words in its search bar and hit " i am lucky" to start sifting through results which can sometimes be completely irrelevant. This is a cyber age , time counts so much and we have other things to do instead of just sitting in front of a computer for hours searching terms in such a broad way that even Google robot gets mad at. 5 Google Chrome Extensions to Help Your School Save Ink & Paper. Yesterday, I published Ten Useful Google Chrome Web Apps and Extensions for Teachers and Students.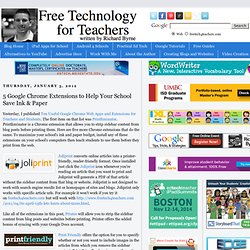 The first item on that list was Printliminator. Printliminator is a Chrome extension that allows you to strip sidebar content from blog posts before printing them. Here are five more Chrome extensions that do the same.
---