Internet
Enquanto os governos já veem a web como área estratégica, especialistas divergem sobre quando um ciberataque é um ato de guerra Por Murilo Roncolato Enquanto os governos já veem o ambiente digital como uma área estratégica, há divergência entre especialistas em chamar os casos de ataques hackers de 'ciberguerra' SÃO PAULO – Na semana passada, uma comissão do Congresso dos Estados Unidos recomendou que as empresas do país deixassem de comprar produtos da fabricantes chinesas de equipamentos de telecomunicações Huawei – a segunda maior do mundo – e da ZTE.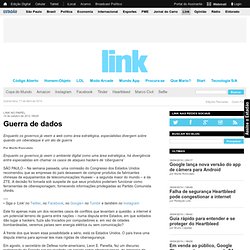 Guerra de dados fontpro.com Font Pro - is a free fonts database with awesome typeface testing tool. It provides more than 20,000 free fonts and web fonts. Font Pro has made the process of searching fonts, previewing fonts, collecting fonts, to discovering new font combinations super easy and awesome.
by Oliver Reichenstein First, the paper magazine was crammed into the little iPad frame. In the form of a PNG slide show.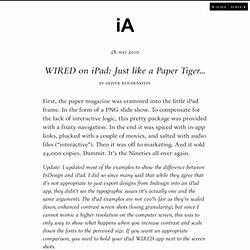 iA » WIRED on iPad: Just like a Paper Tiger…
Roland Garros 2010 - France Télévisions
o recalibrar a bateria do seu MacBook ou MacBook Pro | MacMagazi
activePDF - 7.11MB (Freeware) PrimoPDF is the web's #1 free software for creating 100% industry-standard PDF files. Simple to use and free of annoying ads, converting files to PDF ... Krzysztof Kowalczyk - 4.01MB (Open Source)
Download Free Software