Amerique
African Art Club. Arts of Africa. KERR MUSEUM PRODUCTIONS. Pitt Rivers Museum - Virtual Collections. LACMA Los Angeles. Metropolitan Museum of Art NY - Virtual tour African art - page. Dallas Museum of Art - Collections. DallasMuseumofArt.TV Tickets Join/Renew ShopDMA.org Press Room Research.
Noma New Orleans. Mingei Internl Museum. Arts of Africa. Musée de Montréal. From the Maker's Hand: China. Montreal. San Francisco. Museum for African Art: Exhibitions. MET. Welcome to the CAAM website. Cantor Arts Center - Africa Collection. The Cantor Arts Center's African art collection includes works from across the continent, dating from the pre-dynastic periods of ancient Egypt to the present day.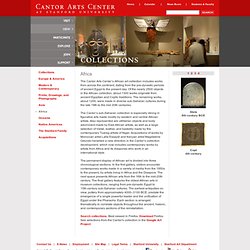 Of the nearly 2500 objects in the African collection, about 1300 works originate from ancient Egyptian and Coptic traditions. The remaining works, about 1200, were made in diverse sub-Saharan cultures during the late 19th to the mid 20th centuries. The Cantor's sub-Saharan collection is especially strong in figurative arts made mostly by western and central African artists. Also represented are utilitarian objects and body adornment made by East African artists, as well as a large selection of metal, leather, and basketry made by the contemporary Tuareg artists of Niger.
---