Patchwork
So Happy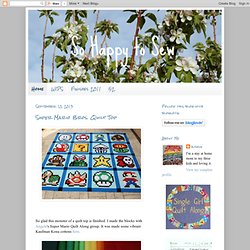 I've been blog hopping this morning and found a thread off of this post and that post and thought I would share it with you. It's about quality in the sewing and quilting industry. To get the whole picture, I also recommend the follow up posts too.I do love Maddie's rules. It's spot on why I been out of the loop for so long. Kids before quilts,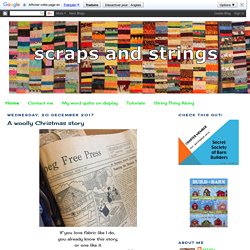 I had a little fun constructing some VW buses last weekend. This bus is called a splitty because of the split front window, and it's often seen as the iconic VW bus. I used some wild prints for the buses, and fused the shapes on a white background.
Scraps and Strings
A Few Scraps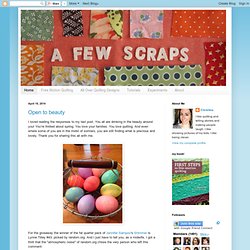 So last week I made myself a couple luggage tags, attached them to my bags-full-of-quilts, and flew to Houston sans children to go to quilt market. I just spent an hour trying to write up my experience of quilt market and I give up. The following words apply: fast, chatter, awkward, blisters, flattering, industry, thrilling, uncertain, lucky, powerful, big, touching, grateful, realization. How about something concrete to offer you instead? Like how I made these luggage tags in about 30 minutes just a few hours before my flight?
Yes this is a definite derailing moment. Look what arrived in the post the other day. Here is the back story.
Pin Tangle - Pin Tangle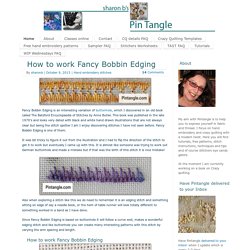 Moose on the Porch Quilts
My blog officially has been moved! It has taken longer than it should because it is in conjunction with completely redoing my entire site. This is the "soft" opening. Right now there are a lot of things that still need to be fixed.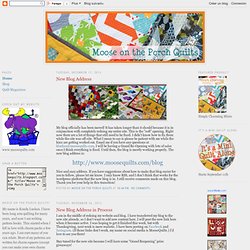 I can't believe that this is the final regular edition of Farmer's Wife Friday. Carla and I have some more progress posts planned. Because our project is not really finished. Not until our quilts are actually put together and quilted! This week, I am foregoing the last letter of the book in favor of a very special guest blogger. Grandma G , as she is known to the blogging community, and I became good friends beginning a couple of years ago.
Live a Colorful Life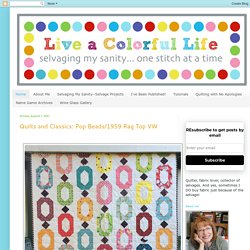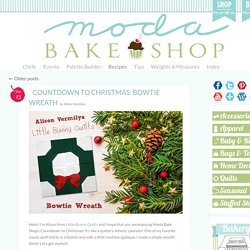 Moda Bake Shop
Reader T. Baker shared an "out of the box" storage solution for in-progress projects - pizza boxes! They're large, lightweight, easy to find new (and cheese-free) online, and much cheaper than conventional plastic storage bins.
MichaelMillerFabrics.com
Moda Fabrics - Producer of Quilting Fabric, Sewing Notions, and Home Decor
Me and My Sister Designs
Free Patterns Enjoy these free patterns and share them with your friends! By downloading any of these patterns you agree to the following conditions: These patterns may not be sold and any products made from these patterns may not be sold. Scrambled Butterfly Barcode
Amy Butler Design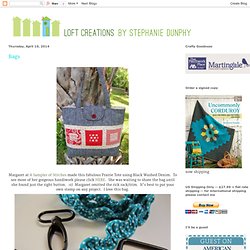 (photo courtesy of Ulla) Have you made Long Johns? I'd love to see yours. That doesn't sound like an appropriate thing to ask...sort of like asking to see your bloomers! I love this photo by Ulla.
Loft Creations
最近童心大萌,大肆做娃娃 让大妞小妞先来给亲们问个好吧~~ 教程和纸样点后面的链接:乡村娃娃制作教程,娃衣的也有哈~~ 偶尔偶尔,偶也很发奋,每天熬夜到夜半两点
莫邪
Quilt Dad
Hello and happy first week of spring, everyone! (Wait, it is spring, right? This week, Mother Nature doesn't seem to agree …) I don't know if it's the change in the season, the fact that I'm settling back in to a bit of a routine after a period of great upheaval, or the impending release of my book, but I'm starting to feel like I just might be getting my groove back. I'm sewing a bit, browsing some awesome new fabric lines in my free time, and planning a friend's quilt that he commissioned me to make for him (a king-sized quilt -- eek!)
Hello Everyone! I am so excited to be a part of the Mystery Sew Red Sew-along that is being hosted by Jimmy Bean's! If you are not already participating in this project, you can click on the link above to get the scoop!! This is block #5 for the series. This block measures 10 1/2" square. I used a square from a layer cake of precut fabrics for the background but any fabric you have lying around that meets the size requirement will work.
Sew Serendipity
Keyka Lou — Home
Some venerable activewear names simply balk at the thought of quitting. Six familiar firms — each of which built a business and a reputation on one specific sport — are refreshing their images with a variety of strategies, from additional categories, trunk shows and endorsement deals to ad campaigns that reflect their history. Executives at Converse, Lacoste, Rossignol, Head, Adidas and Champion — firms that are between 47 and 88 years old — feel that part of their appeal to women is their athletic heritage. Adidas: always cool, always creative. "Fortunately, now what's old is new and what's new is old," said Jim Solomon, senior vice president of marketing for Converse, the North Reading, Mass., athletic footwear company that opened in 1909. Still widely recognized for its Chuck Taylor canvas basketball sneakers introduced in 1923, Converse is focusing now on its performance basketball legacy.
So I've been making homemade dog food, and now my dog thinks I'm practically the Pioneer Woman. At breakfast and dinner time I am a rockstar. My older dog, Liberty, a 12 year old Golden Retriever has been suffering her entire life from a bucketload of food allergies that affect her skin. While we did find a semi-good-for-her bagged food, it still wasn't enough. It only took me 12 years to figure out I could make Liberty her own food. I've had Liberty tested and do know what she's allergic to (pretty much everything), so I used that as my starting point.
Happy Zombie
Sew,Mama,Sew! Blog
i have to say...
Blue Bird Quilts
Sewlover缝艺学堂|手工DIY 拼布 包包 布玩 家居布艺|手工教程 纸样下载|
Stitched in Color
SewHappy Quiltalong
Stacked Coins Baby Quilt
Daisy Quilts...
Jenny of ELEFANTZ
Cinderberry Stitches
Purse frames de-mystified (aka. Laundry Day clutch purse) Tutorial
How to sew piping into your bags - tutorial.
Purse frames de-mystified (aka. Laundry Day clutch purse) Tutorial
503 Service Temporarily Unavailable