Video!
Tutoriales de Flash de FlashFacilito
Curso de Flash
Warping Wallpaper For Those Trippy Nights
By David Ponce The wallpaper you see in the above picture is not an artist's rendition of a hallucinogenic experience; it's actual wallpaper from a German company called Surrealien. You send them a detailed technical plan of your room, including doorframes, hangings and outlets, and the company then sends you back specially designed wallpaper.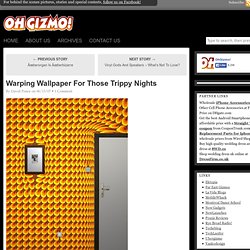 No te pierdas el resto de episodios en: www.seriesyonkis.com/serie/yonkipops Transcripción del vídeo: The Killing es la versión americana de la serie de culto danesa conocida como Forbrydelsen, cuya traducción literal es "el crimen".. Con tres temporadas emitidas y curiosamente cancelada por segunda vez, se trata de "una pedazo de serie" emitida por la cadena AMC, responsable de megaéxitos del calibre de "Breaking Bad" o "The walking dead", pero lamentablemente su elevado precio de producción y unas audiencias modestas en comparación con otras series de la cadena, acabaron por pasarle factura. The killing es una serie oscura que guarda más relación con "Twin Peaks" o "el silencio de los corderos" que con cualquier producto detectivesco actual. Una joya del género que os quitará el sueño hasta que descubráis la respuesta a esta pregunta… ¿Quién mató a Rosie Larsen?