Snacks
I have a total obsession for French fries. No matter how hard I resist them I just cannot stay away; they always make me weak in my knees. Darn I hate it! I need them when I am happy and of course when I am not happy and everything in between. There is absolutely no control of any kind here. This cycle is a delicious cruelty.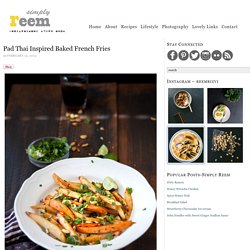 Baked French Fries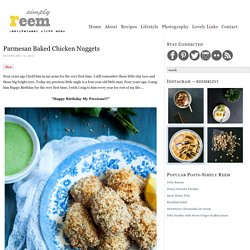 Parmesan Chicken Nuggets Baked
Four years ago I held him in my arms for the very first time. I still remember those little tiny toes and those big bright eyes. Today my precious little angle is a four year old little man. Four years ago, I sang him Happy Birthday for the very first time; I wish I sing to him every year for rest of my life…. "Happy Birthday My Precious!!!" Today I want to share with you all, the recipe for my son's favorite chicken nuggets, "Parmesan and Herb Baked Chicken Nuggets".
Falafel - Traditional Recipe for Chickpea Falafel
In Israel, falafel stands are as numerous and plentiful as McDonalds here in the U.S. Falafel is the unofficial "national snack of Israel." If only we had half as many falafel stands in the U.S. as we do McDonalds, I'd be a very happy girl.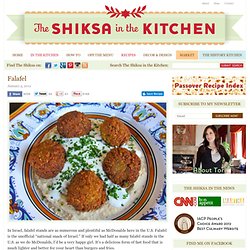 Close Buying sustainably sourced fish means buying fish that has been caught without endangering the levels of fish stocks and with the protection of the environment in mind. Wild fish caught in areas where stocks are plentiful are sustainably sourced, as are farmed fish that are reared on farms proven to cause no harm to surrounding seas and shores.
Smoky mixed-potato wedges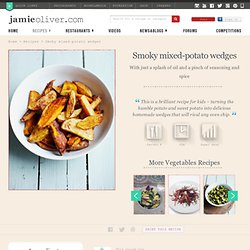 This help-yourself veggie supper is full of fresh flavours and low-fat too Difficulty and servings Serves 4 Preparation and cooking times Prep 10 - 15 mins
Mumbai potato wraps with minted yogurt relish | BBC Good Food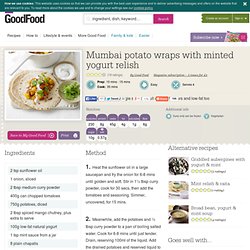 Chile Lime Chicken Tenders recipe from Betty Crocker
I have prepared this no knead bread recipe for so many times…always with excellent results. I prepared it dividing the dough and making three loafs, I did it as small round bread balls, and I did this today, dividing the dough in two, resulting in a larger loaf (I ate a slice for snack with a thin layer of salted butter and it was delicious). This bread can be eaten for breakfast, with butter and/or jam; can be used to a snack and also served with main meals. If you keep it into a plastic bag, it last for two or three days and are excellent when re-heated. An important thing: do not use baking paper. I noticed that without it, the result is even better, as the crust remains crispy and the inside very soft.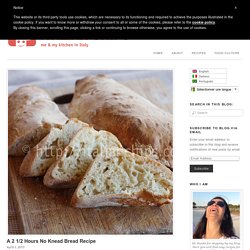 A 2 1/2 Hours No Knead Bread Recipe | Italian Chips
I firmly believe that to make any type of entertaining stress free there is only one magic ingredient required and that is to serve food which is incredibly delicious to taste and is astonishingly simple to make. Period. Holiday anxiety is my best friend, always on time and never leaves me alone… But with some super easy and scrumptious recipes, I keep this baby far away from my kitchen.
Delicious potatoes with sundried tomatoes and basil pesto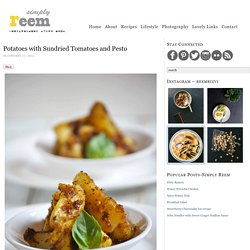 Baked French Fries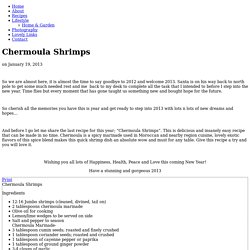 Chermoula Shrimps
So we are almost here, it is almost the time to say goodbye to 2012 and welcome 2013. Santa is on his way back to north pole to get some much needed rest and me back to my desk to complete all the task that I intended to before I step into the new year. Time flies but every moment that has gone taught us something new and bought hope for the future.
I found this recipe via Savory Sweet Life . Not only is there no baking involved, but these cookies only call for three ingredients. It doesn't get much easier than that.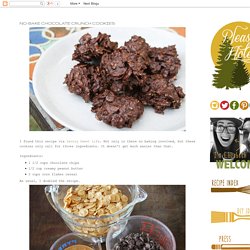 No-Bake Chocolate Crunch Cookies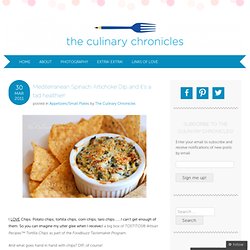 I LOVE Chips. Potato chips, tortilla chips, corn chips, taro chips…….I can't get enough of them.
Mediterranean Spinach Artichoke Dip…and it's a tad healthier!
I've always been a sports fan. My dad and brother taught me at a young age to love sports. I played basketball in Jr. High, but chose to be a cheerleader in high school-no laughs please. I had fun cheering and I got the best seats for free. Sometimes I got in trouble for yelling at the refs instead of the cheers, but it was all in good fun:)
Roasted Red Pepper and White Bean Dip
White Bean and Artichoke Dip and BlogHer Food Recap
I have been blessed with unbelievable friends throughout my life-siblings, school pals, college buds, roommates, co-workers, and blogging acquaintances. I enjoyed the BlogHer Food conference for numerous reasons, but spending time with blogging friends was definitely the highlight. Sitting in a room with hundreds of my friends evoked emotion that I cannot put into words. It was refreshing to surround myself with friends that inspire and motivate me to become a better person. Today, I am sharing a few photos from BlogHer Food and a recipe for white bean and artichoke dip.
Olive and Goat Cheese Turnovers
Food isn't meant to be perfect, it is meant to be shared....... This is our personal journey about our love affair with life and good food. We started cooking in a small 20 sq. ft. kitchen in San Francisco. We had one small stove, one counter top, and one cupboard. We are all grown up now, as we moved into a bigger kitchen in 2010.
Bacon Cheese Potatoes (Slow Cooked)
Bacon Cheese Potatoes (Slow Cooked)
Sprinkles of Parsley: Fried Mozzarella and a Giveaway!
Homemade Nutella | Reclaiming Provincial
Honey Walnut Banana Bread
Spicy Firecracker Shrimp
Mama Loves Food!: French Dip Crescents with Easy Au Jus.
Baked Sweet Potato Fries
Involtini: Feta & Prosciutto Rolls
Honey Cinnamon Roasted Chickpeas | Roasted Chickpea Recipe
Feta Borek
Grilled Salt & Vinegar Potatoes Recipe