Dinners
From The Kitchen: Coronation Chicken PIes. Who knew it was National Pi Day in America today?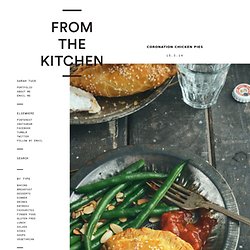 (Umm probably 314 million Americans, but not me!) So it appears this day is to celebrate the life of 'Pi', (haha) this time actually in a mathematical sense, and is often celebrated by eating pie! Right then if you are British or of English descent you will probably already know what Coronation Chicken is - one of the most mad yet soothing and delicious combinations of food in a faux-Indian style. Maple Pork Chops With Griddled Baby Gem Lettuce. Sweet maple syrup, tangy vinegar and salty soy sauce with a kick of freshness from coriander really make for an extra special pork chop in this recipe.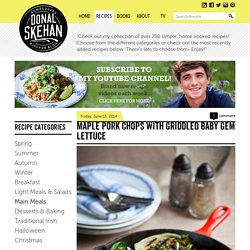 I particularly love serving them with griddled Baby Gem lettuce (a trick I picked up in America), which turns this humble salad green into something smoky, meaty and fresh. Serves 4 1 tablespoon butter 1 tablespoonrapeseed oil, plus extra for brushing 4 large pork loin chops on the bone, 2.5cm thick Sea salt and ground black pepper 1 small red onion, peeled and finely sliced 1 tablespoon apple cider vinegar 4 tablespoon maple syrup 1 tablespoon light soy sauce 4 tablespoon apple juice 6 Baby Gem lettuce, cut in half lengthways Large handful of coriander leaves, roughly chopped, plus extra to garnish 5 spring onions, trimmed and finely sliced, to garnish Preheat the oven to 190°C (375°F), Gas Mark 5.
Melt the butter with the oil in a large ovenproof frying pan over a high heat. 5 Ingredient Lemon Chicken with Asparagus. Easiest meal of all time, right here, right now.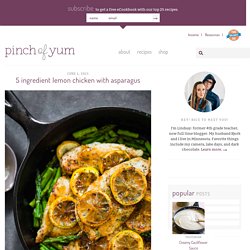 It's no secret that I love really simple recipes *cheers and applause* and one of my favorite things is making a recipe that doesn't require a massive trip to the grocery store for 80 million ingredients. Or should I say massive multiple trips to the grocery store – because without fail, I will go for asparagus and lemons and come back with peanut butter, oatmeal, almond milk, spinach, a few Amy's frozen dinners, chocolate chips, bananas, and yogurt, and I'm putting the groceries away and it's so great to have all these yummy foods in my house and what will I make with the chocolate chips and mmmmm smoothie possibilities and OMG I did not get the lemons and asparagus.
WHAT and WHY. Healthy Jalapeño Sweet Potato Chicken Chili. You know those times where stuff just works?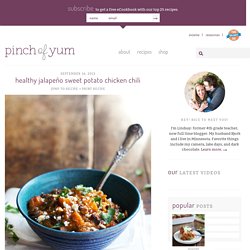 This is one of those times. I did not really know where I was headed when I started making this chili other than that I had a vision of something semi-spicy that could compliment that bag of blue corn + flax tortilla chips burning a hole in my cupboard. Just another example of the finer things that inspire greatness for me. By the way, blue corn + flax tortilla chips? Saturday Night Teriyaki Chicken. I love fuss-free one-tray dinners that can be served straight to the table where people can help themselves.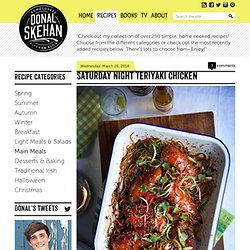 This teriyaki chicken tray bake can be prepared ahead of time and popped in the oven when guests arrive. Then it's just a case of tossing egg noodles through the sauce in the bottom of the pan and adding a few fresh ingredients and you are ready to rock! Serves 6 3 garlic cloves, peeled and finely chopped 1 red chilli, deseeded and finely chopped 1 lime, zest grated and the fruit cut in half 5 tablespoons dark soy sauce 1 tablespoons dark soft brown sugar 1 tablespoon sunflower oil 1 tablespoon sesame oil 6 chicken fillets 300g egg noodles, cooked 6 spring onions, trimmed and finely sliced Small handful of sesame seeds Good handful of coriander leaves, to garnish 1 red chilli, deseeded and fi nely sliced, to garnish In a large bowl, make a marinade for the chicken.
Combine the garlic, chilli, lime zest, soy sauce, brown sugar, sunfl ower oil and sesame oil. Roasted Fish with Lemon-Caper Crumb - Annabel Langbein – Recipes. Pad Thai Noodles - Annabel Langbein – Recipes. Snapper with Ginger Miso Sauce - Annabel Langbein – Recipes. Flash-Roasted Salmon with Chilli Lime Glaze - Annabel Langbein – Recipes. Lamb Steaks with Mediterranean Sauce - Annabel Langbein – Recipes. Remove lamb steaks from packet 10-15 minutes before cooking to allow to come to room temperature.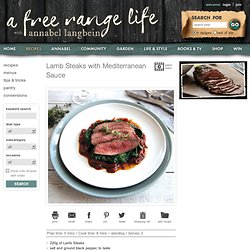 When ready to cook, season lamb with salt, pepper and lemon zest. Heat a heavy-based frypan over medium-high heat. Place 1 tsp butter on each lamb steak, then place butter-side down in hot pan. Cook over high heat for 1 minute then reduce heat to medium high and cook another 2 minutes. Steamed Fish with Lemongrass and Coriander - Annabel Langbein – Recipes. Mix together lemongrass, lime zest, coriander, salt, pepper and oil.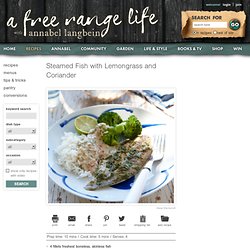 Brush or spray base of a large steamer basket with a little oil to prevent fish from sticking. Arrange fish in steamer, making sure there is a little space between fillets. Divide coriander mixture over each fillet and spread to cover the top. Miso and Chilli Lamb Shanks | Dish. Ingredients 4 lamb shanks (450-500g per shank) 1 tablespoon coriander seeds 2 dried chillies 1 teaspoon dried oregano 3 tablespoons plain flour sea salt and freshly ground black pepper Sauce 4 garlic cloves, minced 2 small carrots, peeled and diced 1 large onion, finely chopped 5 large celery stalks, finely diced 1 tablespoon rosemary leaves, chopped 100ml white wine 2 heaped tablespoons white miso paste (find it in the international aisle in your supermarket, or use 5 anchovies) juice from two large oranges 2 cans of plum tomatoes 3 tablespoons balsamic vinegar To serve: Italian flat parsley 1x 28cm heavy bottom pot with lid Preheat oven to 180°C Grind the coriander seeds and chilli in a pestle and mortar then add the oregano and mix well.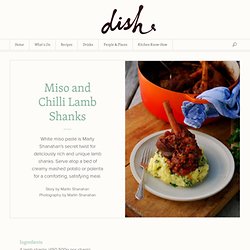 Sprinkle the spice mix onto a chopping board and roll the lamb shanks in it, coating evenly. Season with salt and pepper, and dust lightly all over with the flour. ChelseaWinter.co.nz Moroccan lamb shanks » ChelseaWinter.co.nz. Click here to print Lamb shanks are a beloved Kiwi classic, and it's not hard to see why.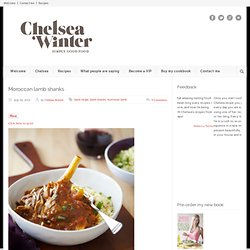 Although the shank is one of the least tender parts of the lamb (meaning it has excellent flavour), when it's slow cooked, it falls off the bone. I've put a Moroccan twist on this recipe – the lovely hum of all those delicious aromatic spices will warm you up on even the chilliest of evenings. Serves 4-6Prep time – 25 minutesCooking time – 3.5 – 4 hours. ChelseaWinter.co.nz Lamb Wellingtons » ChelseaWinter.co.nz. Click here to print Photo courtesy of Manja Wachsmuth Photography Lamb Wellingtons These deliciously tasty little beauties may look flash, but they're not hard to make at all and the flavours will knock your socks off.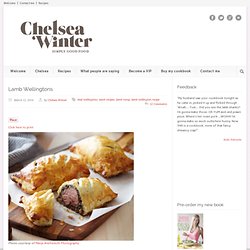 Fragrant South-East Asian Prawns | Nadia Lim. These prawns are full of Thai flavour with kaffir lime leaves, lemongrass, lime and fish sauce, and you can get them on the table faster than Thai takeaway. Thinly sliced chicken can be used instead of, or as well as, the prawns if you prefer. You can also use soya sauce instead of the fish sauce. It is important to taste, taste, taste and add more acidity (lime), heat (chilli), sweetness (sweet chilli) and saltiness (fish/soy sauce) as you like to create a harmonious balance of flavour. Ingredients 1 ½ tablespoons sweet chilli sauce.
Harissa Chicken, Pumpkin and Avocado Salad with Mint Yoghurt Dressing | Nadia Lim. Harissa is a North African spice paste that packs a punch of flavour, making it an incredible marinade for just about anything, including juicy tender chicken thighs like in this recipe. Marinate overnight if you have time and fire up the BBQ now that it's spring! Ingredients Harissa chicken and pumpkin 6-8 boneless skinless chicken thighs. Five-spice and Lemongrass Beef or Pork with Noodles | Nadia Lim. This is my take on a dish I ate in Hoi An, a small city in central Vietnam.
The original dish contains Cao Lao noodles which are still hand-made by small family-run noodle businesses (in a tiny shed at the back of their house). However Hoi An is the only place in Vietnam you can find these noodles unfortunately, let alone in New Zealand! So I have used udon noodles as a substitute which go well. Lime, Chilli and Ginger Glazed Salmon | Nadia Lim.
This is the ultimate quick, colourful and healthy dinner. It will become a favourite mid-week dinner quick fix in your household. Lime and chilli glazed salmon. Fijian Coconut Fish with Tomato, Spinach and Rice | Nadia Lim. Poaching in coconut milk and aromatics like lemongrass is a lovely way of cooking fish. You can do chicken breast this way too. These flavours take me back to Fiji where we had some of the best fish dishes I've ever had – though it helped that the fish had only been caught about 30 minutes before we were sitting down to eat! COCONUT FISH 1 stalk lemongrass 1 red chilli (optional) ½ red onion 4 ripe tomatoes or 1 can crushed tomatoes 1x can coconut milk 2-3 tablespoons lemon juice 2 tablespoons fish sauce 1 teaspoon sugar ¼ cup roughly chopped basil leaves 600g white fish fillets (e.g. terakihi, gurnard, snapper etc) TO SERVE 300g chopped spinach or baby spinach leaves ¼ cup roughly chopped basil leaves.
Fleur Sullivan's Smoked Fish Pie | Dish. Chả Cá - Vietnamese Marinated Fish with Rice Noodles | Dish. From The Kitchen: Fabulous Fish PIe. This Week in Deconstructing Dinners. Christmas Smoked Salmon and Celebration Couscous. US Masala: Roasted Baby Potatoes Indian Style! Grilled Ribeye Steak with Onion-Blue Cheese Sauce. Brussels Sprout Gratin. An Incredible Tasty Veggie Burger Recipe | Italian Chips.
Soup. Chicken. Currys. Chnese. Mylasian.
---