Twitter stuff
Omniture Adds Twitter Analytics for Brands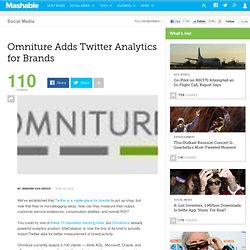 We've established that Twitter is a viable place for brands to put up shop, but now that they're microblogging away, how can they measure their output, customer service endeavors, conversation abilities, and overall ROI? You could try one of these 10 reputation tracking tools , but Omniture's already powerful analytics product, SiteCatalyst, is now the first of its kind to actually import Twitter data for better measurement of brand activity. Omniture currently boasts 5,100 clients — think AOL, Microsoft, Oracle, and eBay — capturing more than 1 trillion online transactions per quarter, and is now hoping to support their clients looking for Twitter insights on par with the standard Web analytics they're used to receiving.
Eric, cwolosin at gmail. You have a great Saint Sylvestre too, and we'll talk next year! (Off of this thing!) by claudia.wolosin Dec 31
Hi Eric, happy holidays to you too! Jon asked me to get in touch with you to let you know that he is 1/on vacation with no online access (whoa!), 2/he's sick, and 3/he won't be coming to your area at this time, but will be coming within the next few weeks and hopes to meet with you then. Hope you had a great time in Italy! by claudia.wolosin Dec 29
Nice to meet you, Eric! Jon and I are both American (actually, I am French too). I am sure that the two of you will have a lot to discuss. Getting back to the social media stuff, I bought a book (Kindle) called The Social Media Bible, etc. So far I find it very informative. They have a site, http://socialmediabible.ning.com/ by claudia.wolosin Dec 16
You're a lot farther ahead on this than I am! Near Cannes? I'm in Grenoble, and Kidson (Jon) is in Bastia. We're meeting up in Avignon next week, and Jon will be in Cannes visiting friends/partners who have a dvpmt company (can't remember where they are, exactly). I won't be down there myself (unfortunately), but if you'd like to talk with Jon, he'd be very happy to meet you. Currently I run a small communications agency, and Jon is the art director for a comm agency that does a lot of web sites, and we often work together on various projects, and are about to start our own agency. At this point, that's about all I can tell you! Let me know, ok? And pls feel free to get in touch with Jon if you'd like to trade ideas and see if there may be something we could all do together. By the way, do you have a real name? :) Best, Claudia by claudia.wolosin Dec 16
Phaleon, thanks for the reply! (Am zooming up the learning curve here, and the curve is getting higher by the minute!) I see you're in France -- KidsonKreative and I are too! (Even tho we are not together geographically.) We should get together some day and discuss! by claudia.wolosin Dec 15
It may seem like an impossible task to keep up with all the Twitter apps that have come to market as of late. Even though you have plenty of directories to help with the process, we noticed that it's still difficult to ascertain which apps support multiple accounts. As more and more people are using Twitter for personal and professional reasons, the demand for a Twitter client to match those multifaceted needs is rising.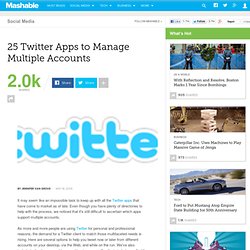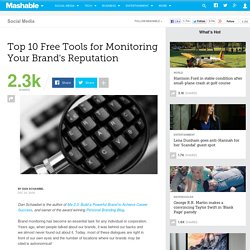 Dan Schawbel is the author of Me 2.0: Build a Powerful Brand to Achieve Career Success , and owner of the award winning Personal Branding Blog . Brand monitoring has become an essential task for any individual or corporation. Years ago, when people talked about our brands, it was behind our backs and we almost never found out about it.
Twitter Lists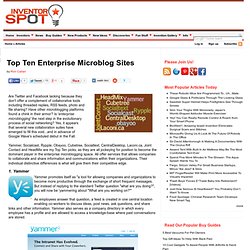 Top Ten Enterprise Microblog Sites
Are Twitter and Facebook lacking because they don't offer a complement of collaborative tools including threaded replies, RSS feeds, photo and file sharing?
Twitter Lists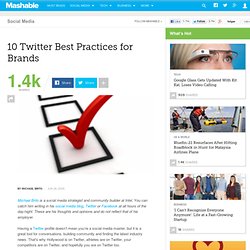 10 Twitter Best Practices for Brands
Michael Brito is a social media strategist and community builder at Intel.