Twitter for businesses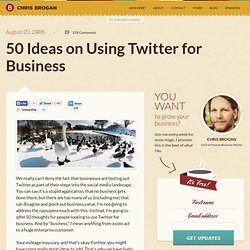 We really can't deny the fact that businesses are testing out Twitter as part of their steps into the social media landscape. You can say it's a stupid application, that no business gets done there, but there are too many of us (including me) that can disagree and point out business value.
Twitter To Start Charging Companies For Having An Account?
STAMFORD, Conn., March 26, 2009 View All Press Releases By 2011, Enterprise Microblogging Will Be a Standard Feature on 80 Percent of Social Software Platforms As businesses struggle to consider the uses of microblogging platforms such as Twitter in the workplace, Gartner, Inc. has highlighted the four ways in which organizations are using Twitter.
Gartner Highlights Four Ways in Which Enterprises Are Using Twit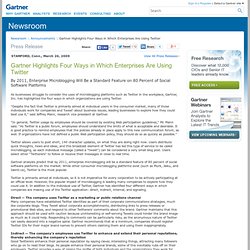 NEW: Post to WordPress from Tweetie and Other Twitter Apps