My web apps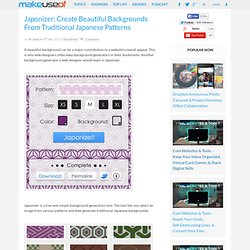 Japonizer: Create Beautiful Backgrounds From Traditional Japanese Patterns
A beautiful background can be a major contribution to a website's overall appeal. This is why web designers often keep background generators in their bookmarks. Another background generator a web designer would want is Japonizer.
How to create a great prezi by Adam Somlai-Fischer on Prezi
Assigned to Me (Virtual Building Solutions) - Asana
Web
clark's notebook - clark's notebook
똑똑한 나만의 매니저 리니지 게임접속 알림, 혈맹공지 확인, 보유 쿠폰 정보 그리고 세금납부까지! 필요한 정보를 챙겨주는 똑똑한 매니저 리니지앱을 꼭 설치해보세요.