Building Information Modeling (BIM)
Revit Add-Ons
Learn About Network Management & New Network Technologies – Geek Guides | SolarWinds
Boost Your Brain in the SolarWinds Resource Center! We've been busy filming videos, taping webcasts, writing whitepapers, developing free tools, and creating comprehensive guides on a wide variety of network, storage, and application management topics. Now we've collected all this geeky goodness into one place where you can find answers to your toughest IT management questions.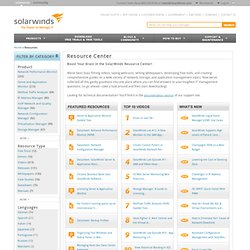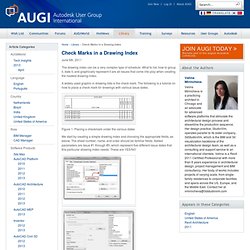 Check Marks in a Drawing Index | AUGI
The drawing index can be a very complex type of schedule. What to list, how to group it, date it, and graphically represent it are all issues that come into play when creating the neatest drawing index. A widely used graphic in drawing lists is the check mark. 3.2.1 BIM Workflow Summary
Build LACCD - 3.2. BIM Workflow Process
bimtraining's Channel
HOK BIM Solutions
BIMtopia
Who enjoys the fastest internet?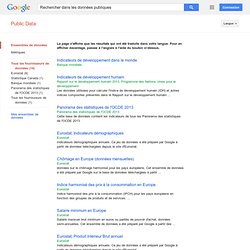 Importing Autocad Drawings into Revit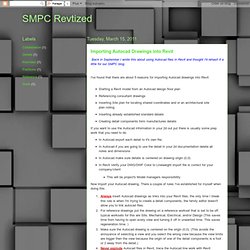 Back in September I wrote this about using Autocad files in Revit and thought I'd rehash it a little for our SMPC blog. I've found that there are about 5 reasons for importing Autocad drawings into Revit Starting a Revit model from an Autocad design floor planReferencing consultant drawingsInserting Site plan for locating shared coordinates and or an architectural site plan notingInserting already established standard detailsCreating detail components form manufactures details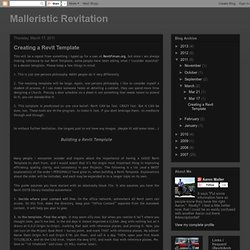 Creating a Revit Template
1. This is just one persons philosophy.
Tools | Air Force Building Information Modeling for MILCON Transformation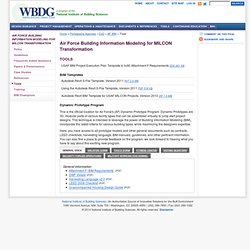 USAF BIM Project Execution Plan Template to fulfill Attachment F Requirements DOC 661 KB
www.ideateinc.com/whitepapers/bim/autodeskrobot_revitstructure_whitepaper.pdf
Ideate - White Papers
Let's take a little trip down memory lane, shall we? I want to give you a brief history of documentation in Architecture in the 21st century in Kansas City, MO.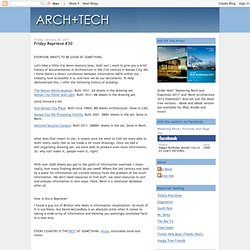 Arch | Tech: Friday Reprieve #30