Things i want
JS Collection 862796 Dress. Trader Joe's. Cucumber Sandwiches Print Recipe 1 TJ's English Cucumber, peeled 4 ounces TJ's Wild Smoked Salmon, cut into small rectangular pieces 4 ounces TJ's Whipped Cream Cheese or TJ's Non Dairy Spread 1/2 TJ's Lemon (juice) 1/8 teaspoon TJ's Spices of the World Dill Cut peeled cucumber into thirds.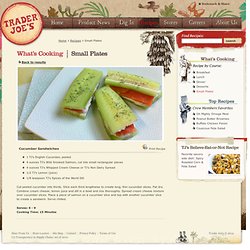 Slice each third lengthwise to create long, thin cucumber slices. Pat dry. Monster Cookie Dough Dip. Wow.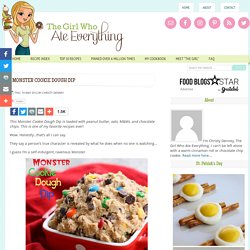 Honestly…that's all I can say. They say a person's true character is revealed by what he does when no one is watching… Chocolate Chip Cookie Dough Mug Cake. By Brooke McLay | With the weather cooling down, I was more than happy to break out the hot cocoa mugs last week.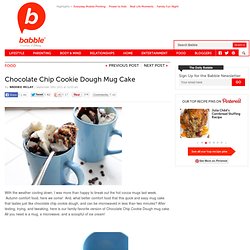 Autumn comfort food, here we come! And, what better comfort food that this quick and easy mug cake that tastes just like chocolate chip cookie dough, and can be microwaved in less than two minutes? After testing, trying, and tweaking, here is our family-favorite version of Chocolate Chip Cookie Dough mug cake. All you need is a mug, a microwave, and a scoopful of ice cream! Marc by Marc Jacobs Ladies Henry Watch. En Ladies Henry Watch Color: please select a color + Add to My Designers x Remove From My Designers Style # MARCJ42356.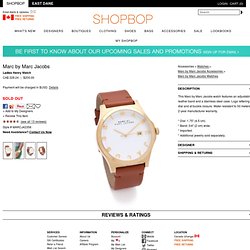 Woven Tribal Scarf | FOREVER21 - 1000041165. For Consumers in Rhode Island, New York, Minnesota & Massachusetts Attention, ready-to-wear non-prescription glasses are not intended to replace prescribed corrective lenses or examinations by an eye care professional.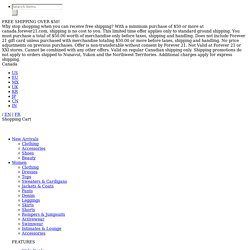 Continuous eye check-ups are necessary to determine your eye health status and vision needs. These magnified readers are not intended to be a substitute for corrective lenses; only a professional eye examination can determine your eye health status and vision needs. If you have experiences a vision loss, the selection of these glasses should not take the place of an eye exam.
Teeny Tiny Rainbow Cakes. You've probably seen many full-size rainbow cakes (here's one with White Chocolate Buttercream and who can resist this Vanilla Rainbow Cake?).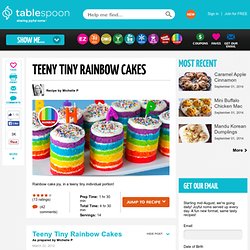 But there's something special about having a tiny little rainbow cake of one's own, which is why I'm making these for a friend's birthday later this month. They're just the ticket to bring a smile to anyone's face, especially a slightly birthday-weary guest of honor! These are easy to make, and a fantastic candidate for "make-ahead" due to the freezer time involved. The parchment paper is actually, I believe, the most important part of the recipe—the layers are so thin that there's no other way to handle them. The parchment paper provides both stability AND mobility! 158273. Alice + Olivia Halter Bodysuit. En Halter Bodysuit Color: please select a color + Add to My Designers x Remove From My Designers Style # ALICE40836.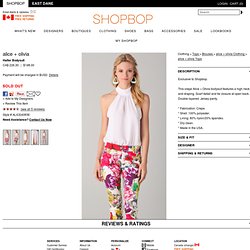 Spectacular Sheath/Column Sweetheart Floor-length Court Tiered Wedding Dresses. Shipping Methods Weight:2.00kg Ship to: ProcessingTime:10-15Calendar Days refers the time needed for the preparation of order item(s) before shipping We ship to over 200 countries worldwide.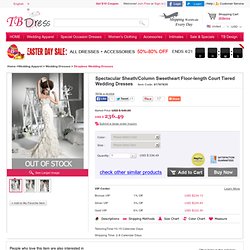 Shipping Information for Tailor-Made Dresses You will always get personally tailored dresses from us no matter you choose a standard size or give us your custom measurements. Shipping time is different for different items. ShopKarlasCloset.com. Naeem Khan Metallic-Bodice Combo Gown. Tie Dye T-Shirts with Sharpie Markers!
It was Red Ribbon week at my daughter's school this week and their first dress up day was tie dye t-shirts and wouldn't you know she didn't have anything tie dye in her closet.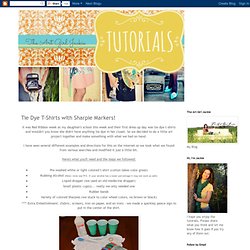 So we decided to do a little art project together and make something with what we had on hand. I have seen several different examples and directions for this on the internet so we took what we found from various searches and modified it just a little bit. Here's what you'll need and the steps we followed: Pre-washed white or light colored t-shirt (cotton takes color great)Rubbing Alcohol (Note: mine was 91%. If your alcohol has a lower percentage it may not work as well)Liquid dropper (we used an old medecine dropper)Small plastic cup(s)... really we only needed oneRubber bandsVariety of colored Sharpies (we stuck to color wheel colors, no brown or black)
Tile Coaster Tutorial. There's nothing better than a handmade gift.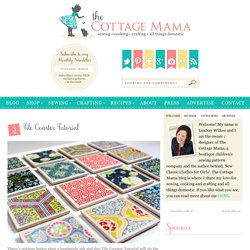 And what better way to celebrate than with some fun, festive coasters. These coasters are made from inexpensive tiles from the hardware store and are embellished with fun, designer scrapbook paper. Anne Robin - Calligraphy | Anne Robin: Los Angeles Calligrapher, Hand Written Calligraphy, Wedding Invitations. Victoria Spruce. Southern Charm. VIPXO - A UK FASHION, STYLE & BEAUTY BLOG: I'M LOVING... TWO TONE CLUTCH BAGS.
If you've been following my blog for a while you'll know that I'm a big fan of block colour and have featured clashing colours in quite a few outfit posts before, so I'm sure you can understand why I'm showing you these amazing bags today! These bags are actually inspired by those from Céline, the ultimate designer in block coloured bags and i found them whilst doing some designer searches last week. I think these clutches are perfect for spring/summer and adding that extra touch to an outfit. I know it's meant to be all about pastels next season, but I'm not quite ready to let go of block colours yet!
Bow Down Tank - Coral in What's New at Nasty Gal. 2.bp.blogspot.com/-mgZ6JXZW_Bw/TxCMw-8MgHI/AAAAAAAABoI/a8S4yFWK2CQ/s1600/YW%252BValentine%252527s%252BDay%252BTreat. Rockin Lace Platform in What's New at Nasty Gal. Drunk Gummies. I typically stay away from refined sugars (they make me itchy) but while I was recently visiting my sister I saw a tray of gummy bears in her fridge. When I asked why she kept gummies in the fridge she replied "because they are drunk". I had to give them a try. Luana Suede Look Platform Shoes In Mint Green - Heels from The Fashion Bible UK. R.J. Graziano "Wild One" Snake-Design 6-3/4" Stretch Bracelet at HSN. R.J. Graziano "Wild One" Snake-Design 6-1/4" Stretch Bracelet at HSN.
Heidi Daus "Definitely Deco" Crystal-Accented East/West Ring at HSN. Fashion Jewelry Rings at HSN.com. 3.bp.blogspot.com/-5zmpigIeBIU/TwNsMjNiiaI/AAAAAAAAE5w/NwA8G54gX20/s320/gerbera-daisy-centerpiece-ws-14-41. Gift Boutique Three Level Jewelry Box. Rachel Zoe Canvas Zoe Tote. The Zealous Shoe in Silver : Jeffrey Campbell. Jeffrey Campbell Rock Me in White Black at Solestruck. Jeffrey Campbell Zealous in Nude Patent at Solestruck.
Cute Red Pants - Relaxed Fit Pants - Red Slacks - $35. Kissing Giraffe Bangles and Other Accessories We Love From Juicy Couture's Summer Collection: Slaves to Fashion. Jules Smith Americana Classic Ring. Adia Kibur Short Neon Stone Necklace. Adia Kibur Multi-Strand Neon Bead & Crystal Necklace. Juicy Couture Chandelier Fringe Earrings. Juicy Couture Teardrop Earrings. Noir Jewelry Holiday Dangle Earrings. Iosselliani Crystal Drop Earrings. Noir Jewelry Neon Crystal Drop Earrings.
PATRONAJE. Michael Antonio Studio Gallista Yellow Velvet Cutout Platforms - $149. Freelook Men's HA1136CHMG-3 Cortina Gold Chronograph Watch.
---