Nuclear catastrophe
Marietje Schaake on Iran and its nuclear programme. » Path of radioactive water leak at Japan plant unclear. ALERTE - Fukushima: Tepco va rejeter 11.500 tonnes d'eau radioactive en mer. The Greanville Post » Japan's Apocalypse. The Fukushima Nuclear complex, 1975, showing protecting walls against Tsunamis.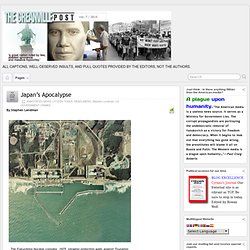 They proved useless. DESPITE a disaster multiples worse than Chernobyl, major media reports all along have downplayed it. Now they largely ignore it, moving on to more important things like celebrity features and baseball's opening day, besides pretending American-led Libya bombing is well-intended when, in fact, it's another brazen power grab – an imperial war of conquest, explained in numerous previous articles. The horror of all wars aside, waged solely for wealth and power, never humanity, Japan deserves regular top billing, given its global implications and potential millions of lives affected. Japanese nuclear crisis could go on for months, officials warn | World news.
Where concrete has failed to prevent highly radioactive water pouring into the sea, workers at Japan's Fukushima Daiichi nuclear power plant have shifted hope of plugging the leaks to an absorbent polymer mixed with sawdust and shredded newspaper that expands 50-fold when in contact with water.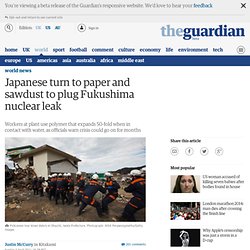 Although officials conceded the polymer had made little impact so far, they will wait until Monday before deciding whether to abandon it. "We were hoping the polymers would function like diapers, but we have yet to see a visible effect," said Hidehiko Nishiyama, spokesman for Japan's nuclear safety agency. Officials separately has warned that the nuclear crisis could drag on for months, the first time that they have offered a timescale.
Japanese Nuclear Disaster Severs Town's Lifeline.
Pachube - data infrastructure for the Internet of Things. From Tokyo to California, radiation tracking gets crowdsourced | Cutting Edge. The intensifying nuclear crisis in Japan is raising anxieties on both sides of the Pacific over the potential impacts of radiation exposure, and a relative dearth of official information on radiation levels is leading some to turn to crowdsourced options.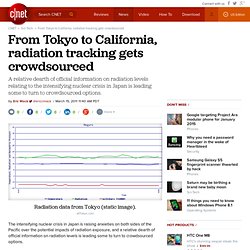 Japanese officials warned residents living near the Fukushima Daiichi nuclear power plant to stay indoors after a third explosion at the plant in four days, followed by elevated radiation levels around the plant, which the officials said were high enough to harm human health. Panic was reported in Tokyo, as radiation levels rose to as much as 23 times the normal level, according to some reports.
With official estimations of the threat from radiation across Japan changing rapidly and sometimes inconsistent, a number of real-time amateur radiation monitors have popped up online. Fukushima, «bien pire que Tchernobyl», selon une spécialiste russe | Séisme au Japon. «Tchernobyl était comme l'explosion d'une bombe sale.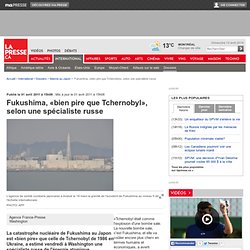 La nouvelle bombe sale, c'est Fukushima, et elle va coûter encore plus cher» en termes humains et économiques, a averti Natalia Mironova, ingénieur thermodynamique qui est devenue l'un des principaux adversaires du nucléaire dans son pays après la catastrophe de 1986. «Fukushima est bien pire que Tchernobyl», a-t-elle déclaré devant des journalistes, estimant que l'accident nucléaire japonais pourrait dépasser celui de la centrale soviétique sur l'échelle internationale de mesure de gravité.
Au niveau «sept», l'accident de Tchernobyl, considéré comme le plus grave de l'histoire du nucléaire civil, occupe le sommet de cette «Échelle internationale des événements nucléaires et radiologiques». In Japan: Wider Evacuation Zone Urged : The Two-Way. Hide captionJapanese Self-Defense Force soldiers walked in a line after finding the body of a boy in the rubble in Higashimatsushima, Miyagi prefecture earlier today (March 31, 2011).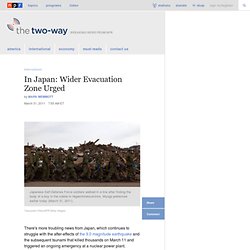 Yasuyoshi Chiba/AFP/Getty Images Japanese Self-Defense Force soldiers walked in a line after finding the body of a boy in the rubble in Higashimatsushima, Miyagi prefecture earlier today (March 31, 2011). Japan under pressure to widen nuclear evacuation zone | World news. Pressure is mounting on Japan to expand the evacuation zone around the Fukushima Daiichi power plant, as the prime minister says he plans to review the country's nuclear energy policy.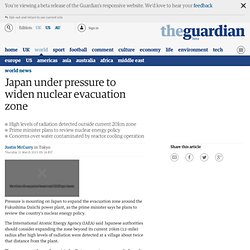 The International Atomic Energy Agency (IAEA) said Japanese authorities should consider expanding the zone beyond its current 20km (12-mile) radius after high levels of radiation were detected at a village about twice that distance from the plant. The government has so far resisted calls to evacuate more people from the area, but said its policy was under constant review, and that monitoring of radiation levels was being increased. Japan nuclear crisis: IAEA, Greenpeace report high contamination outside evacuation zone. Consequences of the nuclear crisis in Japan continue to expand.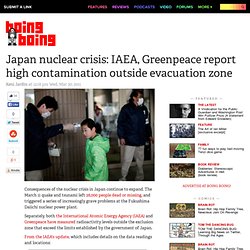 The March 11 quake and tsunami left 28,000 people dead or missing, and triggered a series of increasingly grave problems at the Fukushima Daiichi nuclear power plant. Separately, both the International Atomic Energy Agency (IAEA) and Greenpeace have measured radioactivity levels outside the exclusion zone that exceed the limits established by the government of Japan. From the IAEA's update, which includes details on the data readings and locations:
Japan: Radiation levels threaten coastal livelihoods. Japan orders immediate safety upgrade at nuclear plants. La radioactivité effraie les ports d'Europe. Après les constructeurs automobiles notamment, c'est au tour des ports de demander des mesures de précaution concernant les bateaux en provenance du Japon.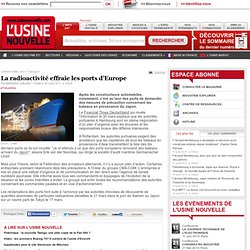 Le Financial Times Deutschland qui révèle l'information le 30 mars explique que les autorités portuaires à Hambourg sont en pleine négociation d'un plan d'urgence avec les douanes et les responsables locaux des Affaires intérieures. A Rotterdam, les autorités portuaires exigent des armateurs que les capitaines de tous les bateaux en provenance d'Asie transmettent la liste des dix derniers ports où ils ont mouillé. "Je m'attends à ce que des ports européens renvoient des bateaux arrivant du Japon", assure Erik van der Noordaa, qui dirige la société d'audit maritime Germanischer Lloyd.
Mais pour l'heure, selon la Fédération des armateurs allemands, il n'y a aucun plan d'action. Japan may have lost race to save nuclear reactor | World news. The radioactive core in a reactor at the crippled Fukushima nuclear power plant appears to have melted through the bottom of its containment vessel and on to a concrete floor, experts say, raising fears of a major release of radiation at the site.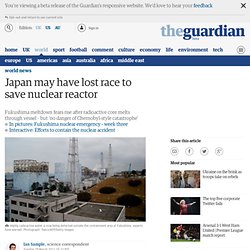 The warning follows an analysis by a leading US expert of radiation levels at the plant. Readings from reactor two at the site have been made public by the Japanese authorities and Tepco, the utility that operates it. Richard Lahey, who was head of safety research for boiling-water reactors at General Electric when the company installed the units at Fukushima, told the Guardian workers at the site appeared to have "lost the race" to save the reactor, but said there was no danger of a Chernobyl-style catastrophe.
Radiation rises in seawater near Fukushima plant | World news. Japanese officials have conceded they are no closer to resolving the nuclear crisis at Fukushima Daiichi power plant, as new readings showed a dramatic increase in radioactive contamination in the sea.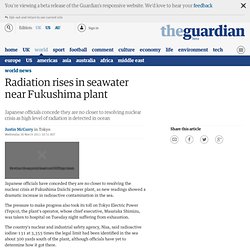 The pressure to make progress also took its toll on Tokyo Electric Power (Tepco), the plant's operator, whose chief executive, Masataka Shimizu, was taken to hospital on Tuesday night suffering from exhaustion. The country's nuclear and industrial safety agency, Nisa, said radioactive iodine-131 at 3,355 times the legal limit had been identified in the sea about 300 yards south of the plant, although officials have yet to determine how it got there. Hidehiko Nishiyama, a Nisa spokesman, said fishing had stopped in the area, adding that the contamination posed no immediate threat to humans. » Seawater radiation rise compounds Japan's nuclear crisis. Fukushima : "La menace nucléaire perdurera sur le long terme" Pierre Le Hir, journaliste scientifique au "Monde" | pour Le Monde.fr | 29.03.11 | 11h59 • Mis à jour le 30.03.11 | 18h05 Dans un chat sur Lemonde.fr, Pierre Le Hir, journaliste au "Monde", l'accident de Fukushima est déjà une catastrophe nucléaire, dont l'impact environnemental et sanitaire pourrait encore s'accroître dans les prochaines semaines.
A l'évidence, l'accident de Fukushima est déjà une catastrophe nucléaire, et la gravité de cette catastrophe, c'est-à-dire son impact environnemental et sanitaire, pourrait encore s'accroître dans les prochaines semaines. Au départ, les autorités japonaises avaient minimisé l'accident en le classant au niveau 4 sur une échelle internationale qui comprend 7 degrés de gravité. Japan nuclear 'suicide squads' paid huge amounts as claims battle is lost. By Richard Hartley-parkinson Updated: 17:40 GMT, 30 March 2011 Four reactors at stricken plant to be decommissionedSubcontractors offered £760 a day - 20 times going rate - to brave radiation levels but some refuse One expert who designed reactor says race to save reactor two is 'lost'Radiation levels in sea water 3,335 times higher than normalReadings are almost three times worse than last weekUnmanned drone photographs plant from the air amid health fear for pilotsAmerican robots dispatched to help containment efforts Workers at the stricken Fukushima nuclear plant are being paid vast sums of money to brave high radiation levels - as experts warn that the race to save the facility has been lost.
Subcontractors are reportedly being offered up to 100,000 yen a day (£760) - 20 times the going rate - but some are still refusing the dangerous work. BBC News | Asia-Pacific | Nuclear accident shakes Japan. Japan is facing an unprecedented nuclear emergency after a major uranium leak. Radiation levels at the Tokaimura nuclear fuel-processing plant in north-east Japan are 15,000 times higher than normal. The authorities have warned thousands of residents near the site of the accident to stay indoors and to wash off any rain that falls on them. "There is a strong possibility that abnormal reactions are continuing within the facility," Chief Cabinet Secretary Hiromu Nonaka told an emergency news conference.
"There are concerns about radiation in the surrounding areas. " Embattled Japanese power company chief hospitalized due to 'fatigue' Austere conditions for Fukushima workers NEW: Radiation in seawater now 4,385 times normal level, an official says An analysis says Tokyo Electric will compensate 1 trillion to 10 trillion yenThe Tokyo Electric chairman says the company must decommission four reactorsThe IAEA finds high radiation levels in a town outside the evacuation zone Tokyo (CNN) -- The level of radiation in ocean waters off Japan's embattled Fukushima Daiichi plant has risen to new highs -- measuring 4,385 times the standard -- an official with Japan's nuclear and industrial safety agency said Thursday. The samples, taken Wednesday from a monitoring post 330 meters (361 yards) into the Pacific Ocean, marked a significant increase from the previous day's news that the same I-131 isotope was 3,355 times the regulatory limit.
Just last Friday, the radiation levels were 104 times times more than a typical level. Japan nuclear: Fukushima seawater radioactivity rises. 30 March 2011Last updated at 07:03 Nuclear safety agency official Hidehiko Nishiyama briefed journalists Seawater near Japan's quake-hit Fukushima Daiichi nuclear plant has a much higher level of radiation than previously reported, officials say. In one section, radioactive iodine stood at 3,355 times the legal limit, said Japan's nuclear safety agency. Japan to upgrade nuclear safety standards after plant disaster.
Reuters.com. Japan may require back-up emergency power at nuke. Radiation Dosage Chart.
---