Geolocation IP Address
IP Address Geolocation to Identify Website Visitor's Geographical Location. Geolocation by IP Address. The Internet has become a collection of resources meant to appeal to a large general audience.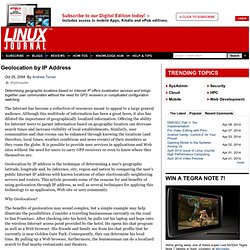 Although this multitude of information has been a great boon, it also has diluted the importance of geographically localized information. Offering the ability for Internet users to garner information based on geographic location can decrease search times and increase visibility of local establishments. Quova Adds Free IP Geolocation API. We've previously covered 3 free to geolocate any user.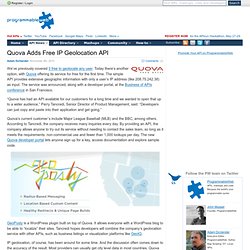 Today there's another option, with Quova offering its service for free for the first time. The simple API provides extensive geographic information with only a user's IP address (like 208.75.242.38) as input. The service was announced, along with a developer portal, at the Business of APIs conference in San Francisco. ACS:Law facing legal action over data breach - V3.co.uk - formerly vnunet.com. Geolocation by IP Address.
---