Geolocation API
location-apps-privacy
Location-based mobile app takes a fresh approach
New York Restaurants
Mapping, Geolocation and the Future of Scalable Disaster Response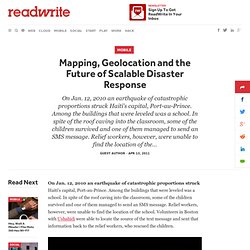 On Jan. 12, 2010 an earthquake of catastrophic proportions struck Haiti's capital, Port-au-Prince.
Study of locationa aware Apps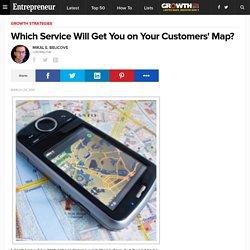 Which Service Will Get You on Your Customers' Map?
I don't know how high school dances work these days, but it used to be that the boys slouched against one wall of the gymnasium and the girls huddled around at the other end.
The odds are pretty good that if you're a big consumer of mobile apps, the private information on your phone has been collected and sent somewhere without your knowledge. That's the finding of the App Genome Project mammoth study by Lookout, a mobile security company that has scrutinized more than 300,000 apps on both the iPhone and Android mobile phone platforms. San Francisco-based Lookout provides security such as anti-malware for mobile phones.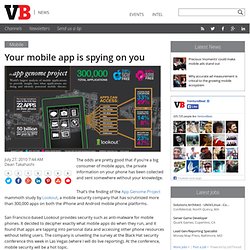 Your mobile app is spying on you
Search results for geolocation
Geolocation Based Social Media for Brands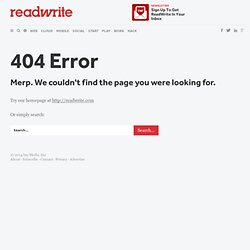 The Top 10 Buzziest Blogs in Geolocation This Week
You probably hear about Foursquare all the time, we certainly write about it a lot here on ReadWriteWeb, but did you know that there are many other things going on in the world of location and mapping? It's a red-hot sector, producing innovative new technologies and use-cases every day. Where can you learn about all this geo-creativity?
I want an app that automatically sends me a link to the Wikipedia entry for any historic building I travel nearby.
Geoloqi Aims to Unlock the Magic of Mobile Location
As Facebook enters into the location market with Facebook Places, the world's largest social network will help to make the edgy concept of checkins and location-sharing a mainstream practice. Facebook is just one company attempting to add location for context; there are countless others going above and beyond checkins to push the space forward. There's also a noticeable uptick in consumer interest around applications and services that feature location for sharing or utility. The geolocation space is the one to watch right now — celebrities are flocking to Foursquare, location is finding a unique purpose in many mobile apps, background location is becoming a commonplace feature on smartphones, geofencing is evolving in purpose and function, and location-based social networks are proving to be the perfect platforms for cause marketing.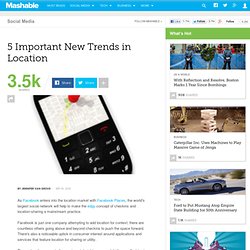 5 Important New Trends in Location
What Your Digital Photos Reveal About You
The moment is special: Your kid just learned how to ride a bike without training wheels. So you fire up your iPhone's camera, snap a photograph, upload the image to TwitPic, and share the evidence of your child's triumph via Twitter. When you post the picture, a subset of the 75 million Twitter users will know the exact location of you and your child.
Banks Using Social Media Sites For Mining Personal Information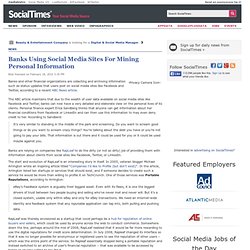 Banks and other financial organizations are collecting and archiving information such as status updates that users post on social media sites like Facebook and Twitter, according to a recent ABC News article. The ABC article maintains that due to the wealth of user data available on social media sites like Facebook and Twitter, banks can now have a very detailed and elaborate view on the personal lives of its clients. Personal finance expert Erica Sandberg thinks that anyone can get information about her financial conditions from Facebook or LinkedIn and can then use this information to may even deny credit to her.
The Daily Groupon | Coupons, Discounts, and Deals on the Best in Boston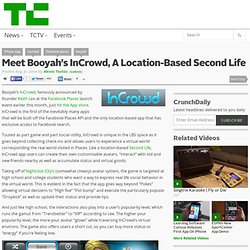 Booyah's InCrowd, famously announced by founder Keith Lee at the Facebook Places launch event earlier this month, just hit the App store. InCrowd is the first of the inevitably many apps that will be built off the Facebook Places API and the only location-based app that has exclusive access to Facebook search. Touted as part game and part social utility, InCrowd is unique in the LBS space as it goes beyond collecting check-ins and allows users to experience a virtual world corresponding the real world visited in Places.
Meet Booyah's InCrowd, A Location-Based Second Life
Enterprise-level IP Geolocation Made Available Via API
The 'Big Data' service Infochimps now offers IP geolocation from Digital Element. Infochimps is best known for making huge datasets available as bulk downloads and through RESTful APIs.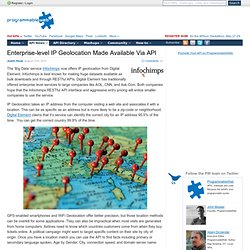 Vail Resorts unveils ski slope geolocation system | The Social
(Credit: Epic Mix) A few months before its five ski resorts open for the season, the Colorado-based Vail Resorts has unveiled a preview of something called Epic Mix, a set of Web and mobile apps based on skiers' activity as logged by radio frequency (RF) readers around its resorts. It'll go live when the first of Vail's resorts, Keystone, opens for the season in early November. Vail Resorts' season passes and lift tickets are already RF-enabled, but with Epic Mix, interested skiers can unlock "pins" in the manner of Foursquare badges, get ranked on a vertical-feet leaderboard, post all manner of ski-related updates to Facebook and Twitter, and--via a mobile app--see their friends' activity on the slopes in real time so that it gets way easier to meet up for beers at the lodge. There's also a kid-oriented site for children under 13, which limits sharing to the kids' parents and has its own set of kid-friendly pins.
iTunes Features Location Apps with New "On the Grid" Section
When social networking behemoth Facebook launched its foray into the location game with Places, some declared that apps like Foursquare and Gowalla would be rendered obsolete. The result, so far, has been quite the contrary, as the megaphone of Facebook has helped spread the word about location apps to the laypeople. Today, the mobile location app market got another big boost as iTunes launched "On the Grid," (iTunes Link) a special showcase featuring geosocial iOS apps on the front page of the App Store.
EchoEcho
Real Time Location Recruiting: Using Emerging Technology to Meet Prospects
Dr John Sullivan and Master Burnett The smart phone and the applications associated with it are radically changing the game for advanced, technically savvy recruiters (others need not read on unless you like shaking your head in disbelief). For those not afraid of evolution and innovation, an emerging class of "location aware" social networking applications can and are enabling recruiters to facilitate impromptu face-to-face meetings with top talent outside the structured assessment process.
Epic Mix - Home
MTV Teams Up with Foursquare for VMAs
Hey Foursquare junkies, here's another merit badge to add to your digital belt: MTV has teamed up with Foursquare to award users who check in to a music venue with the 2010 MTV VMA Moonman Badge. Yeah, a rad badge is all well and good, but what's in it for you? Well, the whole deal is also a contest, the grand prize being a trip for two to the 2010 MTV Video Music Awards on September 12. To get in the running for the prize, all you have to do is follow MTV on Foursquare, and then check in to any music venue between August 30 and September 5. The checkin will score you that nifty badge up there, and a chance to win a trip to Cali.
Cars hacked through wireless tire sensors
The tire pressure monitors built into modern cars have been shown to be insecure by researchers from Rutgers University and the University of South Carolina. The wireless sensors, compulsory in new automobiles in the US since 2008, can be used to track vehicles or feed bad data to the electronic control units (ECU), causing them to malfunction. Earlier in the year, researchers from the University of Washington and University of California San Diego showed that the ECUs could be hacked, giving attackers the ability to be both annoying, by enabling wipers or honking the horn, and dangerous, by disabling the brakes or jamming the accelerator.
Where Are All the Location Web Apps?
Blacktop: unlock your check-in history | Zenbe
Technology Review: Why Privacy Is Not Dead
"Foodspotting" Foursquare for Foodies?
chrisyour's geo_location at master - GitHub
localtweeps :: Help Localize The Twittersphere!
localtweeps :: Help Localize The Twittersphere!
Home
API
Mologogo
Commons:Outils
GeoLocator