FBI to monitor SM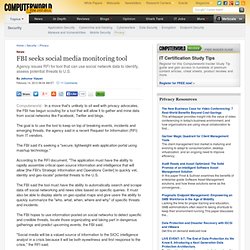 FBI seeks social media monitoring tool
News February 14, 2012 06:04 AM ET Computerworld - In a move that's unlikely to sit well with privacy advocates, the FBI has begun scouting for a tool that will allow it to gather and mine data from social networks like Facebook, Twitter and blogs. The goal is to use the tool to keep on top of breaking events, incidents and emerging threats, the agency said in a recent Request for Information (RFI) from IT vendors. The FBI said it's seeking a "secure, lightweight web application portal using mashup technology." According to the RFI document, "The application must have the ability to rapidly assemble critical open source information and intelligence that will allow [the FBI's Strategic Information and Operations Center] to quickly vet, identity and geo-locate" potential threats to the U.S.
Jaikumar Vijayan reports: The FBI today said that its proposed plans to monitor social media sites as part of a broader strategy to improve real-time situation awareness will be fully vetted by the agency's Privacy and Civil Liberties Unit.The unit will review the legal implications of the monitoring application and ensure that it meets all privacy and civil rights obligations before it is implemented, the agency said in a statement emailed to Computerworld "Although the FBI has always adapted to meet changes in technology, the rule of law, civil liberties, and civil rights, will remain our guiding principles," the agency said. Read more on Computerworld. Oh, well then, I'm totally reassured.
FBI says social media monitoring won't infringe privacy rights
FBI will Monitor Social Media using Crawl Application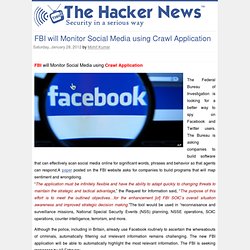 FBI will Monitor Social Media using Crawl Application The Federal Bureau of Investigation is looking for a better way to spy on Facebook and Twitter users. The Bureau is asking companies to build software that can effectively scan social media online for significant words, phrases and behavior so that agents can respond.A paper posted on the FBI website asks for companies to build programs that will map sentiment and wrongdoing. "The application must be infinitely flexible and have the ability to adapt quickly to changing threats to maintain the strategic and tactical advantage," the Request for Information said, "The purpose of this effort is to meet the outlined objectives…for the enhancement [of] FBI SOIC's overall situation awareness and improved strategic decision making."The tool would be used in "reconnaisance and surveillance missions, National Special Security Events (NSS) planning, NSSE operations, SOIC operations, counter intelligence, terrorism, and more.
One Per Cent: FBI releases plans to monitor social networks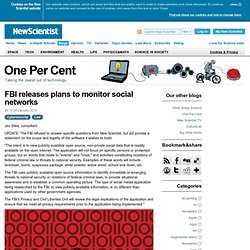 Jim Giles, consultant UPDATE: The FBI refused to answer specific questions from New Scientist, but did provide a statement on the scope and legality of the software it wishes to build: "The intent is to view publicly available open source, non-private social data that is readily available on the open internet. The application will not focus on specific persons or protected groups, but on words that relate to "events" and "crisis," and activities constituting violations of federal criminal law or threats to national security.
The US Federal Bureau of Investigation is looking for a tool to mine social media for intelligence tips. The US domestic law enforcement agency is asking information technology contractors about the feasibility of building a tool that would "enhance its techniques for collecting and sharing 'open source' actionable intelligence." The January 19 open request was published on a website offering federal business opportunities and was first reported by New Scientist magazine. The FBI said it is seeking an "open source and social media alert, mapping and analysis application solution" for its Strategic Information and Operations Center (SIOC).
FBI seeking social media monitoring tool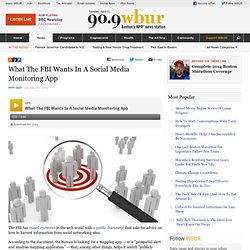 The FBI has raised eyebrows in the tech world with a public document that asks for advice on how to harvest information from social networking sites. According to the document, the bureau is looking for a mapping app — or a "geospatial alert and analysis mapping application" — that, among other things, helps it search "publicly available" sources like Facebook and Twitter for national security threats. Some other items on the FBI's functionality wish list include: "... instant notifications of breaking events, incidents, and emerging threats that have been vetted and meet the defined search parameters."
What The FBI Wants In A Social Media Monitoring App
By Daily Mail Reporter Updated: 09:33 GMT, 30 January 2012 The FBI is to use automated scanners to monitor people's posts on social networks such as Facebook and Twitter, it has emerged this week – and privacy campaigners have described it as an attack on free speech. The agency is looking for companies to build it software that will scan social networks for 'danger' words – and agents will respond to 'breaking news, incidents and emerging threats'. Agents will be able to see people's tweets on a map – and could use the software to 'predict' crimes. Advert: The FBI is asking for private companies to help it monitor social networking sites such as Facebook The paper calling for companies to get involved seems to suggest that the agency will use software to target individuals – 'bad actors' – and to build up maps of areas where 'wrongdoing' erupts.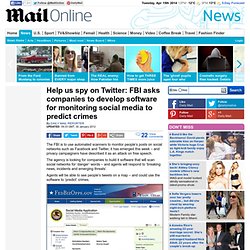 FBI asks companies to develop software for monitoring social media like Twitter
FBI Wants to Monitor Social Media for 'Emerging Threats'
The FBI might soon be watching your tweets and status updates. The agency recently decided to explore developing a web application that would monitor user updates on social sites such as Facebook and Twitter, along with news reports from Fox News, CNN and MSNBC. [Public Opinion: Should Twitter Be Censored?]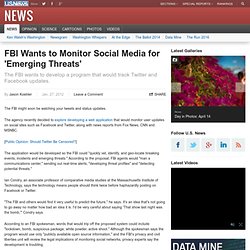 The FBI has raised eyebrows in the tech world with a public document that asks for advice on how to harvest information from social networking sites. According to the document, the bureau is looking for a mapping app — or a "geospatial alert and analysis mapping application" — that, among other things, helps it search "publicly available" sources like Facebook and Twitter for national security threats. Some other items on the FBI's functionality wish list include:
What The FBI Wants In A Social Media Monitoring App : All Tech Considered