FBI to monitor SM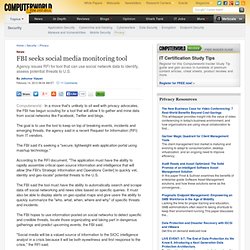 FBI seeks social media monitoring tool
News February 14, 2012 06:04 AM ET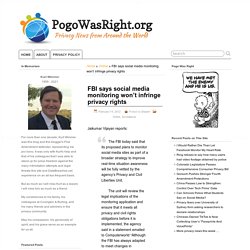 Jaikumar Vijayan reports:
FBI says social media monitoring won't infringe privacy rights
FBI will Monitor Social Media using Crawl Application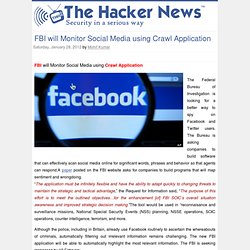 FBI will Monitor Social Media using Crawl Application
One Per Cent: FBI releases plans to monitor social networks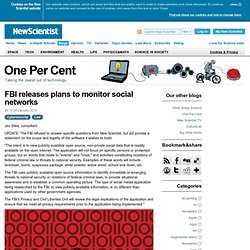 Jim Giles, consultant
The US Federal Bureau of Investigation is looking for a tool to mine social media for intelligence tips.
FBI seeking social media monitoring tool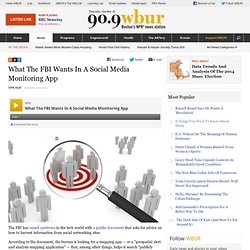 The FBI has raised eyebrows in the tech world with a public document that asks for advice on how to harvest information from social networking sites. According to the document, the bureau is looking for a mapping app — or a "geospatial alert and analysis mapping application" — that, among other things, helps it search "publicly available" sources like Facebook and Twitter for national security threats.
What The FBI Wants In A Social Media Monitoring App
By Daily Mail Reporter UPDATED: 09:33 GMT, 30 January 2012 The FBI is to use automated scanners to monitor people's posts on social networks such as Facebook and Twitter, it has emerged this week – and privacy campaigners have described it as an attack on free speech.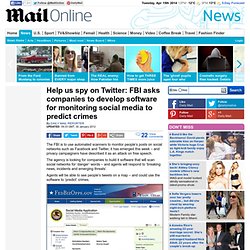 FBI asks companies to develop software for monitoring social media like Twitter
FBI Wants to Monitor Social Media for 'Emerging Threats'
The FBI might soon be watching your tweets and status updates. The agency recently decided to explore developing a web application that would monitor user updates on social sites such as Facebook and Twitter, along with news reports from Fox News, CNN and MSNBC. [ Public Opinion: Should Twitter Be Censored?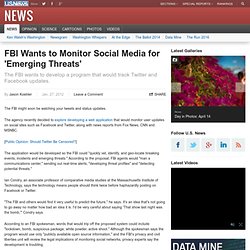 The FBI has raised eyebrows in the tech world with a public document that asks for advice on how to harvest information from social networking sites. According to the document, the bureau is looking for a mapping app — or a "geospatial alert and analysis mapping application" — that, among other things, helps it search "publicly available" sources like Facebook and Twitter for national security threats. Some other items on the FBI's functionality wish list include:
What The FBI Wants In A Social Media Monitoring App : All Tech Considered