CSS3/HTML5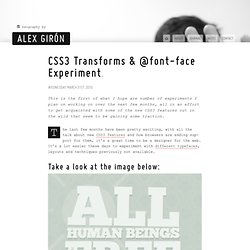 CSS3 Transforms & @font-face Experiment | neography
Wednesday, March 31st, 2010 This is the first of what I hope are num­ber of exper­i­ments I plan on work­ing on over the next few months, all in an effort to get acquain­ted with some of the new CSS3 fea­tures out in the wild that seem to be gain­ing some traction.
CSS3 Background-Clip Text & @font-face
We are proud to announce the first HTML5 Live conference in London.
HTML5 Live Conference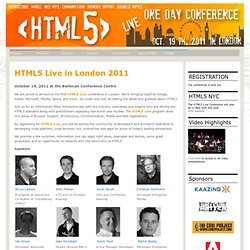 When applying CSS3 inset box-shadow or border-radius directly to the image element, the browser doesn't render the CSS style perfectly. However, if the image is applied as background-image, you can add any style to it and have it rendered properly.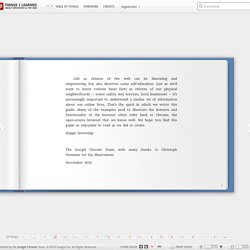 IllustrationChristoph Niemann Writers/EditorsMin Li Chan, Fritz Holznagel, Michael Krantz Project CuratorMin Li Chan & The Google Chrome Team DesignFiPaul Truong DevelopmentFi
20 Things I Learned About Browsers and the Web
Update: Thanks for all the interest and feedback on 20 Things I Learned about Browsers and the Web!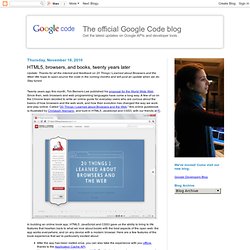 HTML5, browsers, and books, twenty years later
Get a peek into the book's content with these free excerpts. You can also see a brief table of contents, images of some of the book's pages, and links to related resources.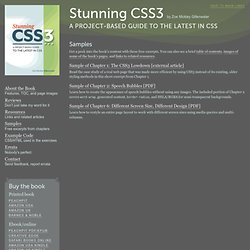 Samples | Stunning CSS3: A Project-based Guide to the Latest in CSS | A book by Zoe Mickley Gillenwater
HTML5 Techniques - Ultimate Collection of Tutorials
tutoriallounge Posted on 22.