Illustration
HOME - The Association of Illustrators
Hello! My name is John Martz.
I am an illustrator, cartoonist, and designer living in Toronto, Ontario. My work appears regularly in The Globe and Mail, and I am the illustrator of the picture books Dear Flyary by Dianne Young (2012), and Who's on First? by Abbott & Costello (2013). Keep up-to-date by following me on Twitter , or by visiting my blog .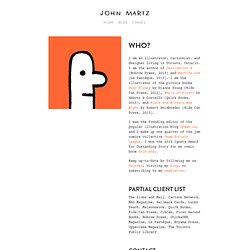 You are being watched. - PIXOLID.com - Art - Cross-Hatching and Stippling Tutorial
First prize a £4,000 commission from The Folio Society Five runners-up each win £500 cash We are delighted to announce that for a second year, the House of Illustration and The Folio Society are collaborating on The Book Illustration Competition. The winning entry will form part of a Folio Society commission for the book which will be published in August 2012, for which the winner will receive £4,000. Five runners up will each receive a cash prize of £500. This competition is open to anyone over 18 who is not a Folio Society published illustrator. About this Competition | The Book Illustration Competition
House Of Illustration
How to draw a tree - tree drawing
How to draw a tree shows a collection of tree drawings and explanations how I have done those tree drawings. Get inspired by famous and less famous, but very impressive contemporary and historic examples of tree drawings and have a look at online drawing tutorials. Get some inspiration here to find your own way how to do a tree drawing. The lesson covers the tree top with branches and foliage,the tree trunk and the trunk base as important elements of a tree drawing. "A few remarks on Tree-drawing seems a necessary addition to the chapter on Sketching, as trees are almost invariably the first objects which a student attempts to draw from Nature out of doors, and as they first meet him with all the embarrassments of regular open-air work.
Writing with Pictures: How to Write and Illustrate Children's Books: Amazon.co.uk: Uri Shulevitz
As an Illustration student, and now in my second year, I've come to notice that booklists can be out-dated and out of print. This particular book is another example: lacking in colour, which still staggers me as its a book about ILLUSTRATION for children, which renders most of the beautiful works collected in this volume rather dull and similar (Ivan Bilabin, for example, is not done justice!) Also, some of the information on colour seperations and printing methods are way out of date: so don't be put off by the complexity of them. Not all illustrations have to be broken down into several thousand layers of colour BEFORE being sent off to the rpinters (Well, three layers, actually) and nowadays the illustrator has more freedom as to how his work is displayed and printed. This book is also disappointing as it only seems to deal with flat illustrations: No pop-up books, Interactive or Board-books, which are extremely popular with children.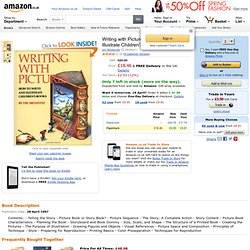 Who is your favorite teacher? I've never had an answer to this question. Early on I wanted to study illustration, but few opportunities were offered in my academic sphere. I've always been able to learn more through books than through the teachers I encountered.
Learn to be a Comic Book Illustrator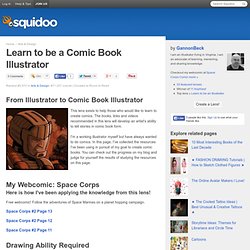 Kiss - A Love Story on Vimeo
Childrens' book Illustrator - Lynne Chapman
book on a blog
An Illustrator's Life For Me!: How to Draw People: Sketching in Public Places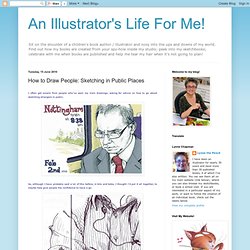 I often get emails from people who've seen my train drawings, asking for advice on how to go about sketching strangers in public. So, although I have probably said a lot of this before, in bits and bobs, I thought I'd put it all together, to maybe help give people the confidence to have a go. Firstly, I never, ever ask permission: if you do that, you're stuck drawing a 'portrait' , which is a totally different thing; people are no longer natural, plus there's suddenly an expectation on you to achieve a likeness (as well as a need to make sure it's flattering!), which makes things quite stressful. My 'victim' sometimes works it out halfway through, but then they tend to hold the original position and carry on with what they were doing. There are tricks: firstly, I have found trains are perfect - when people are travelling, they have less objection than when they're 'at leisure'.
It's a busy period on the SketchCrawl North front: this weekend we went out on the first of 3 SketchCrawls , taking place on 3 consecutive Saturdays. We normally do once a month but sometimes opportunities are too good to miss. This one was in celebration of fellow-sketcher Di being in the UK for a visit from Australia. Now, anyone reading this from the UK will know that Saturday was not the best advertisment for a British summer. It was certainly freezing in Buxton! But were we downhearted?
An Illustrator's Life For Me!: SketchCrawl in Buxton, Welcoming Di from Oz!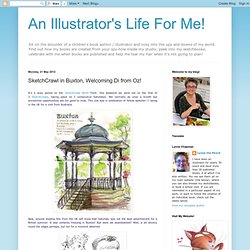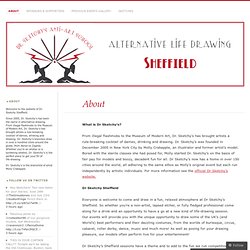 What is Dr Sketchy's? From illegal flashmobs to the Museum of Modern Art, Dr. Sketchy's has brought artists a rule-breaking cocktail of dames, drinking and drawing. Dr.
About « Dr Sketchy Sheffield
andrea joseph's sketchblog
Etchings on Illustration Served
Comics: Philosophy & Practice - May 18-20, 2012 // University of Chicago
Mark Boardman is a successful artist and illustrator, whose painterly style is distinctive and captivating. He creates book covers, posters and other illustration for editorial. Mark's ability to capture an atmospheric, often melancholy, mood has kept him much in demand. He also continues to develop and exhibit his personal painting work.
Being a freelance illustrator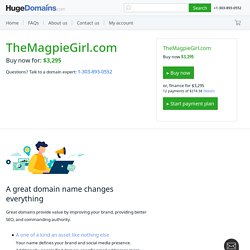 The Magpie Girl: daily outfit post
So eh what the heck is up with the weather?! Were is Spring? I dunno what it is like where you are but round my neck of the woods we have been without electricity and heating since 3am Thursday. It has just come back on ten minutes ago and like the good little blogger I am (lol) Im straight on here to moan about it! This outfit post, if you can call it that, consists of some poorly lit photos that were taken in about 55 seconds today.
ffffixas
Rob Hodgson Illustration
Camilla Engman
Geninne's Art Blog
The Dawn Chapel - A Fine Day Out
Meaty Yogurt -
Are coming soon! July 19th. 16 pages! The pages are all queued and everything. And it looks like in my absence, there was quite a bit of discussion over the time it takes to update and why I've been absent. Lot of huge, gigantic paragraphs, which means some of you guys are passionate in your opinions! So I'll address the questions here instead of replying individually.
Webcomic Wednesday: Interview with B.Root of Dawn Chapel | Fuel Your Illustration
Last month I posted an article about traditional media in webcomics and featured one of my favorites: Dawn Chapel by B. Root. Brian has a gift with watercolors, and I decide to ask him if he would be willing to do an interview with me. Dawn Chapel is a series of eloquently rendered short stories in comic-form.
Fuel Your Illustration
Jess Marshall Illustration
Kolbisneat.com | The Neat Work of Andrew Kolb!
Janet Bolton - Textile Pictures
Stacey Rozich
Citizens for Optimism
Creative Thursday by Marisa :: Artist + Author + Textile Designer
Elf Machine
Lisa Congdon : Home
...being the blog of Steve Kirkendall