Sewing
I have not sewn a gown from scratch in many years. It can be a very expensive situation when you hire a sewing professional to create a custom made gown and most brides are on strict budgets these days. But I do get many letters from brides and Moms who are attempting the project and have questions as to the proper process. added March 2011 I am making my daughter's wedding gown and have concerns about the type of fastener to use.
Doing Your Own Alterations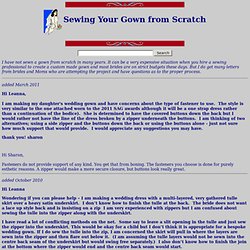 Sewing Mamas Forums - Powered by vBulletin
Andrew "Bruce" Lau made this amazing LED cape and wore it around Maker Faire all weekend. I caught up with him to chat about it, and he said that Leah Buechley's LED tank top was a huge inspiration. He used her suggested technique of soldering metal beads to surface mount LEDs and stitching them in a grid using conductive thread.
LED Cape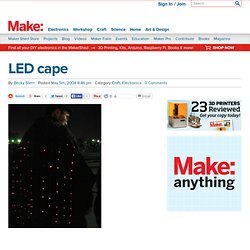 We can never seem to have enough flowers in our house. Or fabric. So, to satisfy both things……..I made some new fabric flowers. Kind of similar to these. But easier and less uniform. And much harder to mess up.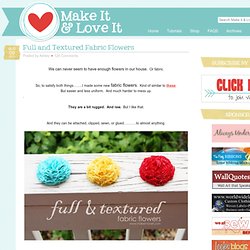 Full and Textured Fabric Flowers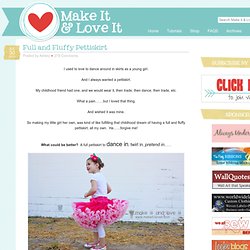 I used to love to dance around in skirts as a young girl. And I always wanted a pettiskirt. My childhood friend had one, and we would wear it, then trade, then dance, then trade, etc.
Full and Fluffy Pettiskirt
Ruffle Fabric — Home
Join the Panels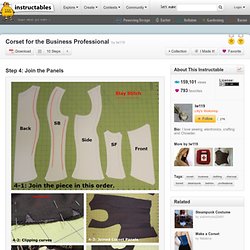 Part 1: Stay Stitch ____________________________________________________________________________ Stay stitch the edges of back and side-back (SB) panel where indicated in red on Figure 4-1. Do this for both your exterior layer and your lining fabric pieces. Part 2: Join Panels ____________________________________________________________________________
Artistry in Fashion: September 29, 2012 | Artistry in Fashion | September 29, 2012
V and Co: how to: faux pleated pillow
i have a thing for texture. i like it. katie's room has a lot of texture. with ruffles, and gathers, she's got enough pillows in her room (because she steals them after i make them and hoards them on her bed...i just let it go) but the boys? not so much. naturally i would choose to make something for my sons' room that is not on the ruffly side, so what's a mom to do? PLEATS!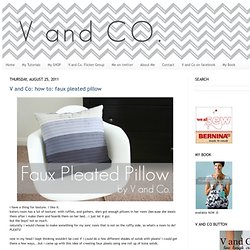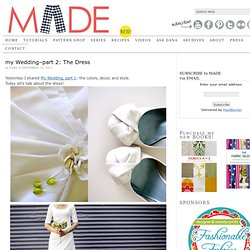 my Wedding–part 2: The Dress
Yesterday I shared My Wedding, part 1: the colors, decor, and style.Today let's talk about the dress! When it came to choosing a style, I was all over the map. Part of me wanted something sleek and classy, like Carloyn Bessette's timeless dress. Another part wanted poofy huge or Vera Wang dark. How cool are the black touches on the left?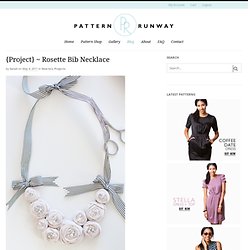 This post is in no way original! Fabric rosettes and necklaces have been doing the rounds in blogging sphere in a big way. You only have to google "Bib necklace" to find an array of D.I.Y tutorials and blog posts devoted to this project.
Britex Fabrics - Home page
Project Runway All Stars Auction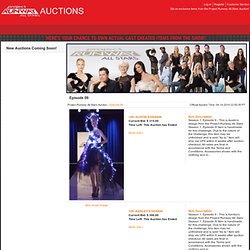 Item DescriptionSeason 1: Episode 9 - This is Austin's design from the Project Runway All Stars Season 1, Episode 9! Item is handmade for this challenge. Due to the nature of the challenge, this item may be unfinished and is sold ''As Is.''
Item DescriptionSeason 9: Episode 7 - This is Viktor's design from the Project Runway Season 9, Episode 7! Garment is tailored to fit the model for this challenge. Due to the nature of the challenge, this item may be unfinished and is sold ''As Is.''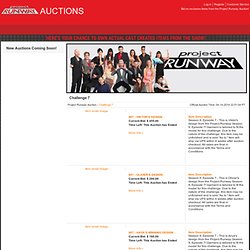 Project Runway Auction | Challenge 7
8.6K Amazing Shares Facebook 556 Pin It Share 1.8K 1K+ Twitter 49 Google+ 25 StumbleUpon 6.1K Email -- Email to a friend 8.6K Amazing Shares × I have seen a lot of inquirers on how to make tutus, etc. so I brought over some information from my tulle site to share with y'all! Tutus are super easy and super fun to make. You can buy nearly any type of tulle and create tutus for all your costumes!
How to Make a Petticoat
So a few days turned into over a week. Sorry. Last week was my last chance to be lazy until Thanksgiving break in November, so I watched a couple movies, read Watchmen, and took a few naps. So for those of you who have a sewing machine, some time, and a little patience here is the tutorial, finally:
Blind Hem Stitch (with a sewing machine)
First of all…….thank you, thank you for all of the help, advice, personal experiences, etc. with the PC vs. MAC debate (here). We weighed the pros, the cons, thought about what we use our computer for, how soon we'll have to get another computer anyway, etc. (And haha, it WAS like starting a discussion about politics or religion. There is a definite opinion on both sides……and I loved reading it all.)
Cap Sleeve Top Tutorial
Sew Dang Cute Crafts: Charlotte Russe Inspired Skirt
computer case
Corset Training Page @Corset Training
Sew Like My Mom
How to Make a Ballgown
My Twin Dressforms & Pantsforms, made in the exact shape of your body! A must for the serious sewer
How to Make a Wedding Dress
Old Clothes, New Threads: Color-Matching Sewing Machine
DIY Paper Dress Design: Creative Fashion for Tax Season