Cinéma
Si la qualité des superproductions sorties en cet été 2013 suscite le débat nous aurions tort de ne pas saluer l'étonnante diversité picturale offerte cette saison à nos petits yeux - chaussés ou non de lunettes 3D. Nous tenterons ici d'illustrer cette variété plastique en comparant ces coûteux blockbusters à des peintures célèbres. «J'ai vu un film de Rohmer une fois. C'était un peu comme regarder la peinture sécher.» Pour détourner la fameuse réplique de Gene Hackman dans La Fugue d'Arthur Penn, on pourrait dire des blockbusters de l'été qu'ils sont des peintures déjà sèches. S'il est commun chez les nouveaux beaufs de la critique cinéma de tomber à bras raccourcis sur ces opus monstrueux qui, chaque année, inondent les écrans à coups de millions de dollars, il est plus rare de les voir pris au sérieux.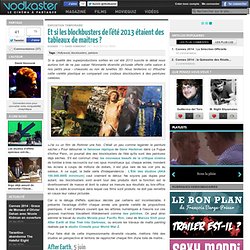 Et si les blockbusters de l'été 2013 étaient des tableaux de maitres ?
6281242
Accueil
Le Skylab
La r?f?rence des films d'amour et des com?dies romantiques - FilmsdeLover.com
Enter our Sometimes-Annual Wes Anderson Halloween Costume Contest. Thanks to our good friends over at Abrams Books, we are giving away five copies of Matt Zoller Seitz's marvelous Wes Anderson Collection. To enter, upload a picture of yourself in your Wes-inspired costume to our Facebook site or tag it as #weshalloween on Twitter. Great Budapest Hotel costumes are strongly encouraged. By submitting an entry, you: a) confirm that you are eighteen (18) years of age or older and that it is legal for you to post your picture. b) give permission to rushmoreacademy.com to post your entry on its public website and Facebook page.
Movie Reviews, Ratings, and Recommendations - Online Reviews of Movies and DVDs - VideoHound's Golden Movie Retriever