Web Design, Social Media
How to Make Your Message Stick: an Infoposter | OneLeap.
Grovo Review & Rating. When I have to figure something out, I turn to my favorite Internet search site and start typing.
A few web pages and videos later, I'm usually all set, or at the very least have had my most basic questions answered and now have new ones to investigate. For some people, though, that process is intimidating and not at all intuitive. For them, there's. Web Design Misc. Social Media. Joomla. 8 tools to make your website for free. It's the truth that sometimes we have to and want to produce web sites on a budget.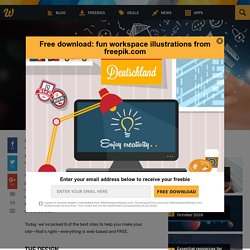 It's also true that sometimes we may just want to put up and create some sites for fun, so we don't want to spend a ton of money on them. Well fortunately, that's where the web comes in. There are so many great technological advances that allow us to create and put up websites, not just on a budget but for free. From web design to development, there are all-free services that allow us to create PROFESSIONAL web sites, not just template-based sites reminiscent of the late 90s. Today, we've picked 8 of the best sites to help you make your site—that's right—everything is web-based and FREE.
Pearltrees
---