Images libres de droit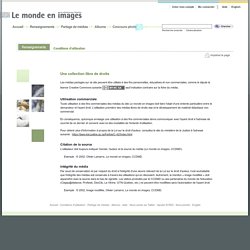 Les médias partagés sur ce site peuvent être utilisés à des fins personnelles, éducatives et non commerciales, comme le stipule de la licence Creative Commons suivante sauf indication contraire sur la fiche du média. Utilisation commerciale Toute utilisation à des fins commerciales des médias du site Le monde en images doit faire l'objet d'une entente particulière entre le demandeur et l'ayant droit.
Conditions d'utilisation
Public domain image resources is a copy of the master wikipedia page at Meta , which lists a number of sources of public domain images on the Web. The presence of a resource on this list does not guarantee that all or any of the images in it are in the public domain. You are still responsible for checking the copyright status of images before you submit them to Wikipedia.