Presentation & analysis
Create Your Own Infographic Using Easel.ly
We've all seen more than a few professionally designed infographics that convey more in a single webpage download than an entire 10 page article about some subjects. Infographics are perfect means to convey information and data analysis on the web, though it does take significant planning and powerful graphic design skills to create a compelling visual. But for those of us who lack those skills or even an advanced design software, a new site called Easel.ly, might be a very useful way to get your feet wet with infographic design, even if you just want to create a down-and-dirty visual, like the one I produced for this article. How Easel.ly Is Set Up In its beta stage, Easel.ly is a web application which allows you to select and drop themes, backgrounds, objects, and text onto your canvas to create visuals.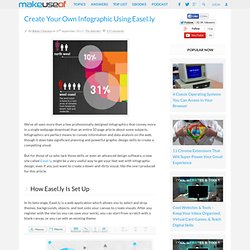 Interactively Explore the YOLO Flip 12 Feb 2014 Showcases Animation, Interactive, Process, Sports In preparation of the Winter Olympic Games 2014 in Sochi, we helped the Swiss newspaper Neue Zürcher Zeitung publish a long-form article about Iouri Podladtchikov, a professional snowboarder and – since yesterday – freshly baked Olympic gold medalist.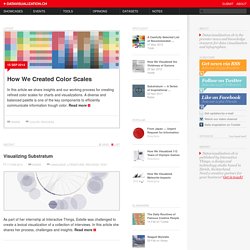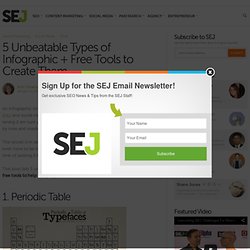 An infographic (information graphic) has been a very effective way to bait for links and social media votes for ages. Like anything else, it can be done right or wrong (I am sure you have seen dozens of poorly implemented infographics by now and maybe a few really good ones). How to create a good one? The secret is in days (maybe months) of brainstorming.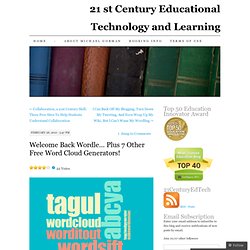 Word Clouds have caught the attention of the country and have become a part of the 21st Century classroom. While Wordle is the king of Word Cloud Generators here are some other word cloud tools that have some outstanding capabilities that are worth investigation. Each tool provides a unique way that can be used in the classroom to facilitate the creation and study of word clouds. I especially was impressed with a few tools that actually helped students analyze a group of text using more then just the generated cloud. Thanks for the visit, and as always please feel free to follow me on Twitter (mjgormans), I will follow back and we can learn from each other. Also, be sure to check out all of the free resources at my 21centuryedtech Wiki!
It's not enough to simply write about data any longer; the world wants visuals. While there are many professional information designers making a name for themselves, such as Nicholas Felton of Feltron.com, the majority of these digital artists are up to their eyeballs in high-paying work. Where does this leave you? Well, if you want to spruce up your documents, blog posts, and presentations, there are some free tools online that can help. Many Eyes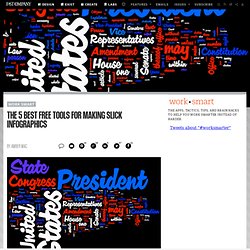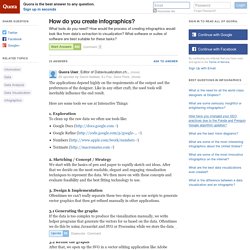 The applications depend highly on the requirements of the output and the preferences of the designer. Like in any other craft, the used tools will inevitably influence the end result. Here are some tools we use at Interactive Things:
Tagxedo turns words -- famous speeches, news articles, slogans and themes, even your love letters -- into a visually stunning word cloud, words individually sized appropriately to highlight the frequencies of occurrence within the body of text. Create Shop Learn Gallery The following are a few examples to show the versatility of Tagxedo, especially how tightly the words hug the shapes. Feel free to click the pictures and play with them in Tagxedo.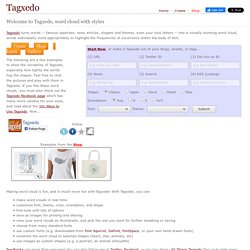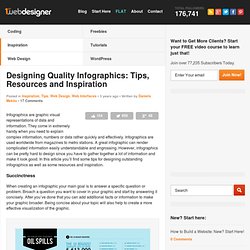 Infographics are graphic visual representations of data and information. They come in extremely handy when you need to explain complex information, numbers or data rather quickly and effectively. Infographics are used worldwide from magazines to metro stations. A great infographic can render complicated information easily understandable and engrossing. However, infographics can be pretty hard to design since you have to gather together a lot of information and make it look good.
Infograph repository
Infographipedia