DC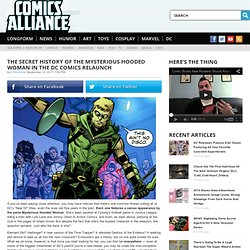 The Secret History of the Mysterious Hooded Woman in the DC Comics Relaunch
If you've been paying close attention, you may have noticed that there's one common thread uniting all of DC's "New 52″ titles, even the ones set five years in the past: Each one features a cameo appearance by the same Mysterious Hooded Woman. She's been spotted at Cyborg's football game in Justice League, riding a train with Lois Lane and Jimmy Olsen in Action Comics, and even, as seen above, partying at the club in the pages of Green Arrow. But despite the fact that she's the busiest character in the relaunch, the question remains: Just who the heck is she?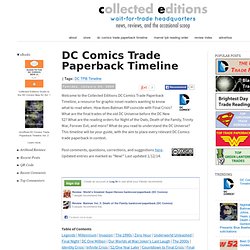 DC Comics Trade Paperback Timeline ~ Collected Editions
Welcome to the Collected Editions DC Comics Trade Paperback Timeline, a resource for graphic novel readers wanting to know what to read when. How does Batman RIP coincide with Final Crisis? What are the final trades of the old DC Universe before the DC New 52? What are the reading orders for Night of the Owls, Death of the Family, Trinity War, Forever Evil, and more?
The best way Search within this page is to use CTRL-F (PC) or CMD-F (Mac). Past Release Schedules: 2006 2007 2008 2009 2010 2011 (ongoing) Dates are subject to change. If you find this page, other pages or the podcast and blog itself on the Collected Comics Library useful, please consider a donation of your discretion.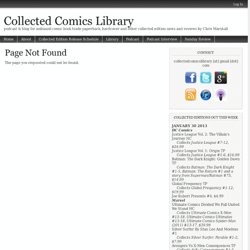 Comic Book Collected Edition Release Schedule | Collected Comics Library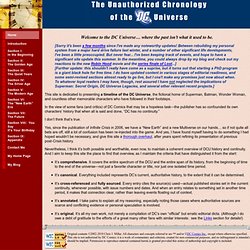 Welcome to the DC Universe… where the past isn't what it used to be. [Sorry it's been a few months since I've made any noteworthy updates! Between rebuilding my personal system from a major hard drive failure last winter, and a number of other significant life developments, I've been a little preoccupied. But never fear...
The Unauthorized Chronology of the DC Universe