Fotografie
Get flash to fully experience Pearltrees
Gitzo GT1542T Safari Tripod 4sec. GT1542T tripod combines the compactness and light weight of the Gitzo Traveler System with the stability and size of a regular Mountaineer Series 1 tripod. It is dedicated to the high-end user seeking for a highly portable support with no compromise.
Cursussen & info Fotografie Nederlands Fotoroos fotolessen : http://home.planet.nl/~fotoroos/ Seniorennet.be mailgroep fotografie : http://fotografiegroep.seniorennet.be/ Leon Volders/ Chronax : ga naar "Nuttig" rechts staan de cursussen (Lichtdrukmaal) in pdf formaat http://www.chronax.be :zeer interessant en leerzaam!!
An Introduction to Still Photographs in Motion
Ook al wordt men een dagje ouder, er steekt in ieder mensenhart toch nog altijd een stukje nieuwsgierige verwondering naar en interesse voor het nieuwe. Zoiets van: "Zou ik dat nu ook eens niet proberen?" En dus begon ik onlangs het internet af te struinen naar informatie omtrent een tablet, en dit gedurende minstens meer dan een maand. Ik heb aan computers geen gebrek, en de vraag deed zich dus voor: "Heb ik zoiets wel echt nodig?" Neen, natuurlijk niet.
I love to photograph my own textiles and here is the method I have devised afer years of trial and error.
I do bracket all my night photography, for various reasons: for exposure blending, noise reduction, dynamic range extension etc etc.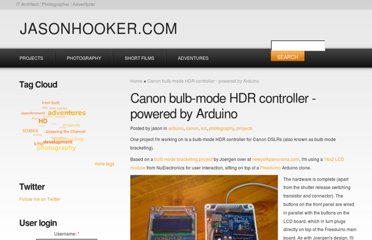 One project I'm working on is a bulb-mode HDR controller for Canon DSLRs (also known as bulb mode bracketing).
Bulb mode activation code screenshot