Stratégie
S Social Business Notes #4. Welcome to We Are Social's Social Business notes #4, a review of the best social business thinking from around the web in the last month.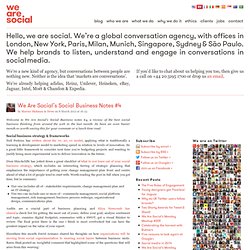 Its been an even busier month so worth saving this for your commute or a lunch time read. Social business strategy & frameworks Neil Perkins has written about the 70, 20, 10 model, applying what is traditionally a learning & development model to marketing spend in relation to levels of innovation. Its a great little framework to consider next time you're budgeting projects and wanting to justify being more experimental now to deliver innovation in the future. Meet Generation C: The Connected Customer. By Brian Solis On March 6, 2012 Marketers, educators, parents… Everyone in the Generation X or Boomer demographic seems to be scratching their heads, trying to figure out Generation Y, aka the Millennials.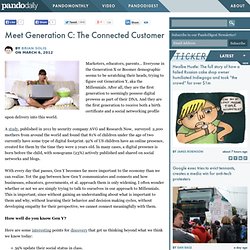 After all, they are the first generation to seemingly possess digital prowess as part of their DNA. And they are the first generation to receive both a birth certificate and a social networking profile upon delivery into this world. A study, published in 2011 by security company AVG and Research Now, surveyed 2,200 mothers from around the world and found that 81% of children under the age of two currently have some type of digital footprint. 92% of US children have an online presence, created for them by the time they were 2 years old. In many cases, a digital presence is born before the child, with sonograms (23%) actively published and shared on social networks and blogs.
8 Marketing Trends to Implement in Your 2012 Marketing Plan. What a year was 2011 for social media and marketing!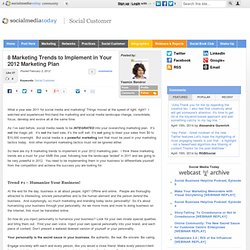 Things moved at the speed of light, right? I watched and experienced first-hand the marketing and social media landscape change, consolidate, focus, develop and evolve all at the same time. As I've said before, social media needs to be INTEGRATED into your overarching marketing plan. It's not the magic pill. It's not the hard sale, it's the soft sell. Building Your Social CRM From The Rising Econo-ME.
No, I didn't misspell anything in the title of this post.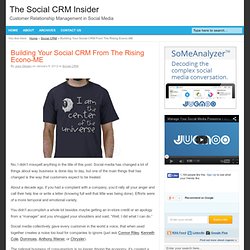 Social media has changed a lot of things about way business is done day to day, but one of the main things that has changed is the way that customers expect to be treated. About a decade ago, if you had a complaint with a company, you'd rally all your anger and call their help line or write a letter (knowing full well that little was being done). Efforts were of a more temporal and emotional variety. You didn't accomplish a whole lot besides maybe getting an in-store credit or an apology from a "manager" and you shrugged your shoulders and said, "Well, I did what I can do."
Social media collectively gave every customer in the world a voice, that when used together creates a noise too loud for companies to ignore (just ask Connor Riley, Kenneth Cole, Dominoes, Anthony Wiener, or Chrysler). Is 'social' consciously deployed in your customer management model? Despite all of the talk around Social CRM and the focus on 'listening platforms', many businesses are still failing to integrate their social and CRM efforts around one common customer management strategy, says Neil Woodcock of The Customer Framework.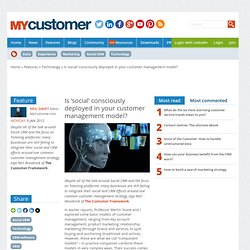 In earlier reports, Professor Merlin Stone and I explored some basic models of customer management, ranging from key account management, product marketing, relationship marketing (through brand and service), to spot buying and auctioning (traditional and online). However, these are what we call "component models" – in practice companies combine these models in very complex ways. Their success comes from: Why the Social Funnel? New eBook from Awareness. In 2004 I launched my first corporate blog.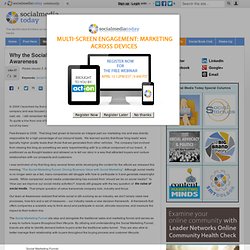 At the time I was running sales and marketing for a small software company and was focused on demand generation through 'traditional channels' like email, banner ads, direct mail, etc. I still remember the reaction I got from the team when I told them we would be launching a new blog. To quote a line from one of favorite movies, A Christmas Story, 'they looked at me as if I had lobsters crawling out of my ears.' Fast-forward to 2006.
Acquisition
Customer experience. Loyalty. Decoding the Consumer. In the 1950's, on the children's live-action adventure Captain Midnight, the Secret Squadron was chartered to combat evil.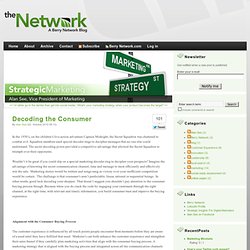 Squadron members used special decoder rings to decipher messages that no one else could understand. The secret decoding power provided a competitive advantage that allowed the Secret Squadron to triumph over their opponents. Wouldn't it be great if you could slip on a special marketing decoder ring to decipher your prospects? Three senior executives on the future of marketing - McKinsey Quarterly - Marketing & Sales - Strategy. There is no quick path to success in the new era of customer engagement.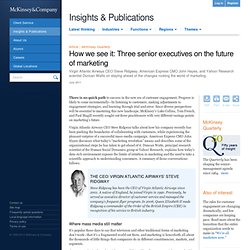 Progress is likely to come incrementally—by listening to customers, making adjustments to engagement strategies, and learning through trial and error. Since diverse perspectives will be essential to mastering this new landscape, McKinsey's Luke Collins, Tom French, and Paul Magill recently sought out three practitioners with very different vantage points on marketing's future.
---