Usage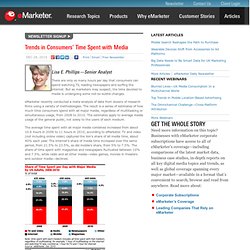 Trends in Consumers' Time Spent with Media
There are only so many hours per day that consumers can spend watching TV, reading newspapers and surfing the internet. But as marketers may suspect, the time devoted to media is undergoing some not-so-subtle changes. eMarketer recently conducted a meta-analysis of data from dozens of research firms using a variety of methodologies.
L'agence Fullsix vient de révéler les résultats de son étude sur l' iPad qui a deux gros atouts. Elle établit un premier baromètre objectif sur l'usage de ce média en France et tord le coup aux idées reçues. Parmi celles-ci, l'idée que c'est un outil de mobilité ou un outil utilisé à des fins professionnelles. 400 000 personnes en France ont acheté un iPad . Off-record, le scénario optimiste d'Apple prévoit jusqu'à 600 000 unités vendues en 2010. Au niveau mondial, les ventes sont estimées à 7,4 millions .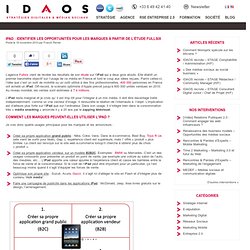 iPad : identifier les opportunités pour les marques à partir de l'étude Fullsix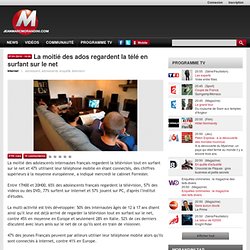 La moitié des adolescents internautes français regardent la télévision tout en surfant sur le net et 47% utilisent leur téléphone mobile en étant connectés, des chiffres supérieurs à la moyenne européenne, a indiqué mercredi le cabinet Forrester. Entre 17H00 et 20H00, 65% des adolescents français regardent la télévision, 57% des vidéos ou des DVD, 77% surfent sur internet et 57% jouent sur PC, d'après l'institut d'études. La multi-activité est très développée: 50% des internautes âgés de 12 à 17 ans disent ainsi qu'il leur est déjà arrivé de regarder la télévision tout en surfant sur le net, contre 45% en moyenne en Europe et seulement 28% en Italie. 52% de ces derniers discutent avec leurs amis sur le net de ce qu'ils sont en train de visionner. 47% des jeunes Français peuvent par ailleurs utiliser leur téléphone mobile alors qu'ils sont connectés à internet, contre 41% en Europe.
La moitié des ados regardent la télé en surfant sur le net