Media Business Model
Media Outlets Prepare to Charge for Content Online. Business Models on the Web | Professor Michael Rappa. Business models are perhaps the most discussed and least understood aspect of the web.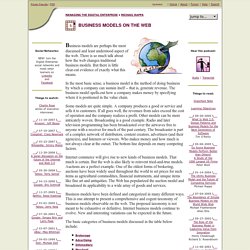 There is so much talk about how the web changes traditional business models. But there is little clear-cut evidence of exactly what this means. In the most basic sense, a business model is the method of doing business by which a company can sustain itself -- that is, generate revenue. The business model spells-out how a company makes money by specifying where it is positioned in the value chain.
Some models are quite simple. Business model. App Store: le nouveau business model des produits techno Depuis qu'Apple a lancé son fameux App Store en juillet 2008, créant par la même occasion une nouvelle source de revenu et de différenciation pour son téléphone, c'est toute l'industrie des Smart Phone, et plus largement celles des produits technos avec une connexion Internet, qui a été bouleversé.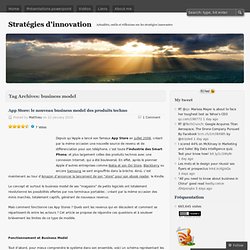 En effet, après le pionnier Apple d'autres entreprises comme Nokia et son Ovi Store, Blackberry ou encore Samsung se sont engouffrés dans la brèche. Ainsi, c'est maintenant au tour d'Amazon d'annoncer le lancement de son "store" pour son ebook reader, le Kindle. Le concept et surtout le business model de ses "magasins" de petits logiciels ont totalement révolutionné les possibilités offertes par nos terminaux portables ; créant par la même occasion des minis marchés, totalement captifs, générant de nouveaux revenus.
What is a Business Model? | Futurelab – An international marketi. By: Alexander Osterwalder Update: Based on the overwhelming interest this post got, I updated and republished the version from 2005.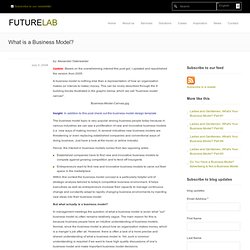 A business model is nothing else than a representation of how an organization makes (or intends to make) money. This can be nicely described through the 9 building blocks illustrated in the graphic below, which we call "business model canvas". Is The End Of Free Broadcast TV Fast Approaching? ~ The Blade by. New Revenue From Virtual Goods During Ad Slump - Technology News. Web companies are banking on the idea that people are becoming increasingly interested in buying virtual products, reported Reuters.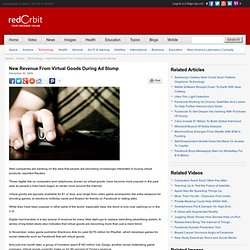 These digital bits on computers and cellphones, known as virtual goods, have become more popular in the past year as people's lives have begun to center more around the Internet. Virtual goods are typically available for $1 or less, and range from video game accessories like extra weapons for shooting games, to electronic birthday cards and flowers for friends on Facebook or dating sites.
While they have been popular in other parts of the world, especially Asia, the trend is only now catching on in the U.S. Broadcast TV Networks Want Your Money - The Atlantic Business Ch. In case you weren't following the news over the holidays, an interesting media story was gaining momentum with Time Warner threatening to drop Fox Broadcast networks from its service.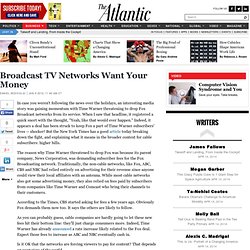 When I saw that headline, it registered a quick snort with the thought, "Yeah, like that would ever happen. " Indeed, it appears a deal has been struck to keep Fox a part of Time Warner subscribers' lives -- shocker! But the New York Times has a good article today breaking down the fight, and explaining what it means in the broader context for cable subscribers: higher bills. The reason why Time Warner threatened to drop Fox was because its parent company, News Corporation, was demanding subscriber fees for the Fox Broadcasting network. Traditionally, the non-cable networks, like Fox, ABC, CBS and NBC had relied entirely on advertising for their revenue since anyone could view their local affiliates with an antenna.
News Analysis - News Corp.'s Deal With Time Warner Precedes More. Huffington Post and Politico set to make 2009 profit | Media | g. Arianna Huffington started with free bloggers and is now creating jobs.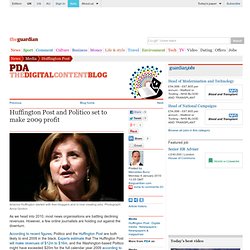 Photograph: Anna Gordon As we head into 2010, most news organisations are battling declining revenues. However, a few online journalists are holding out against the downturn. According to recent figures, Politico and the Huffington Post are both likely to end 2009 in the black. Financial Times's content revenues set to overtake print ad inco. Cover price rises, a growing online subscriber base and corporate clients will help the Financial Times's content revenues overtake print advertising revenues for the first time this year.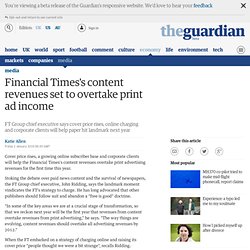 Stoking the debate over paid news content and the survival of newspapers, the FT Group chief executive, John Ridding, says the landmark moment vindicates the FT's strategy to charge. He has long advocated that other publishers should follow suit and abandon a "free is good" doctrine. "In some of the key areas we are at a crucial stage of transformation, so that we reckon next year will be the first year that revenues from content overtake revenues from print advertising," he says. "The way things are evolving, content revenues should overtake all advertising revenues by 2012.
" When the FT embarked on a strategy of charging online and raising its cover price "people thought we were a bit strange", recalls Ridding. Media Outlets Prepare to Charge for Content Online. Nielsen: Consumers will pay for online content. But not all of i. The issue of charging for online content is coming to head as companies watch their advertising revenues dip and costs rise.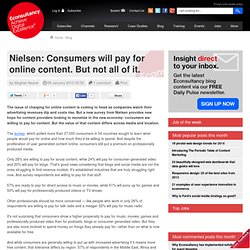 But a new survey from Nielsen provides new hope for content providers looking to monetize in the new economy: consumers are willing to pay for content. But the value of that content differs across media and location. The survey, which polled more than 27,000 consumers in 54 countries sought to learn what people would pay for online and how much they'd be willing to spend. And despite the proliferation of user generated content online, consumers still put a premium on professionally produced media.
Only 28% are willing to pay for social content, while 24% will pay for consumer-generated video and 20% will pay for blogs. What's Your Online Content Worth? Global Consumers Say: It Depen. Across countries, demographics and content types, consumers have diverse attitudes about paying for content online.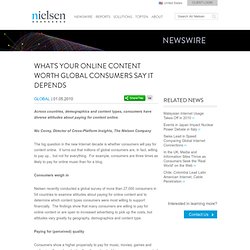 Nic Covey, Director of Cross-Platform Insights, The Nielsen Company The big question in the new Internet decade is whether consumers will pay for content online. It turns out that millions of global consumers are, in fact, willing to pay up... but not for everything. The Collapse of Complex Business Models.
I gave a talk last year to a group of TV executives gathered for an annual conference.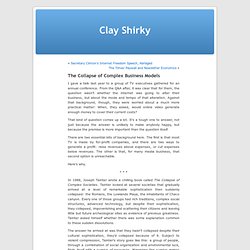 From the Q&A after, it was clear that for them, the question wasn't whether the internet was going to alter their business, but about the mode and tempo of that alteration. Against that background, though, they were worried about a much more practical matter: When, they asked, would online video generate enough money to cover their current costs? That kind of question comes up a lot. It's a tough one to answer, not just because the answer is unlikely to make anybody happy, but because the premise is more important than the question itself.
---