Marketing
7 Top Online Marketing Trends for 2011 [Data Included] Heidi Cohen | January 10, 2011 | 23 Comments inShare319 Social media's influence expands.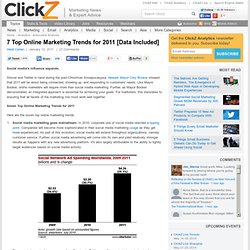 Shovel and Twitter in hand during the post-Christmas Snowpocalypse, Newark Mayor Cory Booker showed that 2011 will be about being connected, showing up, and responding to customers' needs. Like Mayor Booker, online marketers will require more than social media marketing. Further, as Mayor Booker demonstrated, an integrated approach is essential for achieving your goals. L'Ecosystem: A Visual Overview Of The Evolving French Display Ecosystem. 24 January 2011 in ExchangeWire EMEA 9 Comments The TASC (The Ad Server Club) in France has produced a visual overview of the evolving ecosystem in the French market.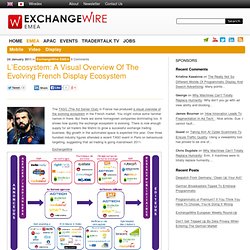 You might notice some familiar names in there. Interactive Marketing Spend to Hit $76.6B in 2016 | Digital. Blog Social Media & E-marketing, Médias Sociaux, Référencement, Blog Marketing. Book of Tens: Musts of Marketing for the Next 100 Years - Advert.
---