Local advertising
Merchandising and Design - Merchants are satisfied with daily deal results, but… While most businesses that have run daily-deal offers with operators like Groupon and LivingSocial say they're satisfied with the experience, more than half say they aren't planning to run another offer in the next six months, according to a new report.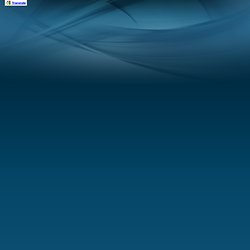 Investment firm Susquehanna Financial Group and daily deal aggregator Yipit spoke with 100 owners of restaurants, spas, home and auto services, and sports and fitness venues to gauge their satisfaction with marketing their businesses online through daily-deal operators. 80% of the respondents say they were satisfied with the experience. 45% of respondents say the daily deal offer generated new customers and 26% that deals provided a better way to advertise their business, as opposed to more traditional advertising channels like newspapers and the Yellow Pages.
But daily deals are a mixed blessing, respondents say. Only 10% of the merchants say their daily-deal offers contributed to strong revenue growth. The Local Media and Advertising Experts | BIA/Kelsey. Le marketing local s'oriente de plus en plus vers le online. Géolocaliser les consommateurs permet de personnaliser la relation avec ses clients, notamment en proposant des publicités très ciblées.
Cette nouvelle approche risque bien de mener vers une mutation du marché publicitaire. Pour mettre en place un marketing local personnalisé, l'entreprise AdCloud propose de géolocaliser précisément les utilisateurs, sans pour autant devoir rompre l'anonymat de ce dernier. La technologie mise au point se nomme Net Acuity Edge. D'autres solutions du même genre existent déjà, mais " leurs dispositifs, basés sur les infrastructures de routage, ne peuvent fournir une localisation très précise " explique AdCloud. Are We Approaching the End of the Daily Deals Era? | Share on LinkedIn. The Social Analyst is a column by Mashable Editor-at-Large Ben Parr, where he digs into social media trends and how they are affecting companies in the space.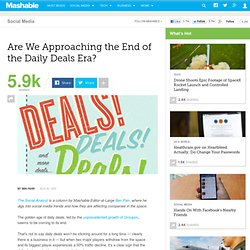 The golden age of daily deals, led by the unprecedented growth of Groupon, seems to be coming to its end. That's not to say daily deals won't be sticking around for a long time — clearly there is a business in it — but when two major players withdraw from the space and its biggest player experiences a 50% traffic decline, it's a clear sign that the daily deals market is no longer in its heyday. Last week, Facebook killed off Deals, its Groupon competitor, after just four months. "After testing Deals for four months, we've decided to end our Deals product in the coming weeks," Facebook told Mashable in a statement. Local Will Be Prime Driver Of Rise In Mobile Ad Spending | mocoNews. Analysts are feeling ever-more confident in the growth of mobile advertising.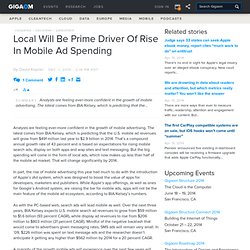 The latest comes from BIA/Kelsey, which is predicting that the U.S. mobile ad revenues will grow from $491 million last year to $2.9 billion in 2014. That's a compound annual growth rate of 43 percent and is based on expectations for rising mobile search ads, display on both apps and wap sites and text messaging. But the big spending will come in the form of local ads, which now makes up less than half of the mobile ad market. That will change significantly by 2014.
Google's Interest in Groupon Is About Local Ad Business - Advertising Age - Digital.
---