CRM
Marketing - engagement client. Shopper CRM : récompenser la transaction plus que l'incitation. Décidemment le shopper à le vent en poupe ...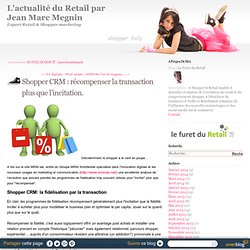 A lire sur le site MRM lab, entité du Groupe MRM Worldwilde spécialisé dans l'innovation digitale et les nouveaux usages en marketing et communication ( une excellente analyse de l'évolution que doivent prendre les programmes de fidélisation trop souvent utilisés pour "inciter" plus que pour "récompenser". Shopper CRM: la fidélisation par la transaction En clair, les programmes de fidélisation récompensent généralement plus l'incitation que la fidélité.
Inciter à acheter plus pour modéliser le business plan et optimiser le per capita. Les marchés du CRM en constante évolution - relationclientmag.fr. Le marché français du CRM a positivement traversé la crise.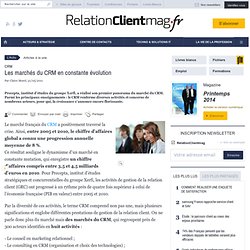 Ainsi, entre 2005 et 2010, le chiffre d'affaires global a connu une progression annuelle moyenne de 8 %. Ce résultat souligne le dynamisme d'un marché en constante mutation, qui enregistre un chiffre d'affaires compris entre 3,5 et 4,5 milliards d'euros en 2010. Pour Precepta, institut d'études stratégiques et concurrentielles du groupe Xerfi, les activités de gestion de la relation client (GRC) ont progressé à un rythme près de quatre fois supérieur à celui de l'économie française (PIB en valeur) entre 2005 et 2010. Par la diversité de ces activités, le terme CRM comprend non pas une, mais plusieurs significations et englobe différentes prestations de gestion de la relation client. On ne parle donc plus du marché mais des marchés du CRM, qui regroupent près de 300 acteurs identifiés en huit activités :
Relation client
Social media marketing. CRM. Behavourial Advertising. Why Some Publishers Still Don't Sell Data -- and Why More Should - Advertising Age - DigitalNext. Targeting advertising. Social CRM tools. Dove Story.
How Real-Time Data Creates a More Comfortable World - Advertisin.
Perso internet
Securing Brand Loyalty Through Relationship Marketing - eMarkete. As consumer packaged goods (CPG) brands lose share to less-expensive store brands, marketers are focusing on methods to secure lifelong brand loyalty in a bid to acquire new customers and retain lifelong customers.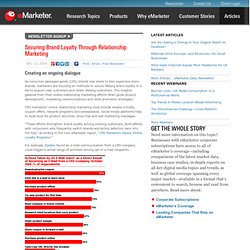 The insights gleaned from their online relationship marketing efforts often guide product development, marketing communications and retail promotion strategies. CPG marketers' online relationship marketing tools include weekly e-mails, coupon offers, rewards programs and sweepstakes. CRM Magazine Blog. Viewers Will Pay for Online Video, Report Says.
NEW YORK Despite all the optimism surrounding the potential for free, advertising-supported online video, some analysts see a far more lucrative market for selling video content online -- one that will materialize this year despite the rocky economic picture.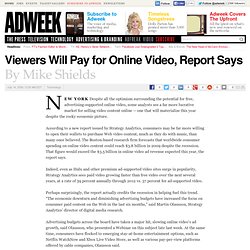 According to a new report issued by Strategy Analytics, consumers may be far more willing to open their wallets to purchase Web video content, much as they do with music, than many once believed. The Boston-based research firm forecasts that worldwide consumer spending on online video content could reach $3.8 billion in 2009 despite the recession. That figure would exceed the $3.5 billion in online video ad revenue expected this year, the report says. Indeed, even as Hulu and other premium ad-supported video sites surge in popularity, Strategy Analytics sees paid video growing faster than free video over the next several years, at a rate of 39 percent annually through 2012 vs. 37 percent for ad-supported video.
---