Couponing
1 In 4 Consumers Use Online Coupon Codes. Mobile scanning. Facebook Deals s'arrête. Lancé en test au mois d'avril 2011 et sensé concurrencé les Groupon et LivingSocial (Amazon) de ce monde, Facebook Deals vient de s'arrêter.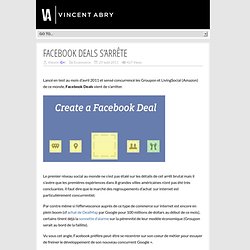 Le premier réseau social au monde ne s'est pas étalé sur les détails de cet arrêt brutal mais il s'avère que les premières expériences dans 8 grandes villes américaines n'ont pas été très concluantes. Il faut dire que le marché des regroupements d'achat sur internet est particulièrement concurrentiel. E-commerce : les 10 nouveaux modèles. Selon l'étude de la Fevad (Fédération du e-commerce et de la vente à distance), les ventes sur internet ont progressé de 22% entre 2009 et 2010.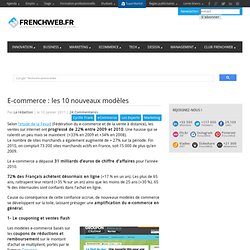 Une hausse qui se ralentit un peu mais se maintient (+33% en 2009 et +34% en 2008). Le nombre de sites marchands a également augmenté de + 27% sur la période. Fin 2010, on comptait 73 200 sites marchands actifs en France, soit 15 000 de plus qu'en 2009. Le e-commerce a dépassé 31 milliards d'euros de chiffre d'affaires pour l'année 2010. 72% des Français achètent désormais en ligne (+17 % en un an). NewsMakers - RetailMeNot.com coupon site is acquired. WhaleShark Media Inc. has acquired leading online coupon site RetailMeNot.com, it was announced yesterday.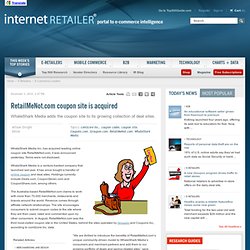 Terms were not disclosed. WhaleShark Media is a venture-backed company that launched last year. It has since bought a handful of online coupon and deal sites. Holdings currently include Deals.com, CouponSeven.com and CouponShare.com, among others. The Australia-based RetailMeNot.com claims to work with more than 70,000 merchants, restaurants and brands around the world.
Marketing par SMS : ce que les abonnés mobiles sont prêts à accepter. Coupons. Carrefour fait du e-couponing géolocalisé avec Orange | Publicité. Intéressante campagne de e-couponing menée par Carrefour, sur et avec l'aide d'Orange.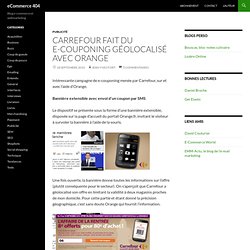 Bannière extensible avec envoi d'un coupon par SMS Le dispositif se présente sous la forme d'une bannière extensible, disposée sur la page d'accueil du portail Orange.fr, invitant le visiteur à survoler la bannière à l'aide de la souris. Une fois ouverte, la bannière donne toutes les informations sur l'offre (plutôt conséquente pour le secteur). On s'aperçoit que Carrefour a géolocalisé son offre en limitant la validité à deux magasins proches de mon domicile. Pour cette partie et étant donné la précision géographique, c'est sans doute Orange qui fournit l'information.
Printable Coupons | Clever Couponing. By Traffic, Groupon Is Ten Times Bigger Than Its Nearest Competitor. While we don't have access to the internal financial documents of companies in the local/group coupon-buying space — one of the hottest verticals to emerge in 2010 — we can tell by looking at site traffic that Groupon exponentially outstrips its nearest competitors, LivingSocial and BuyWithMe.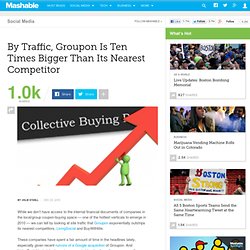 These companies have spent a fair amount of time in the headlines lately, especially given recent rumors of a Google acquisition of Groupon. And LivingSocial just picked up a huge round of funding from Amazon, as well. But according to traffic stats — and admittedly, there's not an exact correlation between traffic and traditional factors of profitability — LivingSocial saw a boost over the summer that never turned into the hockey stick graph most companies like to see as an indicator of early, rapid growth. LivingSocial Lands $175 Million Investment From Amazon. LivingSocial just closed a massive round of financing totaling $183 million.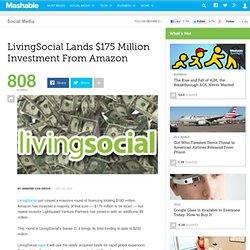 Amazon has invested a majority of that sum — $175 million to be exact — but repeat investor Lightspeed Venture Partners has joined in with an additional $8 million. This round is LivingSocial's Series D; it brings its total funding to date to $232 million. LivingSocial says it will use the newly acquired funds for rapid global expansion. Bargain Junkies Are Beating Retailers At Their Own Game. Groupon Shares Its Expansion Plan: Groupon Stores and the Deal Feed. Amidst the whirlwind of acquisition rumors, Groupon decided to stir the pot some more by announcing the next (possibly the most important yet) step in its long-term strategy: Groupon Stores.
Groupon's basic idea - offering one deal per day per city - has done tremendously well in the past, garnering as much as $20 million of monthly revenue for Groupon, but it obviously has to hit a plateau at some point. Groupon Stores are a solution to that problem. With this new feature, shop owners can set up virtual stores with Groupon and create as many deals as they want. Okay, Google, Here's How To Avoid Destroying Groupon. Dan Frommer, Business Insider Don't give him a number, Google Google has reportedly offered to buy Groupon for $6 billion, and Groupon's board is meeting today to accept discuss the offer.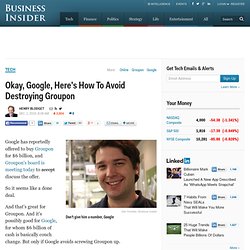 Groupon lève 135 millions de dollars auprès de DST et Battery -
---