Desserts
S'mores Coffee and Fudge Ice Cream Cake Recipe at Epicurious. Photo by David Bishop yield Makes 10 to 12 servings A decadent, impressive dessert that appeals to everyone's inner Boy Scout or Girl Scout.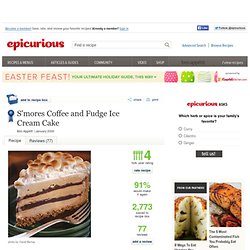 Begin preparing this a day ahead. Preparation Preheat oven to 350°F. Popsicles! Jun29 Not to sound full of myself, but I'm pretty sure this is the be all, end all of popsicle roundups.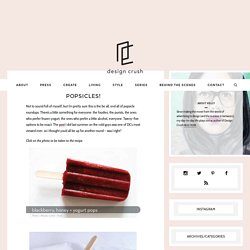 There's a little something for everyone: the foodies, the purists, the ones who prefer frozen yogurt, the ones who prefer a little alcohol, everyone. Twix Cheesecakes. The Infamous Jacques Torres Chocolate Chip Cookies. Now, I have a chocolate chip cookie recipe that I swear by.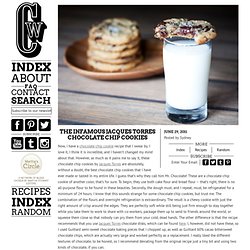 I love it, I think it is incredible, and I haven't changed my mind about that. However, as much as it pains me to say it, these chocolate chip cookies by Jacques Torres are absolutely, without a doubt, the best chocolate chip cookies that I have ever made or tasted in my entire life. Cinnamon Roll Sugar Cookies. These are divine.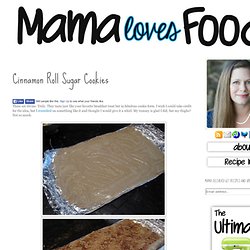 Truly. They taste just like your favorite breakfast treat but in fabulous cookie form. The Brownie Project. Five-Minute Chocolate Mug Cake. Black Magic Cake (Best Chocolate Cake Ever!) | Chocolate Recipes | Sqrlmama. Lisa's notes for this recipe: When my mother passed away, a close family friend made us two wonderful cakes.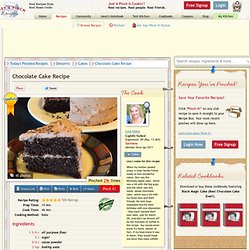 One was the Kentucky Apple cake, which was a hit with the big guys, and the other was this moist, dense chocolate cake, which was a hit with my three sons and their friends. My twin boys requested this for their birthday with one stipulation - they each wanted their own cake, just for them! Oh, and don't be thrown off by the inclusion of coffee in the recipe. Pumpkin Fudge. 3 cups granulated white sugar 3/4 cup melted salted butter 2/3 cup evaporated milk ½ cup canned pure (unsweetened) pumpkin 2 Tablespoons light corn syrup 1 teaspoon pumpkin pie spice One 12-ounce package white chocolate morsels (chips) One (7-ounce) jar marshmallow crème 1 cup chopped pecans, toasted (optional) 1 teaspoon vanilla extract 1.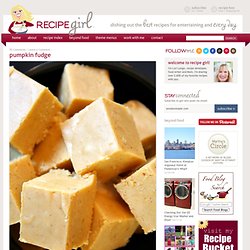 Line a 9-inch square pan with aluminum foil. Correcting The World's Wrongs With Campfire Bananas - Home - Burgh Baby. "What are you doing?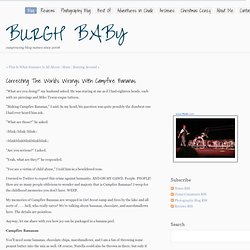 " my husband asked. He was staring at me as if I had eighteen heads, each with 20 piercings and Mike Tyson-esque tattoos. "Making Campfire Bananas," I said. In my head, his question was quite possibly the dumbest one I had ever heard him ask. Cinnamon Toast Rolls. The USDA released its new food pyramid the other day (which is actually a plate now instead of a pyramid), and I am sorely disappointed to report that cinnamon rolls did not appear anywhere on that plate.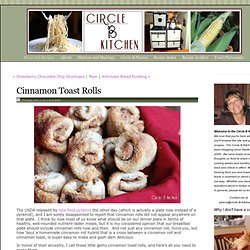 I think by now most of us know what should be on our dinner plate in terms of healthy, well-rounded nutrient-laden meals, but it is my considered opinion that our breakfast plate should include cinnamon rolls now and then. And not just any cinnamon roll, mind you, but how 'bout a homemade cinnamon roll hybrid that is a cross between a cinnamon roll and cinnamon toast, is super easy to make and gosh darn delicious. Easy Pumpkin Cheesecake Muffins. New York Cheesecake « Cheesecake. I love cheesecake.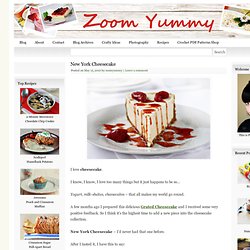 I know, I know, I love too many things but it just happens to be so… Yogurt, milk-shakes, cheesecakes – that all makes my world go round. A few months ago I prepared this delicious Grated Cheesecake and I received some very positive feedback. So I think it's the highest time to add a new piece into the cheesecake collection. Evil chef mom: chocolate peanut butter pie. How to Make Your Baby Pterodactyl Mad In 4 Easy Steps.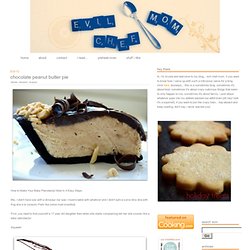 [No, I didn't have sex with a dinosaur nor was I inseminated with whatever and I didn't splice some dino dna with frog dna a la Jurassic Park like some mad scientist] First, you need to find yourself a 17 year old daughter then when she starts complaining tell her she sounds like a baby pterodactyl. Squawk! That looks about right. Second, embarrass her by telling a family friend that when she was younger she didn't have an ounce of gaydar in her whole entire body. Almond Cake Recipe - Easy One Bowl Cake. Almond Cake Recipe YIELD: 1 Moist Almond Cake Ingredients: * 3/4 cups of butter * 1 1/2 cups of sugar * 2 eggs. Absolutely Amazing DIY Birthday Cakes! Parenting.com has a fabulous birthday cake gallery/tutorial that is nothing short of AMAZING! Each of the 31 cakes in this gallery comes with step-by-step instructions on how you can recreate it at home. There's some serious creativity & resourcefulness going on here!
Oreo Truffles. Attention ladies and gents – Valentine's Day is around the corner, and you are about to be given the tools for a delectable sweet that will have your sweet thinking you are: a. thoughtful b. a great cook and c. not at all concerned with the size of their ass! Following last year's Easiest Cookies You'll Ever Make, these bad boys are the easiest truffles you'll ever make. Three ingredients. Cupcakes - Crumbs Bake Shop - Cupcake Cakes, Wedding Cupcakes, Carrot Cupcakes. Copycat Candy Recipes. To make all of these Instructables, download this collection of How To's as an ebook. Download » "Copycat Candy Recipes" is your backstage pass to famous brand-name candies! Chocolate Ebelskivers « Bay Area Foodie. Fresh and Easy Chocolate Dipped Clementines with Sea Salt Sprinkles.
---