Useful
Raw Food Benefits - How Raw Living Foods Benefit Your Entire Body. The raw food diet is simply a return to food in its natural state – the food we were meant to eat.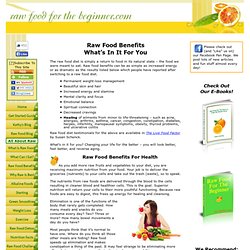 Raw food benefits can be as simple as increased energy or as dramatic as the results listed below which people have reported after switching to a raw food diet. Permanent weight-loss managementBeautiful skin and hairIncreased energy and staminaMental clarity and focusEmotional balanceSpiritual connectionDecreased cravingsHealing of ailments from minor to life-threatening – such as acne, allergies, arthritis, asthma, cancer, congestion, constipation, diabetes, herpes, infertility, menopausal symptoms, obesity, thyroid problems, and ulcerative colitis Raw food diet testimonials for the above are available in The Live Food Factor by Susan Schenck.
What's in it for you? Changing your life for the better – you will look better, feel better, and reverse aging. Raw Food Benefits For Health. Various free samples, product samples, free stuff, freebies, games, gifts, contests, freeware.
---