RechercheLED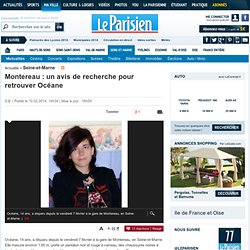 Montereau : un avis de recherche pour retrouver Océane - 10/02/2014
Océane, 14 ans, a disparu depuis le vendredi 7 février à la gare de Montereau, en Seine-et-Marne.
The complete source for the latest industrial product solutions
LED Technology, Solid State Lighting News and Reviews | LEDs Review
A new kind of energy-efficient light bulb may provide an alternative to existing compact fluorescent (CFL) and Light Emitting Diode (LED) bulbs. The new bulbs, made by Seattle-based Vu1, use a technology called electron stimulated luminescence (ESL) to produce incandescent-quality light. The ESL bulbs generate light by firing electrons to stimulate phosphor, and the whole setup is encased in normal light-bulb glass. The bulbs are estimated to last up to 6,000 hours, which is comparable to CFLs, and three to four times as long as incandescent bulbs.
Newest Lightbulb Tech Combines Advantages of Incandescent, Fluorescent, and LED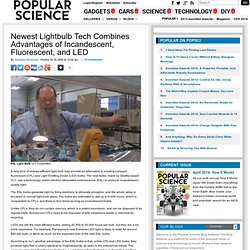 Les lampes à diode électroluminescente | Energie & Futur
Discussion about "Moment Factory - Un mur de LED intéractif"
Des tatouages LED dans l'avenir?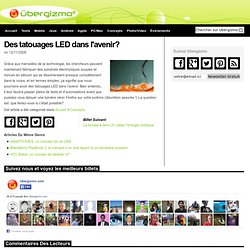 Grâce aux merveilles de la technologie, les chercheurs peuvent maintenant fabriquer des substrats électroniques souples et minces en silicium qui se dissolveraient presque complètement dans le corps, et en termes simples, ça signifie que nous pourrions avoir des tatouages LED dans l'avenir. Bien entendu, il leur faudra passer pleins de tests et d'autorisations avant que puissiez vous tatouer une lumière néon Firefox sur votre poitrine (discrétion assurée !) La question est: que feriez-vous si c'était possible?