RechercheLED
The complete source for the latest industrial product solutions
LED Technology, Solid State Lighting News and Reviews | LEDs Review
ESL Light Bulb Vu1 Corporation A new kind of energy-efficient light bulb may provide an alternative to existing compact fluorescent (CFL) and Light Emitting Diode (LED) bulbs. The new bulbs, made by Seattle-based Vu1, use a technology called electron stimulated luminescence (ESL) to produce incandescent-quality light. The ESL bulbs generate light by firing electrons to stimulate phosphor, and the whole setup is encased in normal light-bulb glass.
Newest Lightbulb Tech Combines Advantages of Incandescent, Fluorescent, and LED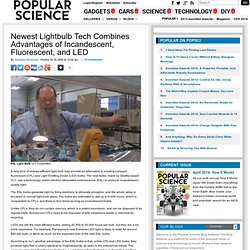 Les lampes à diode électroluminescente | Energie & Futur
Lighting Research Center | University-based research and education organization devoted to lighting
Discussion about "Moment Factory - Un mur de LED intéractif"
Des tatouages LED dans l'avenir?