RechercheLED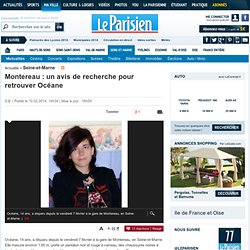 Montereau : un avis de recherche pour retrouver Océane - 10/02/2014
Océane, 14 ans, a disparu depuis le vendredi 7 février à la gare de Montereau, en Seine-et-Marne. Elle mesure environ 1,65 m, porte un pantalon noir et rouge à carreau, des chaussures noires à bouts dorés, un blouson noir et un blouson en jean orné de quelques clous. D e look gothique, elle a quelques mèches rouges dans les cheveux. Elle a été vue vendredi soir à Paris gare de Lyon, puis également à Fontenay-aux-Roses (Hauts-de-Seine).
The complete source for the latest industrial product solutions
Pleasanton Library Cuts Energy Use By 46% With Adura Technologies Wireless Lighting Controls Dec 6, 2011 Adura® Technologies, a leading provider of wireless lighting controls and energy management systems, has added the Pleasanton Public Library in Pleasanton, California to the list of public and commercial buildings benefiting from its wireless lighting control system. The Adura system and the fixture retrofit combined have reduced the library's lighting energy use by 46 percent while enhancing user comfort and safety.
LED Technology, Solid State Lighting News and Reviews | LEDs Review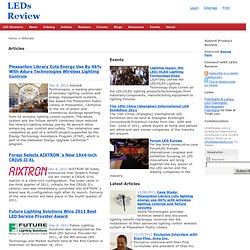 A new kind of energy-efficient light bulb may provide an alternative to existing compact fluorescent (CFL) and Light Emitting Diode (LED) bulbs. The new bulbs, made by Seattle-based Vu1, use a technology called electron stimulated luminescence (ESL) to produce incandescent-quality light. The ESL bulbs generate light by firing electrons to stimulate phosphor, and the whole setup is encased in normal light-bulb glass. The bulbs are estimated to last up to 6,000 hours, which is comparable to CFLs, and three to four times as long as incandescent bulbs.
Newest Lightbulb Tech Combines Advantages of Incandescent, Fluorescent, and LED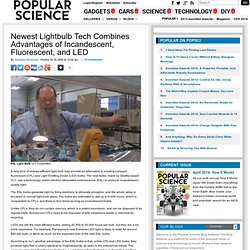 Les lampes à diode électroluminescente | Energie & Futur
Des tatouages LED dans l'avenir?