Language and technology organizations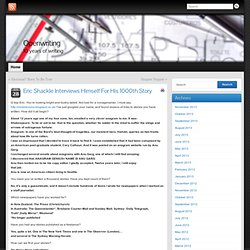 G'day Eric. You're looking bright and bushy-tailed. Not bad for a nonagenarian, I must say. http://nimblenoms.blogspot.co.uk/ I've just googled your name, and found dozens of links to stories you have written. How did it all begin? About 12 years ago one of my four sons, Ian, emailed a very clever anagram to me.
Open Writing: Eric Shackle Interviews Himself For His 1000th Story
Description The International Journal of Computer-Assisted Language Learning and Teaching (IJCALLT) serves as a forum for researchers, teachers, practitioners, and education professionals to discuss and share their ideas, experience, and knowledge in combining computer technology with language teaching and learning. Due to the fast pace of technological change, innovative teaching approaches and strategies should be developed to successfully integrate new technologies into language teaching.
International Journal of Computer-Assisted Language Learning and Teaching (IJCALLT) (2155-7098)(2155-7101): Bin Zou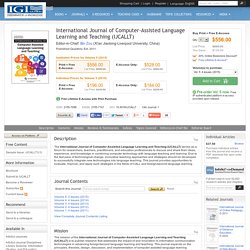 EUROCALL: European Association for Computer-Assisted Language Learning
Call for Papers: The Language Flagship Results 2012 Conference - AATSP
Center for International Business Education and Research - UNC Kenan-Flagler Business School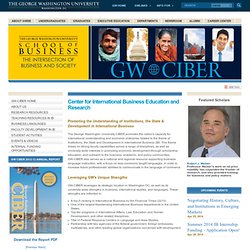 GWSB | School of Business | The George Washington University
Promoting the Understanding of Institutions, the State & Development in International Business The George Washington University CIBER promotes the nation's capacity for international understanding and economic enterprise related to the theme of Institutions, the State and Development in International Business (IB). This theme draws on strong faculty capabilities across a range of disciplines, as well as university-wide interests in promoting economic development through scholarship, education, and outreach to the business, academic, and policy communities. GW-CIBER also serves as a national and regional resource supporting business language instruction, with a focus on less-commonly taught languages, in order to increase future professionals' abilities to communicate in the language of commerce. Leveraging GW's Unique Strengths GW-CIBER leverages its strategic location in Washington DC, as well as its university-wide strengths in business, international studies, and languages.
International Business Center : International Business Center (CIBER): Global Initiatives : Eli Broad College of Business at Michigan State University
CIBERweb - Centers for International Business Education and Research
The Language Flagship is a national initiative to change the way Americans learn languages through a groundbreaking approach to language education for students from kindergarten through college. Through a network of 26 Flagship Programs at 22 institutions of higher education across the U.S., The Language Flagship graduates students who will take their place among the next generation of global professionals, commanding a superior level of proficiency in one of ten languages critical to U.S. national security and economic competitiveness. Flagship undergraduate students represent the next generation of global professionals in the United States. Students come from all regions of the nation and pursue a variety of academic and professional interests in addition to language study.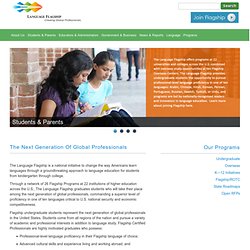 The Language Flagship - * Welcome *
Careers | Network of Business Language Educators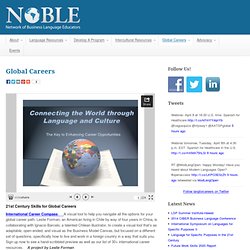 21st Century Skills for Global Careers International Career Compass A visual tool to help you navigate all the options for your global career path. Leslie Forman, an American living in Chile by way of four years in China, is collaborating with Ignacio Barcelo, a talented Chilean illustrator, to create a visual tool that's as adaptable, open-ended, and visual as the Business Model Canvas, but focused on a different set of questions, specifically how to live and work in a foreign country in a way that suits you. Sign up now to see a hand-scribbled preview as well as our list of 30+ international career resources. A project by Leslie Forman
United States Telecommunications Training Institute
Home - CALICO
SCOLT
IALLT Mission Statement Established in 1965, IALLT is a professional organization whose members provide leadership in the development, integration, evaluation and management of instructional technology for the teaching and learning of language, literature and culture. Its strong sense of community promotes the sharing of expertise in a variety of educational contexts. As a registered 501 (c)3 not-for-profit professional organization, IALLT welcomes tax-deductible donations from individuals and businesses.
IALLT | International Association for Language Learning Technology Where technology speaks your language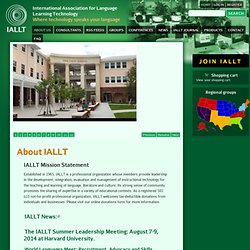 National Museum of Language
Central States Conference on the Teaching of Foreign Languages
New York State Association of Foreign Language Teachers
Texas Introduces House Bill to adopt Seal of Bilingualism and Biliteracy If approved, seal could appear on diplomas as early as the 2013-2014 school year Brazilian Literature Goes Global Reading Brazil Digitally and in Translation. NY Becomes 2nd State to Recognize Biliterate Grads Feds Face Foreign Language Crisis Senate hearing discussed how the lack of adequately trained language specialists compromises national security.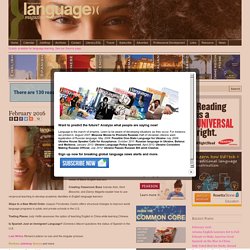 Return to MERLOT II Home Page Search all MERLOT Click here to go to your profile Click to expand login or register menu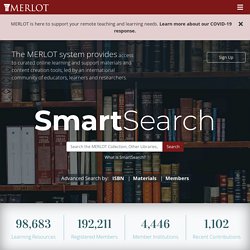 Welcome | MAALLT- Mid-Atlantic Association for Language Learning Technology
Home - American Council on the Teaching of Foreign Languages
The American Council on the Teaching of Foreign Languages (ACTFL) is dedicated to the improvement and expansion of the teaching and learning of all languages at all levels of instruction. ACTFL is an individual membership organization of more than 12,000 language educators, students, and administrators from elementary through graduate education, as well as government and industry. Since its founding, ACTFL has become synonymous with innovation, quality, and reliability in meeting the changing needs of language educators and their students.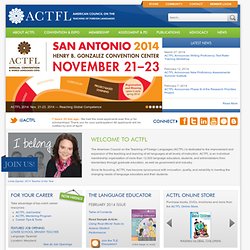 IndiaCALL--The India Association of Computer Assisted Language Learning