Music
We're happy to announce Brandi's new online store is up and running. In the tradition of Black Friday/Cyber Monday sales, we're offering free shipping on any order over $50! Simply use the promo code "BRANDI" at checkout and shipping will be on us! The offer is currently available and expires on December 3. We've restocked the store with summer tour merch and a few new items including sterling silver lyric beads (for four different songs), tour blankets, crew socks and a new hoodie.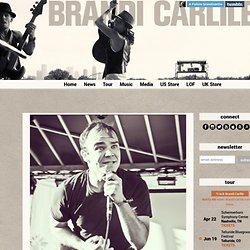 Brandi Carlile
BRANDI CARLILE Shares Her Favorite Books and CDs
Brandi Carlile - Hallelujah (Cover) Live
Mumford & Sons : Awake My Soul (HD version) : Komedia Brighton : 6 October 2009
John Mark McMillan
"Are We All Animals Tour" Kicks Off in March 2014 JOHN MARK MCMILLAN ANNOUNCES HIS "ARE WE ALL ANIMALS TOUR"KICKING OFF 3/29 IN ORLANDOMcMillan's Brand New LP Borderland Available March 4 John Mark McMillan has announced the dates to his upcoming "Are We All Animals Tour" this spring, which kicks off March 29 in Orlando, FL. McMillan will be promoting his fourth album, Borderland, which will be available March 4 (Lionhawk Records).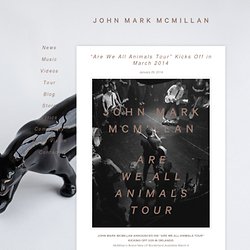 John Mark McMillan - Skeleton Bones
John Mark McMillan-Carolina Tide
jonforeman
Jon Foreman - Somebody's Baby
Jon Foreman - The House Of God, Forever
Hello! As long time fans of Katy Perry we are overjoyed to be joining her on the 3rd leg of her North American tour. When I was writing Heartthrob I went to the movies and saw Part Of Me in 3D (The Katy Perry movie). The thing that struck me most while watching it was how devoted and diverse her audience was.
Tegan and Sara - Banter And people wonder why I date women @ Astra, Berlin.MPG
9/18 Tegan & Sara Actually HUG! Hilarious... + Give Chase @ #3 The Fonda, Los Angeles, CA 10/18/08