Photography Tips, Tricks, Techniques, and Other Assorted Things
40 Of The Most Powerful Photographs Ever Taken. Polaroids of Afghanis Who've Never Seen a Photograph. The Wakhan corridor located in the northeastern corner of Afghanistan, is a less-traveled region by foreigners.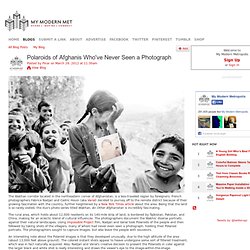 French photographers Fabrice Nadjari and Cedric Houin (aka Varial) decided to journey off to the remote district because of their growing fascination with the country, further heightened by a New York Times article about the area. Being that the land is so rarely visited, the duo's photo series titled Wakhan, An Other Afghanistan is incredibly fascinating. The rural area, which holds about 12,000 residents on its 140-mile strip of land, is bordered by Tajikistan, Pakistan, and China, making for an eclectic blend of cultural influences. Are These the World's "Luckiest" Photos? A lot goes into making the perfect photograph: a good eye, impeccable composition, and lighting skills, for starters.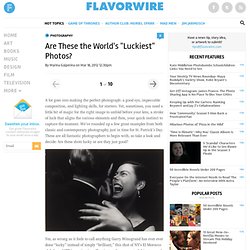 Yet, sometimes, you need a little bit of magic for the right image to unfold before your lens, a stroke of luck that aligns the various elements and then, your quick instinct to capture the moment. We've rounded up a few great examples from both classic and contemporary photography just in time for St. Patrick's Day. Compelling Portraits of Circus Performers. We spotted these fascinating photos of circus performers in Andrew Shaylor's Behance portfolio and have been dreaming about running away to start our own misfit troupe ever since.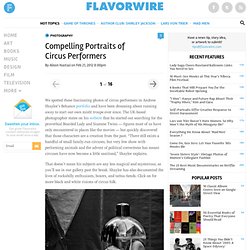 The UK-based photographer states on his website that he started out searching for the proverbial Bearded Lady and Siamese Twins — figures most of us have only encountered in places like the movies — but quickly discovered that those characters are a creation from the past. "There still exists a handful of small family-run circuses, but very few show with performing animals and the advent of political correctness has meant circuses have now become a little sanitised," Shaylor explains. Where Children Sleep: James Mollison's Poignant Photographs. By Maria Popova What the Amazon rainforest has to do with the Kaisut Desert and Fifth Avenue luxury.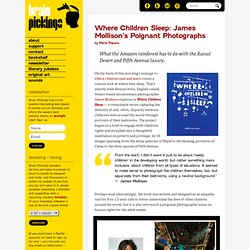 On the heels of this morning's homage to where children read and learn comes a curious look at where they sleep. Photographer Dennis Manarchy Builds Giant Camera. In a world where all things small are considered beautiful and cool, a photographer is doing something quite drastically different from the norm.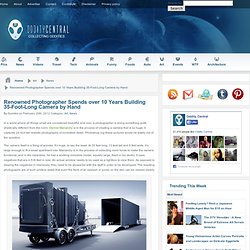 Dennis Manarchy is in the process of creating a camera that is so huge, it captures 24-foot tall realistic photographs of incredible detail. Photoshop-ing these pictures would be totally out of the question. Photo Forensics Software | Fourandsix Technologies - Photo Tampering throughout History. Two young cousins, Elsie Wright and Frances Griffiths, produced a series of photographs purportedly showing small winged fairies.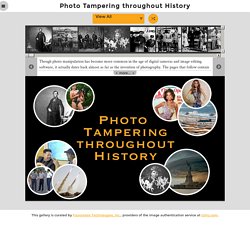 These highly publicized photos created a sensation, and although some believed them to be fake, many believed them to be real. Many years later, the cousins admitted that, though the photographs were not manipulated, the fairies depicted were actually cardboard cutouts posed in the scene. 73 Links and Photos That Will Make Your Photography-Loving Head Explode « Light Stalking. It's been a truly wonderful week online in the world of photography, and Toad Hollow Photography has been busy collecting the best set of links to tutorials, great photography and interesting blogs to share with everyone.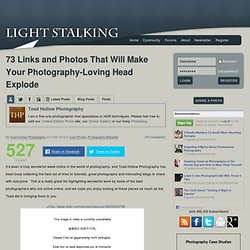 This is a really great list highlighting wonderful work by some of the best photographers who are active online, and we hope you enjoy looking at these pieces as much as the Toad did in bringing them to you. Check out the Toad's photoblog featuring Canadian landscapes and historical artifacts, and his Fine Art Landscape Photography website. Ask JoeB: Chainlink Fence – another wonderful and highly informative blog post from Joe Baraban discusses textures and lines in art. The image being critiqued is just wonderful, producing fabulous leading lines and a frame for the slightly out of focus window in the background.
This is a truly wonderful post sure to teach almost everyone something about image composition, and specifically photography. New York leper colony: Eerie pictures inside abandoned world of lost island. Snowbound: The window has fallen out of the wall in this science classroom in the school (left) while tiles cling to a long-abandoned bathtub (right), one of two in the western wing of the tuberculosis pavilion Misplaced: The altarpiece from the chapel was moved to a maintenance building before the island was abandoned where it still sits on a table Mary Mallon (above, right) was the most infamous patient at North Brother Island where she spent nearly three decades of her life.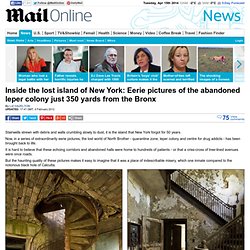 Despite being healthy, she was a carrier of the typhoid virus – and is believed to have been responsible for 43 infections and three deaths. 50 Greatest Cameras of All Time. Best Cameras of All Time: Photography Monthly masters and retailers chip in to help us compile a list of the 50 greatest cameras of all time.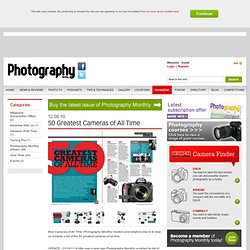 UPDATE - 21/10/11: A little over a year ago Photography Monthly unveiled its list of the 50 best cameras of all time. With a number of significant cameras released in the past year we thought we would revisit our 'best cameras' list and evaluate whether any of the year's newcomers warrant a spot. 10 Ways To Improve as a Photographer. Famous Photogs Pose With Their Most Iconic Images. Jeff Widener holds his photo of Tank Man in Tienanmen Square from 1989.Photo: Tim Mantoani Steve McCurry holds his 1984 photo of a young woman from Peshawar, Pakistan.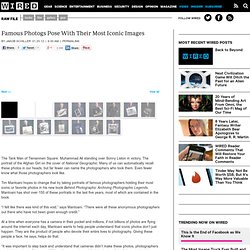 "I looked for this girl for 17 years and finally found her in 2002. Her name is Sharbat Gula. "Photo: Tim Mantoani Neil Leifer holds his photo, Ali vs. Liston, which he took on May 25, 1965 in Lewiston, Maine.Photo: Tim Mantoani Bill Eppridge stands with his photo of Robert F. Colorizing Classic Black and White Photos. When you come across black and white photographs from the past, do you ever wonder what colors are meant to replace the varied shades of gray? Sweden-based artist Sanna Dullaway re-imagines photos from yesteryear in vibrant, realistic hues. The series features portraits of well-known people throughout history including Abraham Lincoln, Che Guevara, Albert Einstein, Mark Twain, Anne Frank, and a young Charlie Chaplin without his signature mustache. Camera Exposure Infographic. Zone System. A Simplified Zone System By: Norman Koren This tutorial on the Zone System, written by Norman Koren, will be of primarily interest to newcomers to photography who use negative film — either colour or B&W.
Even experienced transparency users will find it of interest as a review of an often misunderstood topic. — Michael Reichmann. Ultimate Exposure Computer. Imagine an exposure computer so advanced that it uses your eyes as a sensor. The processing unit is as powerful as your brain. The computer is accurate over a light range from reflected starlight through the light produced in a hydrogen fusion reaction. This computer weighs nothing and operates without batteries.
It comes with instructions to allow you to implant the capabilities of the computer directly into your own memory so you can accurately judge a correct exposure by simply looking at the type of light that the subject is in. You are using this computer right now! This Is Not a Photograph. Eggleston's connection to indie continues today; it's interesting to see how his work and worldview are being refracted by Washed Out's Ernest Greene, whose music itself reflects the languid pacing of Southern life. In a recent interview, Greene-- whose Life of Leisure features a cover snapshot of his wife floating in the ocean during their recent honeymoon, and whose nom d'indie perfectly syncs the aural and visual components of his music-- talked about the simple pleasures of moving back home: "I started to realize what a beautiful place (Perry, Georgia) was and how great a place it is for a kid to grow up... What Perry loses in culture or a live music scene, it gains in seclusion and nature.
Look at William Eggleston's photographs if you want a glimpse of the culture in Perry. " Joseph Szabo's Compelling Portraits of Teenage America in the '70s and '80s. Adored by the likes of Sofia Coppola and Dinosaur Jr. (check out the cover of Green Mind), Joseph Szabo's revealing photos of teenagers hanging out at Jones Beach, Rolling Stones' concerts, and in their Long Island bedrooms during the '70s and '80s are remarkably timeless.
Self-conscious battles, restless longing, and guiltless bravado play out in Szabo's pictures, which display an intimacy only a photographer who got to know his subjects up close and personal could demonstrate. The artist first photographed the students in his classroom as a way to break down the teacher/pupil barriers. What Ended Kodak's Moment?
---