News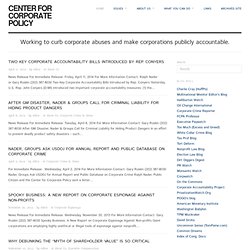 News Release For Immediate Release: Wednesday, November 20, 2013 For More Information Contact: Gary Ruskin (202) 387-8030 Spooky Business: A New Report on Corporate Espionage Against Non-profits Giant corporations are employing highly unethical or illegal tools of espionage against nonprofit… Steve Pearlstein's column in Sunday's Post Business section (with a related story by Jia Lynn Jang) is an excellent deconstruction of the "myth of shareholder value" and a must read for readers of this site. Pearlstein not only reviews the… Sam Pizzigati (editor of the superb website, TooMuchOnline, which tracks CEO pay and other gross excesses of the super-rich) has a new book out that rebuts the self-justifying claims used by the rich and right-wing elites: The Rich Don't Always…
Center for Corporate Policy: Working to curb corporate abuses and make corporations publicly accountable.
The Employee Ownership 100: America's Largest Majority Employee-Owned Companies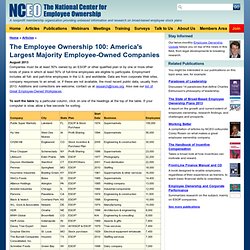 Home » Articles » August 2013Companies must be at least 50% owned by an ESOP or other qualified plan or by one or more other kinds of plans in which at least 50% of full-time employees are eligible to participate. Employment includes all full- and part-time employees in the U.S. and worldwide.
Latest US news, world news, sport and comment from the Guardian | guardiannews.com | The Guardian
Dispatches - Channel 4
A 1o a.m. Tuesday, the Supreme Court will return to the often-disputed issue of requiring non-union workers to financially support unions that represent them. In the case of Harris v. Quinn, arguing for a group of home-care providers resisting unionization will be William L.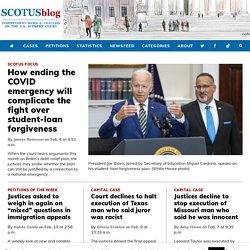 SCOTUSblog
Drug Policy Alliance
Truthdig: Drilling Beneath the Headlines
Please Support Truthdig In a media landscape littered with sellouts, we proudly remain one of the few truly independent news sites featuring strong, uncompromising voices. But we need your help to continue our mission of finding and publishing a range of insightful opinion and analysis from a progressive point of view.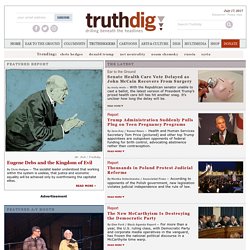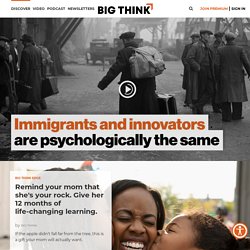 Today's Big Idea What's the secret to good health? It's no longer a secret, and it's actually fairly simple, even as good health is something that is very hard to achieve in our …society today. According to Dr. H.
Big Think | Blogs, Articles and Videos from the World's Top Thinkers and Leaders
The Shaw Group Inc.
Whether it's IT solutions, training and simulation, or logistics and supply-chain support, SAIC services can drive performance anywhere — from the ocean floor to outer space. 1,000,000 tires reliably delivered for air and land vehicles. 5M in savings for NASAtechnology costs. 1,000% increased capacity for world-wide telecom services for NASA. 95% reduction in physical servers for the NASA Data Center using virtual cloud solutions. 66% of our personnel provide support to military and government systems onsite.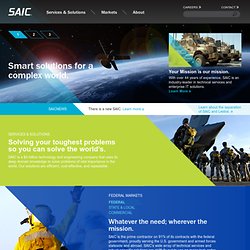 SAIC: From Science to Solutions®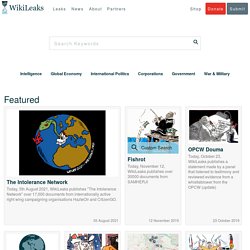 WikiLeaks
In Wikileaks Archives U.K. (2009) Publication of the UK Royal Mail's PostZon postcode database WikiLeaks released the UK government database of all 1,841,177 UK post codes together with latitude and longitude, grid references, county, district, ward, NHS codes and regions, Ordinance Survey reference, and date of introduction. The database was last updated on July 8, 2009 and is over 100,000 pages in size. Read this in Wikileaks Archives Afghanistan (2008) Release of report NATO in Afghanistan: Master Narrative
Chart: How 9/11 Changed the Law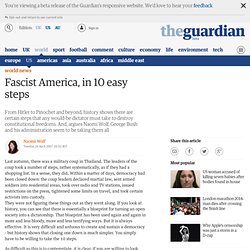 Naomi Wolf: Fascist America, in 10 easy steps | World news
Last autumn, there was a military coup in Thailand. The leaders of the coup took a number of steps, rather systematically, as if they had a shopping list. In a sense, they did. Within a matter of days, democracy had been closed down: the coup leaders declared martial law, sent armed soldiers into residential areas, took over radio and TV stations, issued restrictions on the press, tightened some limits on travel, and took certain activists into custody. They were not figuring these things out as they went along.
NYTimes Sues The Federal Government For Refusing To Reveal Its Secret Interpretation Of The PATRIOT Act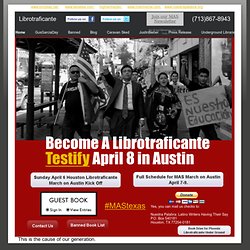 Librotraficante | Houston, TX 77254-0181
Librotraficante Website Designed by Librotraficante © 2014 at Homestead™ Get a Website and List Your Business 10 Myths the TX State Board of Ed Uses to Kill Mexican American Studies
14th October 2013 Question with 128 notes Anonymous asked: How can you claim to speak for 99% of people? We don't claim to speak for anyone, we merely present stories. 14th October 2013
We Are the 99 Percent
ALEC Exposed - Alec Exposed
Br'er - Sea of Doubt on Shuffler.fm
Rebuild the Dream - A Book by Van Jones | Rebuild the Dream
It's Our Economy | People Before Profits • Stop Foreclosures • Break Up Big Finance • End the Wars
New paper identifies the networking impact of Transition Network in the community energy field Transition Culture October 17, 2012 In the context of the fascinating week of posts looking discussing Transition Network over at the Social Reporters' blog, it was … Medicaid, a program that is critical to the health of tens of millions of people, faces a future of more cutbacks and restricted access to care. By Helen Redmond Socialist Worker, October 31, 2012 Patients fill the waiting room of the … False Statistics Create the Illusion of Recovery By Paul Craig Roberts October 31, 2012 Since mid-2009 the US has been enjoying a virtual recovery courtesy of a rigged inflation measure that understates inflation.
GBU-28
The Guided Bomb Unit 28 (GBU-28) is a 5,000-pound (2,268 kg) laser-guided "bunker busting" bomb nicknamed "Deep Throat" produced originally by the Watervliet Arsenal, Watervliet, New York. It was designed, manufactured, and deployed in less than three weeks due to an urgent need during Operation Desert Storm to penetrate hardened Iraqi command centers located deep underground. Only two of the weapons were dropped in Desert Storm, both by F-111Fs.[1]
Text[edit] The district courts shall have original jurisdiction of any civil action by an alien for a tort only, committed in violation of the law of nations or a treaty of the United States.[1] History[edit] The ATS was part of the Judiciary Act of 1789.[2] There is little surviving legislative history regarding the Act, and its original meaning and purpose are uncertain.[3][4] However, scholars have surmised that the Act was intended to assure foreign governments that the U.S. would act to prevent and provide remedies for breaches of customary international law, especially breaches concerning diplomats and merchants.[5]
Alien Tort Statute
CODEPINK : Index
globalrevolution.tv
How Republicans are Being Taught to Talk About Occupy Wall Street
To Our Faithful Current.com Users: Current's run has ended after eight exciting years on air and online. The Current TV staff has appreciated your interest, support, participation and unflagging loyalty over the years. Your contributions helped make Current.com a vibrant place for discussing thousands of interesting stories, and your continued viewership motivated us to keep innovating and find new ways to reflect the voice of the people. We now welcome the on-air and digital presence of Al Jazeera America, a new news network committed to reporting on and investigating real stories affecting the lives of everyday Americans in every corner of the country.
National Football League: NFL Game Rewind
World Socialist Movement
The Economic Effects of Capital Gains Taxation
Capital Gains Taxes and Federal Revenues
TED: Ideas worth spreading
C-SPAN | Campaign 2012, The Latest From Congress, American History, Nonfiction Books
8. Pentagon Exempt from Freedom of Information Act
FactCheck.org
WikiLeaks
Science News, Articles and Information | Scientific American
Electronic Frontier Foundation | Defending your rights in the digital world
The Economist - World News, Politics, Economics, Business & Finance
The Weekly Standard | A Weekly Conservative Magazine and Blog of News and Opinion.
National Review Online
A daily TV/radio news program, hosted by Amy Goodman and Juan Gonzalez, airing on over 900 stations, pioneering the largest community media collaboration in the United States.
The Nation
Utne Reader: Alternative coverage of politics, culture, and new ideas
GRITtv
Pacifica Foundation