Citymama
Stefania Pomponi Butler
I blog CityMama. I am co-founder of Clever Girls Collective Inc.
Doing the Blogger Outreach ROI Math | Capulet. We've been doing online influencer outreach for a really long time.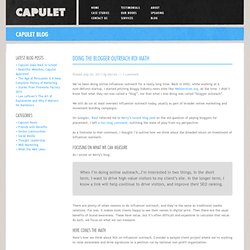 Back in 2002, while working at a now-defunct startup, I started pitching bloggy industry news sites like WebServices.org. At the time, I didn't know that what they ran was called a "blog", nor that what I was doing was called "blogger outreach". We still do (or at least oversee) influencer outreach today, usually as part of broader online marketing and movement building campaigns. On Google+, Raul referred me to Kerry's recent blog post on the old question of paying bloggers for placement.
Venture-Entrepreneur-Funding
Educational Tools. Business Tools. On Bullying. What makes a tweet influential? New HP Labs social. How is it that certain topics manage to get more attention than others, thus "bubbling to the top" and changing the agenda of an online community?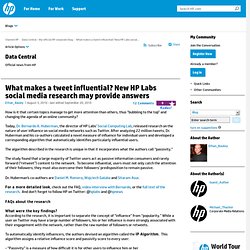 Today, Dr. Bernardo A.
Conferences I Go To. Pearltrees videos. Help. Bloggers. Social Media. Everything Causes Cancer.
---