Citymama
Stefania Pomponi Butler
I blog CityMama. I am co-founder of Clever Girls Collective Inc.
Doing the Blogger Outreach ROI Math | Capulet
We've been doing online influencer outreach for a really long time.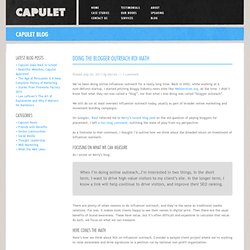 Venture-Entrepreneur-Funding
What makes a tweet influential? New HP Labs social
How is it that certain topics manage to get more attention than others, thus "bubbling to the top" and changing the agenda of an online community? Today, Dr. Bernardo A.