J'aime le concept
Longtemps délaissé au profit de la photographie numérique, le polaroid connait un retour fulgurant et fait de plus en plus d'adeptes à travers le monde, qui cherchent à retrouver le charme des clichés d'antan.
Pola festival - Le festival - Présentation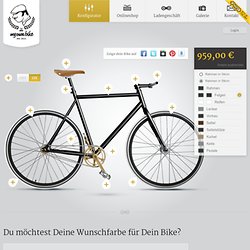 So funktioniert`s: Schritt 1: Designe Dein myownbike im Konfigurator. Klick Dich durch unseren Konfigurator und wähle Deine Wunschfarben, Deinen Wunschlenker und Wunschsattel aus.
myownbike
oscar lhermitte
Monster Music Video Project feat. Monde Yeux Naked Girls
60+ Creative Business Card Designs That Leaves An Impression
February 21, 2012 by Ryan Lum - 4 comments Creating a unique and memorable impression can sometimes be hard to do. It may be a lot easier if you have 30 minutes of conversation; however, what about the famous elevator pitch?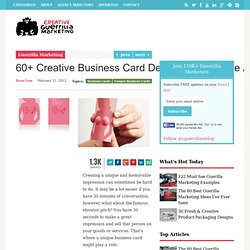 David Després
COLT SILVERS - IT´S LIKE PLAYING HIDE AND SEEK - an interactive video clip by La cité de la prod
Index
vlog.it
Resn - Creative Digital Partner
polarostick.fr
Ben Thomson Photography | Ben Thomson's Professional Photography Portfolio
hanging up the moon