Mod 2 DQ 1
Web 2.0 Has Corporate America Spinning. Silicon Valley loves its buzzwords, and there's none more popular today than Web 2.0.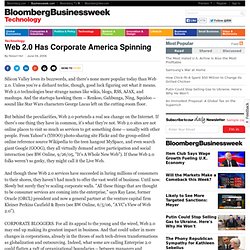 Unless you're a diehard techie, though, good luck figuring out what it means. Web 2.0 technologies bear strange names like wikis, blogs, RSS, AJAX, and mashups. And the startups hawking them -- Renkoo, Gahbunga, Ning, Squidoo -- sound like Star Wars characters George Lucas left on the cutting-room floor. But behind the peculiarities, Web 2.0 portends a real sea change on the Internet. If there's one thing they have in common, it's what they're not. What Is Web 2.0 Anyway? KM PAST AND FUTURE: Web 2.0 kicks it up a notch. The primary technologies that support knowledge management (KM) are well understood and widely used, but have been limited in the past by lack of flexibility.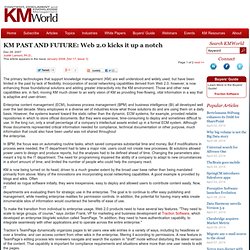 Incorporation of social networking capabilities derived from Web 2.0, however, is now enhancing those foundational solutions and adding greater interactivity into the KM environment. Those and other new capabilities are, in fact, moving KM much closer to an early vision of KM as providing free-flowing, vital information in a way that is adaptive and user-driven. Enterprise content management (ECM), business process management (BPM) and business intelligence (BI) all developed well over the last decade. What Is Web 2.0.
By Tim O'Reilly 09/30/2005 Oct. 2009: Tim O'Reilly and John Battelle answer the question of "What's next for Web 2.0?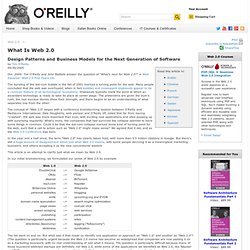 " in Web Squared: Web 2.0 Five Years On. The bursting of the dot-com bubble in the fall of 2001 marked a turning point for the web.
---