Mod 2 DQ 1
Silicon Valley loves its buzzwords, and there's none more popular today than Web 2.0. Unless you're a diehard techie, though, good luck figuring out what it means.
Web 2.0 Has Corporate America Spinning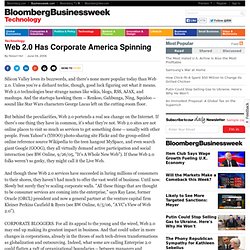 What Is Web 2.0 Anyway?
KM PAST AND FUTURE: Web 2.0 kicks it up a notch
by Tim O'Reilly 09/30/2005 Oct. 2009: Tim O'Reilly and John Battelle answer the question of "What's next for Web 2.0?" in Web Squared: Web 2.0 Five Years On. The bursting of the dot-com bubble in the fall of 2001 marked a turning point for the web.