Xda
Google. [KERNEL] Phenomenal [2.2] [KERNEL] Phenomenal [4.0] I want share with you my kernel.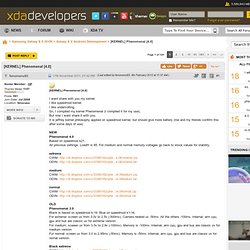 I like speedmod kernel. I like undervolting. So, I compiled my kernel Phenomenal (I compiled it for my use). Samsung Galaxy S II I9100. Index of /xwkk5/ Firmware Page. Welcome on the firmware page of SamMobile, formerly known as SamFirmware.
What is this? The firmware page of SamMobile is specially for the die-hard Samsung owner. The person who love to tweak with their device fully on their own risk! Remember by using this page everything is on your own RISK. CheckROM. [KERNEL] SpeedMod SGS2 [K2-18 Update3 CWM5 CIFS ROOT] [KERNEL] SpeedMod SGS2 [K2-21 CWM5 CIFS ROOT] Hi guys, This is the SpeedMod kernel for the Samsung Galaxy S2 GT-I9100.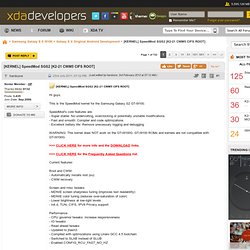 SpeedMod's core features are: - Super stable: No undervolting, overclocking or potentially unstable modifications - Fast and smooth: Compiler and code optimizations - Excellent battery life: Remove unecessary logging and debugging WARNING: This kernel does NOT work on the GT-I9100G. GT-I9100 ROMs and kernels are not compatible with GT-I9100G. [REF] Galaxy S 2 Shipped Modem Collection. The name of the Modem usually specifies the region its intended for, however... this doesn't mean it will work best for you.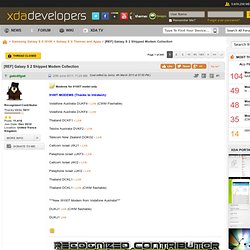 Classification of the Modem regions is as follows: CE---> Belgium, Luxembourg, Netherlands DC---> Thailand DD---> India DX---> Indonesia, Malaysia, Philippines, Singapore, Vietnam DZ---> Malaysia, Singapore JA---> South Africa JC---> Algeria, Morocco, Nigeria, South Africa, Tunisia JP---> Arabic, Algeria, Egypt, Iran, Iraq, Kuwait, Morocco, Nigeria, Oman, Pakistan, Saudi Arabia, Syria JV---> Tunisia, Turkey UG---> North America UH---> Latin America, The Caribbean XE---> Bulgaria, Estonia, Kazakhstan, Latvia, Lithuania, Russia, Ukraine XX---> Austria, Belgium, France, Germany, Hungary, United Kingdom XW---> Austria, Belgium, France, Germany, Hungary, Italy, Nordic, Spain, United Kingdom ZC---> China, Hong Kong ZH---> Hong Kong ZS---> China, Hong Kong ZT---> Taiwan. [ROMS]Official i9100 carrier branded firmware download for Odin Flash.
Mexico UMKG4: info: PDA:UMKG4 PHONE: UMKG2 CSC: TCEKG4 UMKG4 Stock Kernel: Password: intratech@XDA.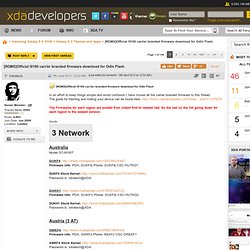 [KERNEL] SiyahKernel v2.6.7 - "One kernel to rule them all" (SAMMY&AOSP ROMs) Who Should NOT Use This Kernel?
If you are going to use very low voltage settings and complain about having lockups, you SHOULD NEVER use this kernel... just run away! This kernel is just as stable as the stock kernel if you do not modify any settings. Do not blame the kernel if you change the voltage or clock settings. If you do so I will blame your stupidity. [ROM+Guide]Official i9100 Firmwares KG, KH, KI, KJ, KK1/2/5, KL1/2/3, LA2 Download. Official Firmware files Quote: Firmware info PDA:XWKDD PHONE: XXKDH Build date: 26/04/2011.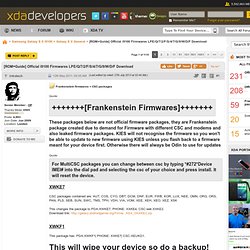 ---